Bret Voelkel's 1933 Ford Coupe | 2012 OUSCI Preview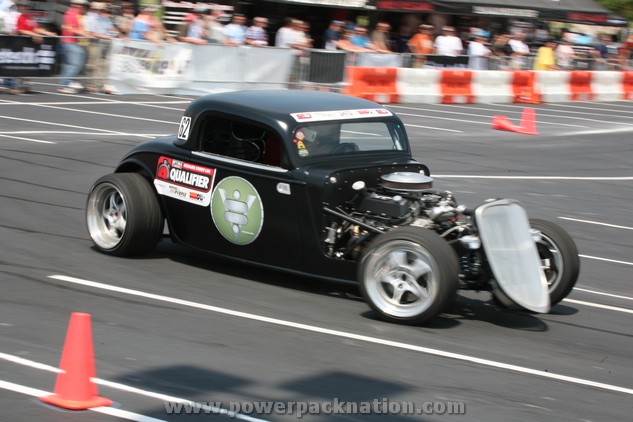 Ultimate Streetcar
Sponsor

OPTIMA Batteries

Location

Pahrump, NV
Bret Voelkel has never been one to mince words and when it comes to the subject of high-performance cars, a subject he is very passionate about, he will certainly not sugarcoat anything for us. Bret is a seasoned veteran of the OPTIMA Ultimate Street Car Invitational (OUSCI), presented by Royal Purple and K&N and his company, RideTech, has been a longtime sponsor. He knows the event as well as anyone and knows what it takes to be competitive. His '33 Ford Coupe represents that base of knowledge and he is more than happy to tell us what he has done in the construction of it, to make it a top contender.
Detroit Speed Engineering/JRI Shocks Road Rally- "The '33 Ford weighs 2,500 pounds and the engine makes 590 horsepower. It has a clutchless four-speed out of a NASCAR race car and a quick change rear end that whines like an ex-girlfriend. I don't expect the trip from Vegas to Pahrump will be the most-elegant or comfortable I've ever made, but the car will certainly make it and so will I."
Lingenfelter Performance Design Challenge- "After starting with a fiberglass body and a Factory Five chassis, we spent 3,000 hours hand-building every component and system on the car. There are tons of hand-made aluminum trim pieces, brackets and components, each designed to go fast, be light and look cool- in that order. The stainless steel rollcage, insulated sheet metal interior, elephant scrotum seat covers, bronze Forgeline wheels(Forgeline Concave CF3C wheels, in case you were curious) and the evil stance should convey an acceptable perception of performance."
Wilwood Disc Brakes Speed Stop Challenge- "A 2,500-pound car, 14-inch rotors and six-piston Baer calipers. Yeah, it'll stop."
RideTech Autocross Challenge- "We originated the autocross series at the Goodguys show in 2006. Since then, I've driven literally thousands of autocross laps. After years of being compromised by heavy musclecars with small tires, I got bored with running second, hence the 2,500-pound car with 315-series tires on all four corners."
BFGoodrich Hot Lap Challenge- "The car ran a 1:20 lap time and had a 147-mph top speed in testing at Putnam Park last weekend. We're ready."
Strong words from a man who knows this competition well. As for his fellow competitors, Bret had this to say, "There are likely better cars and faster drivers at the OUSCI this year, but not many. I'll run top-five and have a good shot at winning." If you didn't catch it in person, see how Bret did, by adding the OPTIMA Network on Roku and watching all the past TV coverage for free!