Brian Hobaugh's 1965 Chevy Corvette Stingray | 2013 OUSCI Recap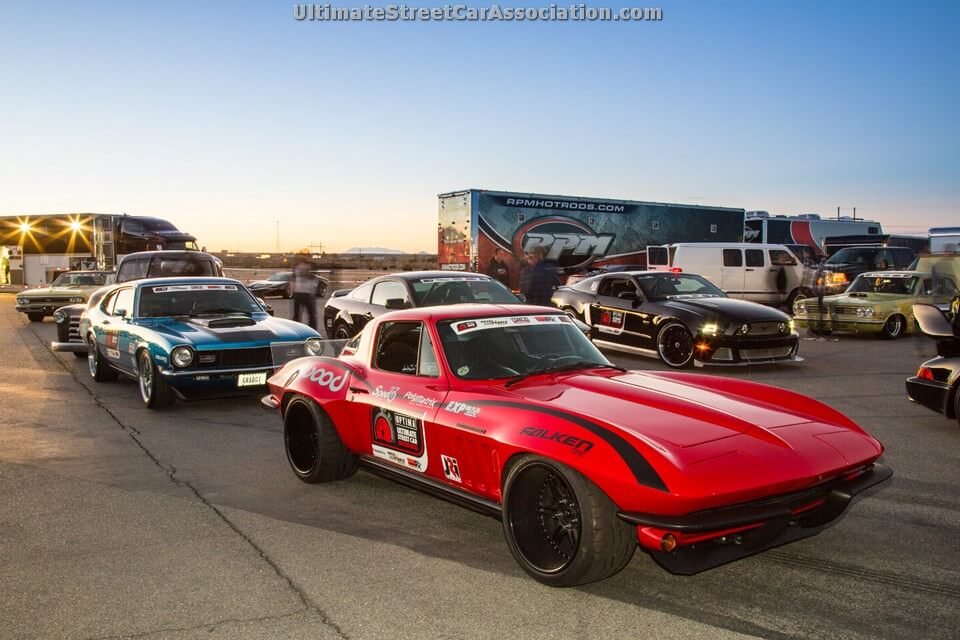 Ultimate Streetcar
Sponsor

OPTIMA Batteries

Location

Pahrump, NV
Brian Hobaugh is more than happy to let his actions speak louder than his words. When we contact participants from the OPTIMA Ultimate Street Car Invitational (OUSCI), presented by Royal Purple and K&N Filters, to ask them about their experiences, their responses vary tremendously. Some will actually call us, to tell us about the great time they had, while others will write volumes on the nuances of their car setup, pre-event preparation and even their favorite experiences from the Detroit Speed Road Rally.
Brian Hobaugh just goes out, runs hard and has a lot of fun. This year, he also dominated the competition at the OUSCI. "Dominate" is a fairly strong adjective, but given the tight competition in previous years, we think his 10-point margin of victory over defending Champion Mark Stielow's '67 Camaro is an accurate statement. Hobaugh brought a new car in 2013, but it turned out to be a complete package, capable of performing well in every regard.
Even though his '65 Corvette was competing against modern technology, like all-wheel drive, traction control and anti-lock brakes, Hobaugh still found a way to edge out Todd Earsley's Mitsubishi Evo by .008 thousandths of a second, for the top spot in the Wilwood Speed Stop Challenge. Hobaugh also held his own against some very high-powered and high-tech competitors in the BFGoodrich Hot Lap Challenge, where he finished fifth overall.
Dominance was the word again for Hobaugh in the RideTech Autocross, where he finished a whopping 1.244 seconds ahead of second-place Brian Finch's '71 Camaro. That may not seem like a large margin of victory, but it is greater than the combined difference separating the next seven competitors! Hobaugh's second-fastest run was also more than a second faster than Finch's best, so the consistency was there as well.
As reaction came in from the 2013 OUSCI from both competitors and fans alike, their response to Hobaugh's victory was universal- he deserved to do as well as he did. He drove the wheels off his Vette and it looked absolutely stunning as he did it. The judges in the Lingenfelter Design & Engineering Challenge agreed, awarding him 11th place. While some might've thought his Stingray was deserving of even more points, Hobaugh didn't give it a second thought, instead focusing on his finish in the Hot Lap Challenge. Brian tells us if he had it to do over again, he would've built a more powerful engine, feeling like he was at a significant disadvantage with ONLY 500 horsepower under the hood.
It's not arrogant for a multiple-SCCA National Championship Autocrosser to expect to win the RideTech Autocross, as Hobaugh did, but he was surprised by his finish in the Wilwood Speed Stop Challenge, perhaps because of his Corvette's technological shortcomings.
Hobaugh is no stranger to the OUSCI or these types of events, so he knew what to expect and had his car prepared. The Corvette ran flawlessly all day long and gave him no trouble as he went from one event to the next. When we asked Hobaugh what he thought of the rest of the field, he was very complimentary, specifically citing the wide variety of makes and models in this year's field. Karl Dunn's Camaro was the car that caught Brian's eye the most and he tells us he continues to be impressed with Dunn and his F-body.
So what advice does this champion have for his future competition? Maybe he is stating the obvious or maybe he doesn't want to tip his hand too much, but we can't argue with his wisdom- "Make sure your car is capable of handling all the events and make sure it looks good doing them." See all these good-looking cars doing their thing, by adding the OPTIMA Network, a free download on Roku.