Can Anyone Catch Kyle Tucker's Camaro?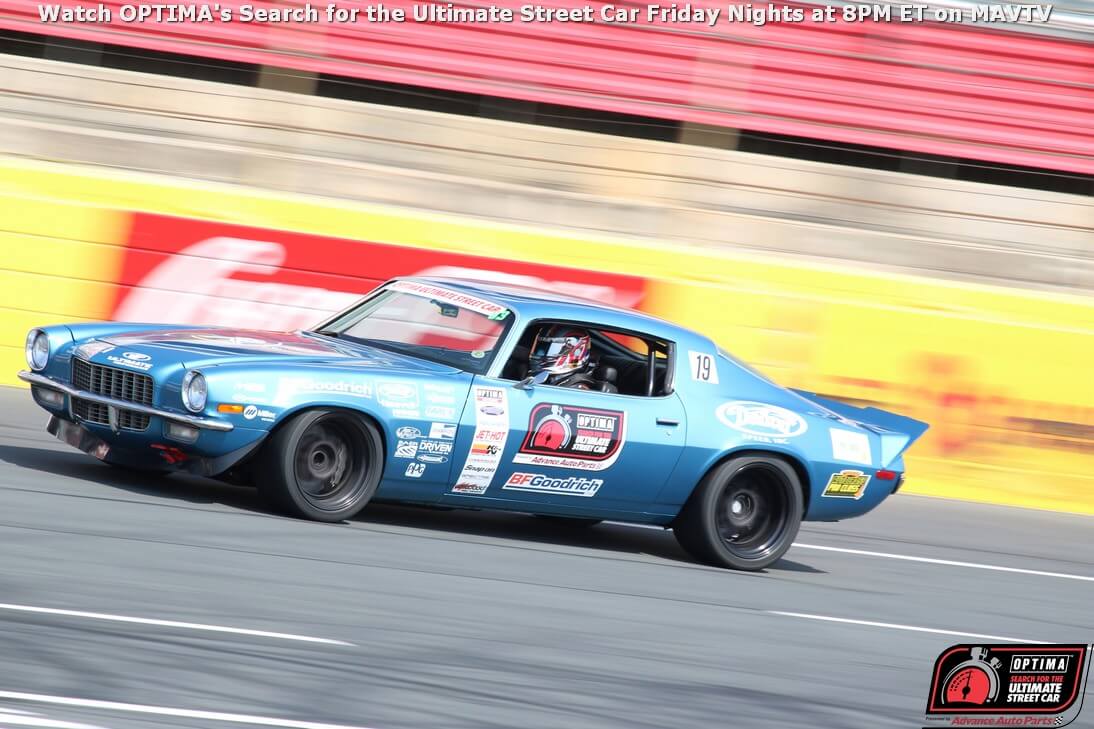 Ultimate Streetcar
Sponsor

Advance Auto Parts

Location

Fontana, CA
The second season of OPTIMA's Search for the Ultimate Street Car, presented by Advance Auto Parts, has only two events remaining and Kyle Tucker's 1970 Chevrolet Camaro has a substantial lead over second-place Chris Porter's Porsche. Can Porter overcome a nearly 85-point deficit in the remaining two events? Now that both the Road America and Auto Club Speedway events have both sold out, we can at least explore the possibilities.

Both Tucker's Camaro Porter's Porsche have run in two of the three double-point events, so nothing will be decided by the outcome of Kyle's participation at Road America. However, both Porter and Tucker are registered for the Fontana event, which also happens to be a double-points event. Based on Tucker's previous performances this season, we believe he is capable of scoring as many as 226 points at Fontana, which could give him nearly 675 points on the season. If he were able to score that many points, it is unlikely anyone could come within 100 points of Tucker. However, several factors keep this far from being a sure thing.

The GTV Field at Fontana is Massive & Impressive

We're not sure if the 29 GTV cars registered for Fontana is a record for a single class, but if it isn't, it has to be close. Not only that, but six of the top-ten competitors in the season-long points chase will be there. A field that large is sure to throw in some wildcards that will likely impact everyone chasing valuable points. Will we see a wickedly-fast car, like Mike DuSold's Camaro (which is not entered at Fontana), that may not take big points in the Lingenfelter Design Engineering Challenge, but will out-run just about everything on the track? Will we see an incredible show-stopper, that will capture valuable points and set an impossibly high standard in the Lingenfelter Design Engineering Challenge, but not be a serious threat on the track? Will we see a first-time competitor come out of nowhere and blow everyone away with an impressive performance?

One competitor we know we'll see for sure is Jake "The Kid" Rozelle and his 1969 Chevy Camaro. Rozelle and Tucker are clearly two of the Alpha competitors in the GTV class, but their meeting in the ninth event of the year will be their first head to head contest all season long. Rozelle's performances all year long have been good enough, that if there were no double points events, the season championship would be his to lose right now. Both Tucker and Rozelle have already secured spots in the 2015 OPTIMA Ultimate Street Car Invitational (OUSCI), so while that pressure isn't looming over either one, the competitive drive to beat the best will likely be a factor...or will it?

The Teammate Factor

Even though they are competitors on the track, Kyle Tucker and Chris Porter are teammates of sorts, both running out of the Detroit Speed stables. Porter has not yet qualified for the OUSCI, so Tucker could sandbag and try to put some space between Porter and Larry Woo, who are locked in a fierce battle for second place, with less than two points separating the two cars. The top competitor from each class, who has not already received an invite to the OUSCI will receive one at the end of the season, along with the next 11 competitors, regardless of the class they run in. Right now, Porter is in that catbird seat to receive the GTV invite. If Tucker concedes the event win to Rozelle, he could still easily win the GTV points championship and help Porter lock in his spot for the OUSCI, by putting space between Porter and Woo.

The Road Rally

In order to finish first, one must first finish. It's a saying as old as racing, but it will likely ring true for as long as two or more people compete for anything. While the Road Rally may seem like easy points, that is not always the case, especially at Fontana. We have watched several competitors suffer mechanical issues during the day, which caused them to miss part or all of the Road Rally, which ended up costing them valuable points. At Fontana, completing that segment can mean 50 points. While that may seem like a given, last year's event showed us that the public roads in Southern California can test the street-worthiness of any car like few other locales, where gridlock is rarely a concern or issue on a Saturday evening.

Win the Battle or Win the War?

The possibility also exists that Tucker will look to Fontana as a tune-up for the OUSCI and not concern himself with competition on the track, as much as dialing his car in for Las Vegas. However, other top contenders, including Brian Hobaugh, Hugh Bate, Ken Thwaits, Bryan Johnson, Jason Chinn, Jordan Priestley, Douglas Wind and defending OUSCI champion, Danny Popp, will also be there. Bate has the opportunity to win the GTS championship with a strong performance at Fontana and at least a few other drivers in that group will want to see how they stack up against each other.

The bottom line is that you are not going to want to miss a minute of this action. You can watch all the past seasons and all the past episodes of OPTIMA's Search for the Ultimate Street Car TV series for free, anytime on the OPTIMA Network on Roku.