Carmine Dell Aquila's 2009 Nissan GT-R | 2011 OUSCI Preview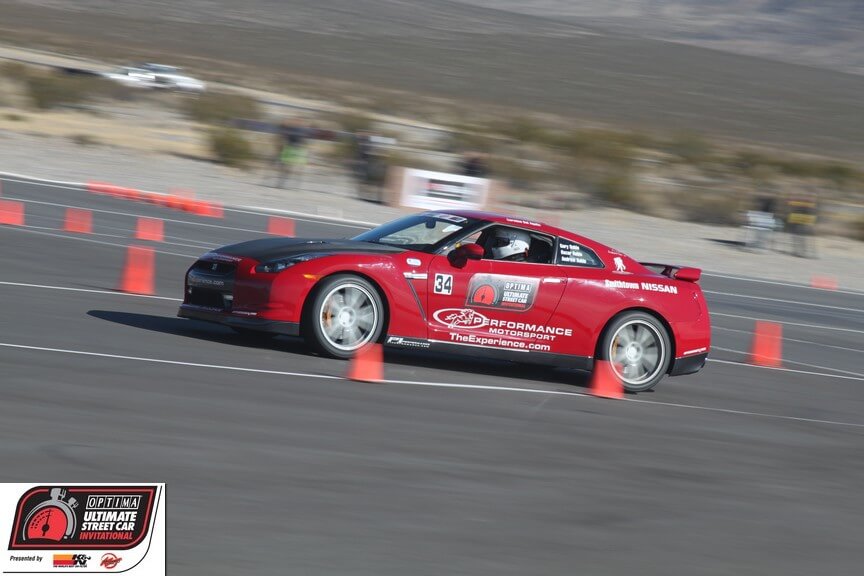 Ultimate Streetcar
Sponsor

OPTIMA Batteries

Location

Pahrump, NV
"How can you claim this is the Ultimate Street Car Invitational if you don't invite any Imports?" ask our friends who favor the tuner scene. Well, the truth is, we do invite Import and European entries every year, although it isn't always easy- we did extend an invitation to a very wicked Supra this year too, but they weren't able to make it.
We do want to make sure that any marquee we do invite is well-represented and we think Nissan fans will be pleased with the choice of both Carmine Dell Aquila and his 2009 Nissan GT-R for the 2011 OPTIMA Ultimate Street Car Invitational (OUSCI), presented by K&N Filters and Wilwood Brakes.
Although the Nissan sports a modest 3.8 liter V6, that engine has been augmented by twin turbos, which have also been augmented from their factory tune to produce 600 horsepower and 500 lb.-ft. of torque. We think that will hold up just fine in this field.
The truth of it is, Carmine had planned on bringing a brand-new (but highly-modified) 2012 GT-R Black Edition, but that car got stuck on a boat somewhere between Tochigi and the States. It wasn't dumb luck that Dell Aquila just happened to have this highly-modified '09 GT-R sitting around the garage either.
Along with the Rubio family, Dell Aquila owns Smithtown Nissan, one of the largest Nissan dealerships in the country, as well as Performance Motorsport, the performance arm of their automotive empire. That may explain why they weren't more forthcoming with the modifications performed on this GT-R. If they were to do that, they may give up trade secrets that have been helping race teams in Great Britan set records with the Nissan racing engines they supply.
Their relative-secrecy may also have something to do with the fact that one of their resident wrenchers is John Martin, a long-time fixture on the Indycar scene, where competitors share information like Apple shares intellectual property on their newest iphone. They did offer a phone number if we had further questions and they may have been in a hurry when they filled out their tech sheet, as there are a few references to "custom" parts and K&N filters, but not a whole lot of specifics. However, that could also be interpreted as someone trying to keep a cat in a bag.
One thing they won't be able to hide, even if they tried, is that Carmine Dell Aquila knows his way around a racetrack. In addition to running in the One Lap of America, Carmine is also an amateur racer and regular competitor in time trials. When he isn't busy trying to break track records, he rides shotgun at high-performance driving schools, teaching others how to hit the apex just right.
Is Carmine Dell Aquila hauling a load of sandbags out to the Nevada desert, that he will unload just prior to hitting the track at Spring Mountain Motorsports Ranch? Find out for yourself, as spectators are welcome at the 2011 OUSCI. However, this event will be filmed for TV, so if you are wanted by the law or currently enrolled in a witness protection program, you may want to wear a disguise. If you missed seeing it live, just add the OPTIMA Network on Roku for free and watch all the past TV coverage on-demand.