Check out the 2010 Diesel Power Challenge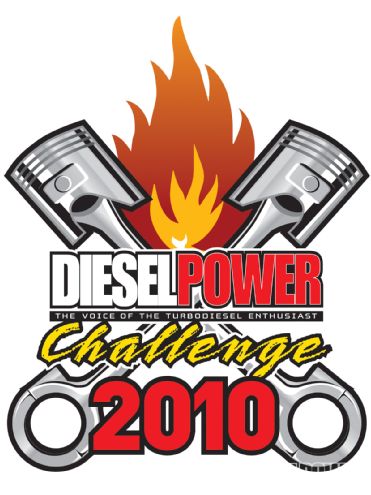 Trucks
Sponsor

OPTIMA Batteries

Location

Milwaukee, WI
Whether enthusiasts are into cars, trucks or boats, OPTIMA loves to see the real-world results of their efforts. That's why we jumped at the chance to sponsor Diesel Power Magazine's 2010 Diesel Power Challenge. This unique event challenged competitors to be good not just at posting a big dyno number, running a low ET at the dragstrip or towing a big load. It challenged them to do all that, but they also had to do a whole lot more. In fact, we kind of view it as a diesel truck version of the OPTIMA Ultimate Street Car Invitational.
We don't know many folks with diesel trucks who are concerned with how their trucks can navigate an autocross or road course, but that doesn't mean they don't have their own unique demands. The Diesel Power Challenge asked competitors to strap their trucks to a dyno and lay down the biggest numbers they could. Anyone with deep enough pockets can build a dyno queen, so competitors were then taken to the dragstrip, where they were asked to produce their best elapsed times.
After they finished drag racing their trucks on the dragstrip, they strapped on 10,000-lb trailers and raced for another 330 feet. Once the trailer towing was complete, the trucks all headed out onto the open road to see what kind of mileage these beasts could manage. Would you believe the top truck averaged better than 45 miles to the gallon?!? No diesel truck event would be complete without a sled pull, so one of those was included as well. There was also an exhibition braking event, which will likely be added to the competition next year.
At the end of the day, one truck emerged as champion- Dimitri Millard's Chevy. We congratulate Dimitri on his success, not just because he's running dual OPTIMAs under the hood. The fact is, more of these trucks were running OPTIMA batteries than any other battery combined, so the deck was stacked in our favor in that regard. We congratulate Dimitri because this simply was as demanding a competition as we've found anywhere for diesel trucks. The entire story is in the October 2010 issue of Diesel Power magazine.

Order the same OPTIMA batteries many of these competitors were using direct from the factory and we'll ship them for free, anywhere in the lower-48 states!