Chip Foose puts his mark on OPTIMA-Sponsored Top Fuel Dragster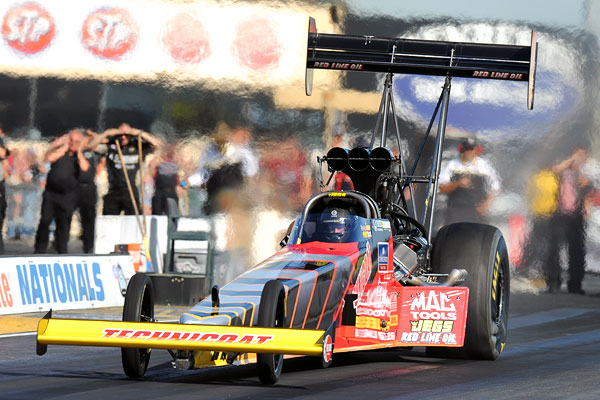 Cars
Sponsor

OPTIMA Batteries

Location

Sonoma, CA
NHRA star Doug Kalitta debuted the new colorfully fast Technicoat Companies Top Fuel dragster today during qualifying at the annual running of the FRAM Autolite NHRA Nationals at scenic Infineon Raceway in Sonoma, California.
The one-of-a-kind looking dragster body was designed by legendary hot rod designer, artist and automotive icon Chip Foose. The nitro-fueled dragster features Foose graphics that are certain to be a favorite of NHRA fans in Sonoma as it races down the 1,000-ft. drag strip at Infineon Raceway at speeds over 300 mph this weekend.
Based in Las Vegas, Technicoat Companies is an industry leader in waterproofing and hi-tech performance coatings. Technicoat and Kalitta Motorsports have a decade-long relationship that includes both primary and associate sponsorship on all of the team's race cars, which also include the DHL Funny Car driven by Jeff Arend and the ROCKY Boots Top Fuel dragster driven by David Grubnic. OPTIMA Batteries is also a proud sponsor of all three cars.
Kalitta, a 46 year-old resident of Ann Arbor, Michigan, is currently in sixth place in Full Throttle Top Fuel championship points, 651 points away from the lead. He has posted three semi-final showings so far this season in Las Vegas, Houston, and Topeka.
Kalitta, a 14-year drag racing veteran in the NHRA Full Throttle Drag Racing Series, has amassed 32 NHRA Top Fuel title trophies in 64 final-round appearances. He has finished in the top ten in Full Throttle championship points in every year of his straight-line career. He was the 1994 USAC National Sprint Car champion. See more drag racing content here.