Cliff Elliott's 2011 Ford Mustang GT/CS | 2012 OUSCI Preview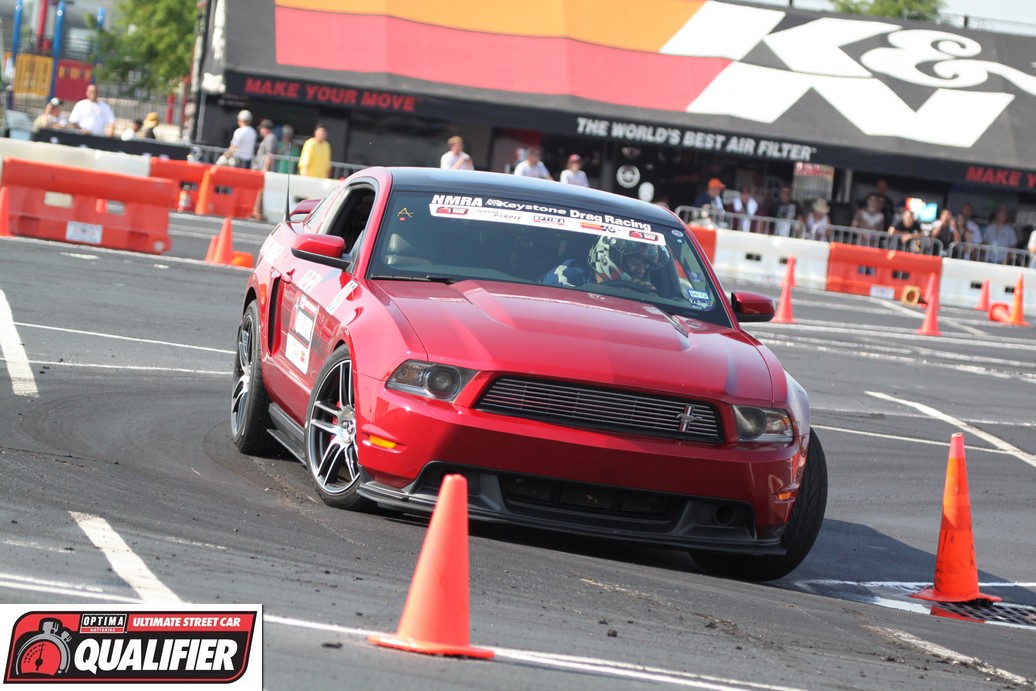 Ultimate Streetcar
Sponsor

OPTIMA Batteries

Location

Pahrump, NV
Upon first glance, Cliff Elliott's entry into the 2012 OPTIMA Ultimate Street Car Invitational (OUSCI), presented by Royal Purple and K&N Filters, might be easy to characterize. Cliff and his son drove the Mustang 4,500 miles from South Texas up to Detroit and all along the 2012 Hot Rod Magazine Power Tour long haul, before competing in the Faceoff at Arlington and ultimately, receiving a Spirit of the Event invitation to the 2012 OUSCI.
If you look at Cliff's entry from that perspective, it may be easy to simply characterize him as a guy who drove a practically stock, practically new car all over the country and made a big enough splash from a personality standpoint, that he received some kind of "average guy" or "feel good" invite to the OUSCI. That reasoning would be a mistake. The first clue to what kind of enthusiast Cliff is and what kind of car he will be bringing to Las Vegas came back in June at the Arlington event.
When Cliff realized his tires did not meet the Faceoff (or OUSCI) 200-minimum treadwear rating, he and his son went out and bought a new set of tires on the spot. That might seem like a big chunk of money to spend, just to compete in one event, but that does hint at what Cliff does with his Mustang. Cliff likes to go fast and looks to go fast as often as possible. How else can you explain the fact that his car wasn't even a year old yet and he had already swapped out the OE tires? He made sure during his Power Tour long haul, that he took time to participate in both the autocross in Michigan and the drag racing in St. Louis.
That is second nature to Elliott, as he has previously competed on Pinks All Out on three different occasions, but does that make Cliff a sucker for a televised event? Hardly. Cliff has been competing in the Ultra Stang and bracket classes at Fun Ford Ford weekends for years, as well as making an appearance at the World Ford Challenge. Last year, his Mustang made a best pass of 11.85 at 116 mph. Cliff is obviously an experienced drag racer and Mustangs are strong performers out of the box, but not that strong. Something tells us he was going to need that extra set of tires sooner, rather than later.
The fact that Elliott took a brand-new car and modified it right away to run into the 11s shows where his heart is and why he is a perfect fit for the OUSCI. Cliff's racing life doesn't begin and end with drag racing though. Cliff's supercharged 2005 Mustang was a S197 Mustang record-holder in the Texas Mile at 180.3 mph and still holds the record for naturally-aspirated Coyote-powered Mustangs in the Texas Mile at 162.2 mph.
We know Elliott isn't afraid to autocross, but he's also somewhat familiar with road courses, beyond his time spent at Eagle's Canyon. Cliff also attended a HPDE course at the 2.9-mile track at the Texas World Speedway. While Elliott ran in the upper half of the field in the Wilwood Brakes Speed/Stop challenge and BFGoodrich Hot Lap Challenge in Arlington, he knows the competition is elevated significantly at the OUSCI and if he wants to be competitive there, he will need to step up his game in every regard.
To that end, Cliff has gambled with his known combination and put his Mustang on a serious diet, adding a custom-modified and color-matched (thinking of the Lingenfelter Performance Design & Engineering Challenge) K-member, A-arms and rear axle with a Watt's link. One of Elliott's sponsors, Brooks Tire has also outfitted his blue oval with lightweight 18-inch wheels and Michelin PS2 rubber. One of Elliot's other sponsors, Kicker, has also supplied Cliff with a SEMA-ready booming system, which is now accented with LED lighting and color-matched trim work.
There is only a maximum of 15 points available in the LPE Performance Design & Engineering Challenge and even though Cliff predicts that will be his weakest category, it sounds to us like he has done just about everything he can to his late-model ride to make it competitive. Did we forget to mention the twin turbos Elliott has on order?
Whether the twins make it on or not, there is no question the Mustang Cliff Elliott brings to SEMA and the 2012 OUSCI will be very different than the Mustang we saw in Arlington. Will his gamble pay off or will a lack of time to sort out his new combination cost him dearly? Find out for yourself and watch the 2012 OUSCI TV coverage for free on the OPTIMA Network on Roku.