Cole Quinnell's 1966 Chevrolet Chevelle | 2012 OUSCI Preview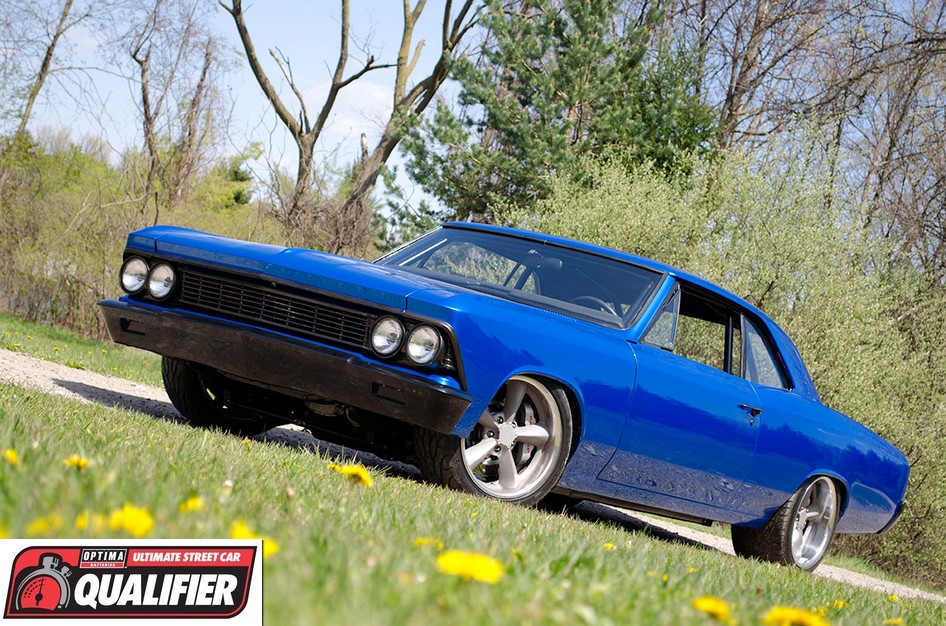 Ultimate Streetcar
Sponsor

OPTIMA Batteries

Location

Pahrump, NV
Sometimes previews for the 2012 OPTIMA Ultimate Street Car Invitational (OUSCI), presented by Royal Purple and K&N, write themselves. That is certainly the case with Cole Quinnell's 1966 Chevrolet Chevelle, as Cole has written extensively on this car and provided us with a great preview. Here it is-
I've owned this car for over 20 years and have built it from the ground up twice. I drove it to work at Hot Rod magazine for many years in Los Angeles and recently completely rebuilt the car with some of the best Pro-Touring equipment available.
I think one of the most noteworthy things about my Chevelle is that I drive it everywhere, including to competitions. I will be driving it from Detroit to Las Vegas in October to be on display in the Flex-a-lite SEMA booth and then to compete in the OUSCI. No support team, just whatever I can fit in the trunk and a trusty AMEX card. I'm a marketing and social media professional in the automotive industry, so I'll be blogging about this experience and posting regular updates on Facebook and Twitter. I'll also be doing a story for the March issue of Popular Hot Rodding on the drive to Vegas and my participation in the OUSCI.
As far as the competition goes, I think my car's advantage will be good performance in most of the categories. It's not built to favor one over the other, which means I probably won't take top honors in any one category, but I hope to do well in most of them, for overall good results. My real goal is to show that people can build a car that's streetable and still have very good on-track performance.
Some of the more interesting components on my Chevelle include:
· ABC Performance front suspension including adjustable upper control arms, tubular control arms, splined swaybar and billet dropped spindles which reverse the camber curve
· ABC Performance mini-tub frame kit and wide wheel tubs to fit 335/30ZR18 tires in the rear; ABC Performance adjustable, tubular rear-suspension, rear swaybar
· Other chassis improvements include a custom 10-point cage and frame boxing kit, both by ABC Performance
· Viking double-adjustable coil overs front and rear
· 335/30ZR18 BFGoodrich g-Force KDW tires rear
· 265/35ZR18 BFGoodrich g-Force KDW tires front
· Baer 14-inch/6-piston front brakes and 13-inch/6-piston rear brakes
· Chevrolet Performance 515hp crate LS3 with FAST EZ-EFI fuel injection and MSD ignition controller
· Tremec Magnum T-56 6-speed with clutch and installation kit from American Powertrain
· Moser 9-inch rear axle with WaveTech differential and 4.30:1 gears
· Advanced Body Color in Imlay City, MI did the paint and bodywork including a host of subtle custom features to make the car look extremely clean without disrupting the classic muscle car lines
And, of course, it has an OPTIMA battery (REDTOP).
The interior build of the car is in the current issue of Hot Rod magazine and most of the car buildup is featured in a new CarTech book, "Performance Chevelle Projects: 1964-1972."