Cole Quinnell's 1966 Chevrolet Chevelle | 2012 OUSCI Recap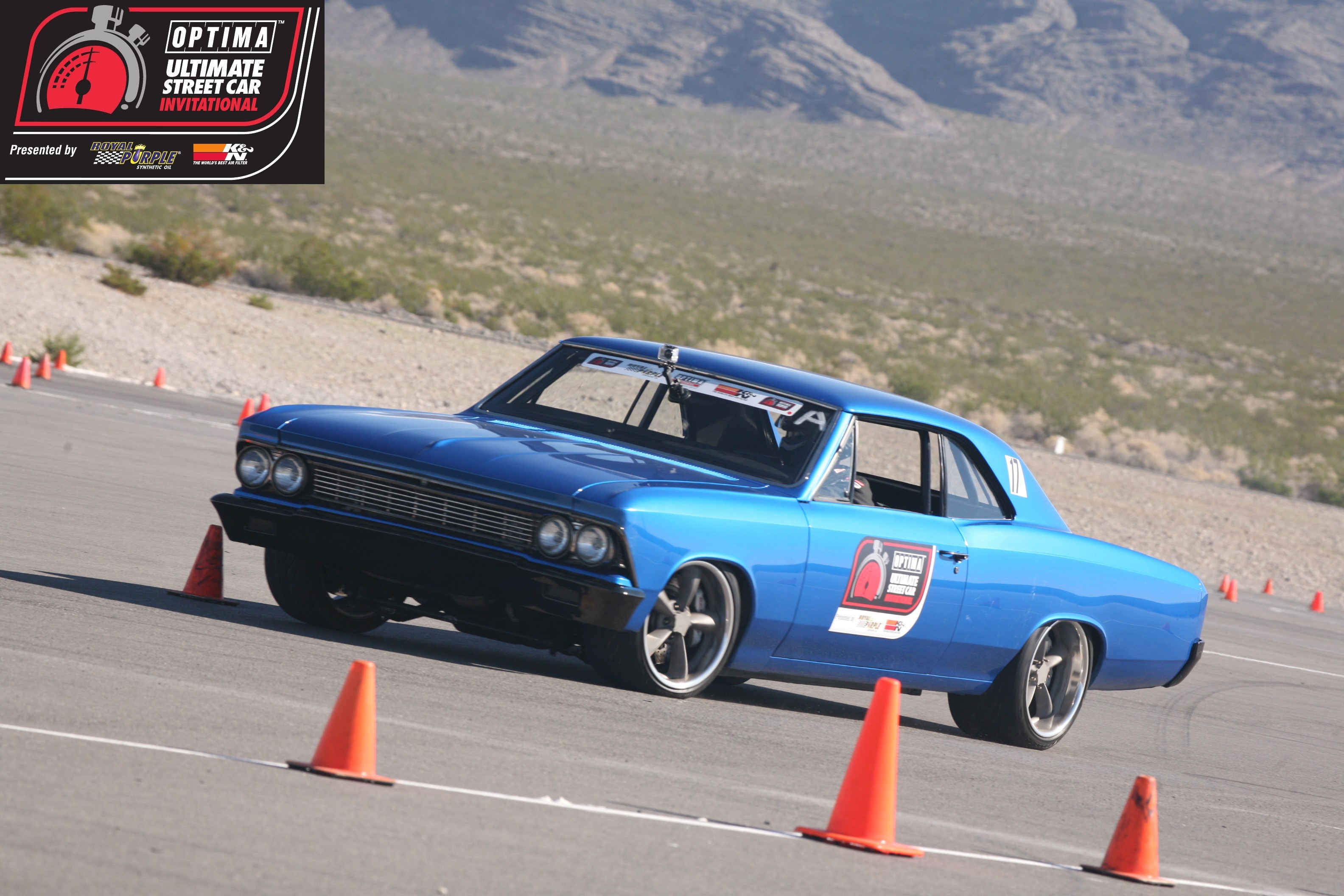 Ultimate Streetcar
Sponsor

OPTIMA Batteries

Location

Pahrump, NV
With every running of the OPTIMA Ultimate Street Car Invitational, presented by Royal Purple and K&N Filters, comes high hopes, great expectations and sometimes, a little disappointment. Whatever the outcome for competitors, we hope they managed to have some fun and even though Cole Quinnell's day didn't go exactly as planned, it sounds like he still had a good time.
Quinnell was one of only a handful of OUSCI competitors who drove their cars to Nevada to compete. In Cole's case, that resulted in a 3,200+ mile rountrip journey, which he documented along with ace photographer Rob McGaffin on his blog.
Quinnell was realistic about his chances and while he didn't expect a top-10 finish, he thought he'd do better than where he ended up, tied for 34th place overall. Whenever you hit the road in a 40+ year old car, you try to pack for any scenario and Quinnell brought plenty of extra parts and tools with him, most of which he ended up not needing.
As it turned out, an extra fuel pump would've been handy to have, although there was no way of anticipating that need. Cole didn't even notice the issue until his first lap in the BF Goodrich Hot Lap Challenge. His engine started cutting out on him under a variety of conditions and never improved throughout his three laps. At the end of his run he still managed to post a time faster than eight other competitors, but much slower than he knew his Chevelle was capable of running.
Downtime between the Hot Lap Challenge and the RideTech Autocross was minimal for Cole and his efforts to diagnose his issue were unsuccessful. He did his best in the Autocross and finished one position higher than the Hot Lap Challenge, but again knew his car was capable of much more. After completing the Autocross, he scoured the pits for a replacement fuel pump, but couldn't locate one. In the interim, he found his water pump was also leaking.
As his car had time to cool down, his first run in the Wilwood Speed Stop Challenge was actually decent, although he blew through the stop box by eight feet. Still, he was able to notch the 37th-best time and completed the OUSCI, which seven of his fellow competitors were unable to do. His valiant efforts to compete did not go unrewarded, as Cole ended up with the RideTech Renegade award and a $1,000 gift certificate.
Quinnell was very impressed with the field and even though Mark Stielow was able to go home with the OUSCI title and no asterisk for class winners, count Cole in the crowd that would prefer to see the event divided into classes.
As others have mentioned, Cole was surprised by the minimal amount of track time competitors had prior to going live for competition. He prepared as many others did, by watching YouTube videos of Stielow on the track, but there's no substitute for the real thing.
Cole was as familiar with most of the field as anyone in the OUSCI, so no one really surprised him, but he definitely felt almost all of the participants had world-class rides and he had an absolute blast competing in the event. As someone whose day didn't turn out quite as planned, Cole' advice to future competitors would be to arrive with the mindset that you're going to have fun and help your fellow competitors through the competition- yes, you are competing against these folks, but everyone has more fun when they work together.
If you'd like to see more of Cole's car in action in the OUSCI, add the OPTIMA Network on Roku for free, to see all the past TV coverage of this iconic event.