Congratulations to OPTIMA-sponsored racer, Andrea Tomba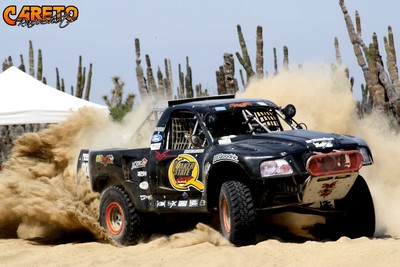 Trucks
Sponsor

OPTIMA Batteries

Location

Baja, Mexico
Andrea makes his living in the off-road industry, working for Wide Open Baja, but he does quite well in off-road racing too. Tomba has been competing in the Southern Baja Off-Road Championship, since 1996, a series that typically draws more than 10,000 fans for short course races and more than 100,000 fans in the desert races. While off-road racing may not be as mainstream in the States as NASCAR or NHRA racing, it is a pretty big deal South of the border.
AYMSPORTS SKY Channel 501 Latin America and local television stations in La Paz, Los Cabos and Loreto showcase this racing three times a week, typically during prime time viewing. Tomba has given his off-road race fans a lot to cheer about over the past few years. The 2011 racing season marks the third consecutive year Andrea Tomba has brought home the Class 8 Open Pro Baja Off Road Series Championship and he is making plans for 2012 to defend his title once again.
OPTIMA Batteries is proud to sponsor Andrea Tomba and we wish him continued success and safe racing in 2012!