Congratulations to RAMINATOR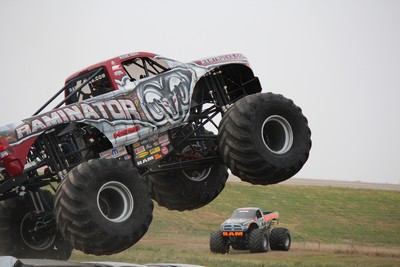 Trucks
Sponsor

OPTIMA Batteries

Location

Champaign, IL
Tim Hall his crew just wrapped up the year for 2011 in a big way- RAMINATOR was named MTRA Monster Truck of the Year again at the annual Monster Truck Racing Association awards banquet! The event was held in St. Louis over the weekend, and RAMINATOR edged out Bigfoot and other popular trucks for the award. This is the eighth time Hall Brothers Racing has won the award.
The weekend also marked their last appearance of the year, as RAMINATOR was on display at the National Finals Rodeo in Las Vegas. The event is a huge ten-day affair that celebrates all their championships and RAMINATOR was on display all week at the RAM display.
With that RAMINATOR making it's way back to the Hall Bros. Racing shop, work has already begun for 2012. Their "off season" only lasts about three weeks and during that time, they will take the trucks apart, check everything out, install some new parts, rebuild some engines, install some new transmissions, and re-condition their shocks and drivetrains, before heading back out for the 2012 season.
The winter Monster Jam season starts for on January 6th in Manchester, New Hampshire and runs for 12 straight weeks! It is quite a stretch. Along the way, they will be making appearances at many RAM dealerships, as well as a HOTSY appearance at a farm show in California.
OPTIMA is proud to sponsor RAMINATOR and we wish them good luck and continued success in 2012!