Could a Volkswagen Win the GTS Class?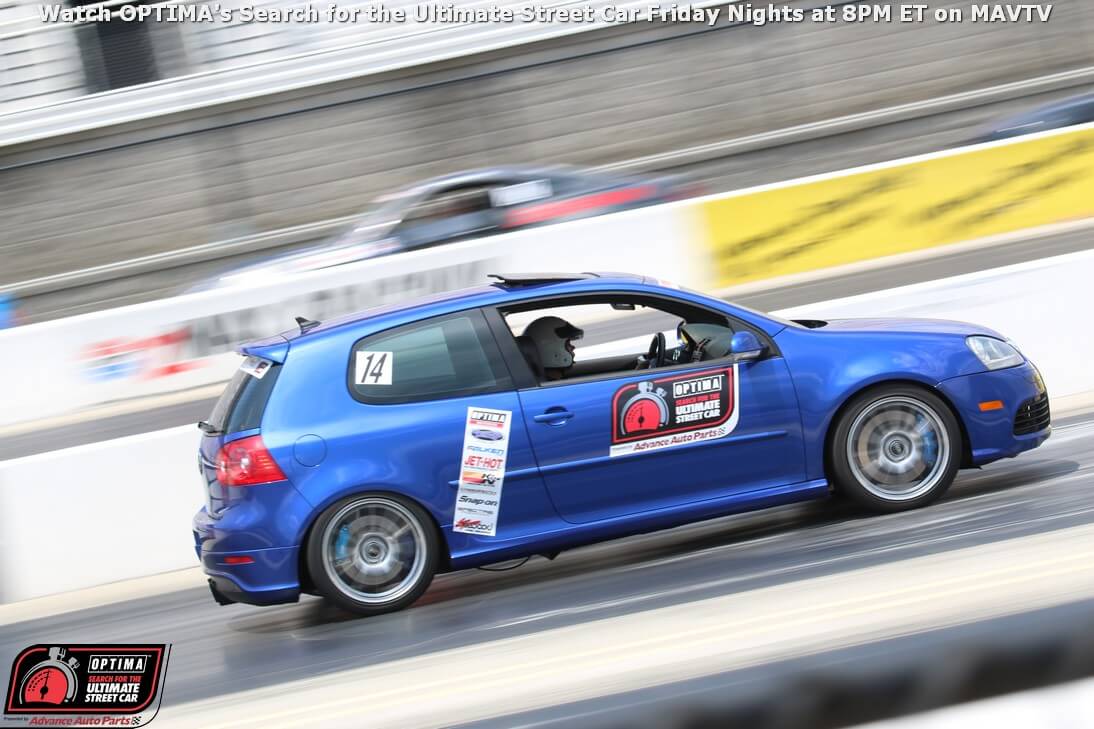 Ultimate Streetcar
Sponsor

OPTIMA Batteries

Location

Nationwide
With the introduction of four new classes in OPTIMA's Search for the Ultimate Street Car, presented by Advance Auto Parts, there was quite a bit of shuffling throughout the year, as competitors eyed up the competition and made adjustments to their cars accordingly. By the end of the season there could be as many as 59 competitors in the GTS class, who post points at OUSCI qualifying events. That's still a big number, considering the GTL class may only see a total of 67 ranked competitors.

When the classes were announced, early speculation suggested this class would be ruled by all-wheel drive Nissan GT-Rs and late-model Corvettes. Those vehicles do cover seven of the top-ten positions with Corvettes accounting for six of those spots, but then something happened. Evo owners, most notably Todd Earsley and his 2003 Evo, added weight, in order to move from the GTL class to the GTS class. The strategy worked, as Earsley punched his ticket to the OUSCI early in the season in Texas.

Dustin Rogers' Evo was the most-recent GTS entry for the OUSCI, getting his invite at Pike's Peak and there could be as many as nine other Evos lurking in the GTS weeds, possibly aiming to rise up at Road America or Fontana and grab an invitation to the OPTIMA Ultimate Street Car Invitational. Grabbing an invite at an event is only one way to get to the OUSCI. Season-long points is another point of entry and that's where things get hairy in a hurry, especially for the Corvettes in the GTS class.
Chris Neal's 2014 Corvette currently leads the GTS points race, but he did not sign up for either of the remaining two events. That leaves the door wide open for several competitors to rise up at Road America and Fontana and knock him back significantly in the standings. Jeremy Stensland's Subaru STi currently sits in the second position and he has not yet earned an invitation to Las Vegas. He also competed in both double points events and finished ahead of Neal at both events and is signed up for Road America. If he can match his season-long performance in Elkhart Lake, he could finish with more than 480 points, easily passing Neal's total of 444.6 points. That will not be an easy task, as six of the top-ten GTS competitors are registered for Road America.

The darkhorse in all of this could very well be Bob Denny's Volkswagen R32, which currently sits all the way down in the 16th position. Bob has only run at the double-points event at Charlotte Motor Speedway, but he is signed up for the remaining two events, including the double-points event at Fontana. If he can finish in similar fashion at those two events, he could catapult all the way to the top spot in GTS. He'll have to get some significant space between himself and Stensland at Road America to make that happen, but whether that happens or not, he looks likely to pass Neal in the standings.

Fourth-place competitor, Hugh Bate's Nissan GT-R also has a mathematical chance to pass Neal, as he is signed up to run the Fontana event and with just 11 GTS entries in that field, points will be far easier to come by than Road America. Bradley Yonkers is another competitor scrambling to get into the OUSCI and while he would prefer to win his way in, he won't turn down an invitation if it comes based on his points in the series. Yonkers is registered for Road America and could potentially finish with about 425 points, which he would hope would carry him to Las Vegas, but he is currently in the "first five out" group in overall points and will need to pass some folks and keep from getting passed by too many others, in order to make that happen.

When the regular season ends, the top competitor in each of the four classes based on points, who has not already earned an invitation to the OPTIMA Ultimate Street Car Invitational, will receive one, as well as the next 11 competitors based on points, regardless of class. That means several GTS competitors will be jockeying for one of those coveted spots late in the season.
GTS competitor, Randy Johnson's Corvette is another one of those cars sitting in the "first five out" group and is currently positioned behind Yonkers in 19th place overall for non-qualifiers with 295.3333 points. Johnson is signed up for Road America and could finish with close to 400 points, but it won't be easy. While Johnson's car routinely scores very well in the Lingenfelter Design Engineering Challenge and more than holds it's own on the track, the 20-car GTS field at Road America is stacked with several dangerous all-wheel drive entries from the RS Motors stables, that could consume a lot of valuable points.

There is also the GTS entry of Chris Jacobs in a C5 Corvette at Road America. Jacobs has not run his C5 in Search for the Ultimate Street Car competition yet, but could single-handidly upset the apple cart and walk out of Road America with a GTS win, while also snagging valuable season-long points from other competitors. That brings us back to the overall points chase for those who have not yet qualified for the OUSCI.

In looking at the overall points for non-qualifiers, Keith Corrigan's '68 Camaro is the only competitor in the top-10, who is not signed up for any future qualifying events. If Corrigan makes it into the OUSCI, his 405.7467 point total will have to carry him there. However, there are other competitors, who are currently in the top-20 for qualifying points, but not signed up for any additional events.

Casey Woodside's Camaro looks to be standing pat at 357.533 points, but is unlikely to remain in the 11th position. Greg Guerrettaz is in 12th place overall with 356.65 points and is registered for Road America. However, since point totals are based on your best three events and Guerrettaz has already run in three events, his ability to boost his season-long point total won't be significant, compared to other competitors, like Denny, who have run in less than three events. While Danny Tinch's Nissan 240SX has already run in three events, he only scored 57.4667 points in his first event and has since demonstrated an ability to consistently score more than 70 points. That could move him past Guerrettaz and Woodside in the standings, but it may not move him up overall, if other competitors are able to catch and pass him.

Cliff Elliott's Mustang has run in four events already, but his performances have not been consistent. As a result, his performance in the final event at Fontana could move him up significantly in the points standings, with the potential for him to finish with more than 400. However, if inconsistency catches up with him again or points are just hard to come by, he could find himself on the bubble.
One reason he could end up on the bubble is because Mike Hamrick, who is less than nine points behind Elliott right now, is signed up for the final two events and is poised to make a big jump up in the standings as a result. Saroja Raman is currently the first one out of the field on points and she is signed up for Road America. However, as that is her fourth event of the year, her ability to add to her season-long point total will be limited.

GTS competitor Doug Osborn has not signed up for either of the remaining events, so Yonkers and Johnson are likely to pass him in the standings. While the big moves in the points chase will likely come at Fontana, there are plenty of other factors that could impact this overall chase at Road America. GTS competitors Tyrone Walker, Shawn Carroll, Spaz Miller and AJ Santiago are all in the top-30 in points (actually all but Santiago are in the top-20) and their performances at Road America could have a significant impact on the overall GTS points chase. Don't miss any of the action. Add the OPTIMA Network on Roku and learn more about the series at www.driveoptima.com