Dale Akuzewski's 1964 Sunbeam Tiger | 2012 OUSCI Preview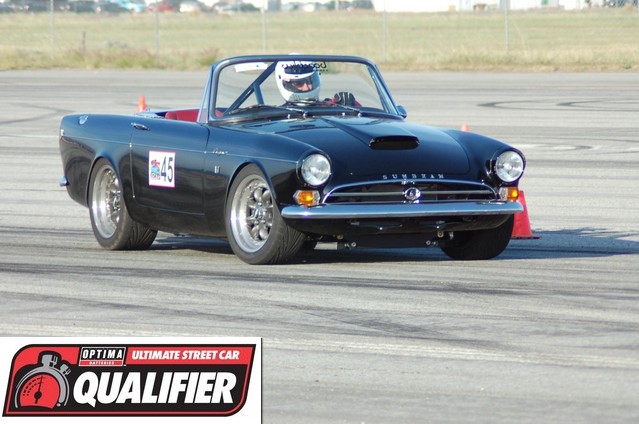 Ultimate Streetcar
Sponsor

OPTIMA Batteries

Location

Pahrump, NV
In today's preview of the field for the 2012 OPTIMA Ultimate Street Car Invitational (OUSCI), presented by Royal Purple and K&N, we take a closer look at Dale Akuszewski's 1964 Sunbeam Tiger. Dale's Tiger received the Spirit of the Event invitation earlier this year at the Run to the Coast event on the West Coast and for good reason.
Dale and his Sunbeam are no strangers to track events, as Dale regularly prepares vehicles for and competes in vintage racing events on the West Coast, when he's not busy running Dale's Restorations, which specializes in partial and full restorations on a wide variety of vehicles. As a seasoned racing veteran, Dale will certainly have a significant edge that may level the playing field against some of his more high-powered competitors.
Being in the business that he is in, Dale will surely have his Sunbeam running like a top and fully expects to score the maximum amount of points possible in the Detroit Speed Engineering/JRI Shocks Road Rally. Akuszewski also expects his light weight (2,600), short wheelbase (86 inches) Tiger should also hold it's own in the RideTech Autocross Challenge.
Given Dale's meticulous attention to detail, we also wouldn't be surprised to see the Sunbeam score a few points in the Lingenfelter Performance Design Challenge. Don't be surprised if Dale catches a few folks off guard in the BFGoodrich Hot Lap Challenge either. Akuszewski's extensive road racing experience should certainly help him at Spring Mountain's challenging course, regardless of what vehicle he is in, but there is a surprise lurking under the hood of his pedestrain-looking Sunbeam in the form of a 405-horsepower (at the wheels) Blue Oval V8. That power gives the Sunbeam Tiger roughly the same power to weight ratio as a 3,200-pound car with a 500 horsepower engine.
Will Dale's experience and race-proven combination be enough to score some points on the road course? Akuszewski did outrun our own Bill Goldberg and fellow OUSCI competitor, Albert Melchior on the road course at Run to the Coast, which makes us optimistic. The fact that he also edge out 2009 OUSCI Champion Steve Rupp's Bad Penny Camaro in the same event raises even more eyebrows.
Dale also has prior experience in events of this format, so when he runs the Wilwood Disc Brakes Speed Stop Challenge, it won't be his maiden voyage. Even though he feels that will be his weakest event, we think his Tiger will be surprising folks all day long and this event will be no exception. If you'd like to see Dale's Sunbeam up close and won't be at the SEMA show, add the OPTIMA Network for free on Roku and watch all the past TV coverage.