Danny Popp's Corvette- The Ultimate X-Factor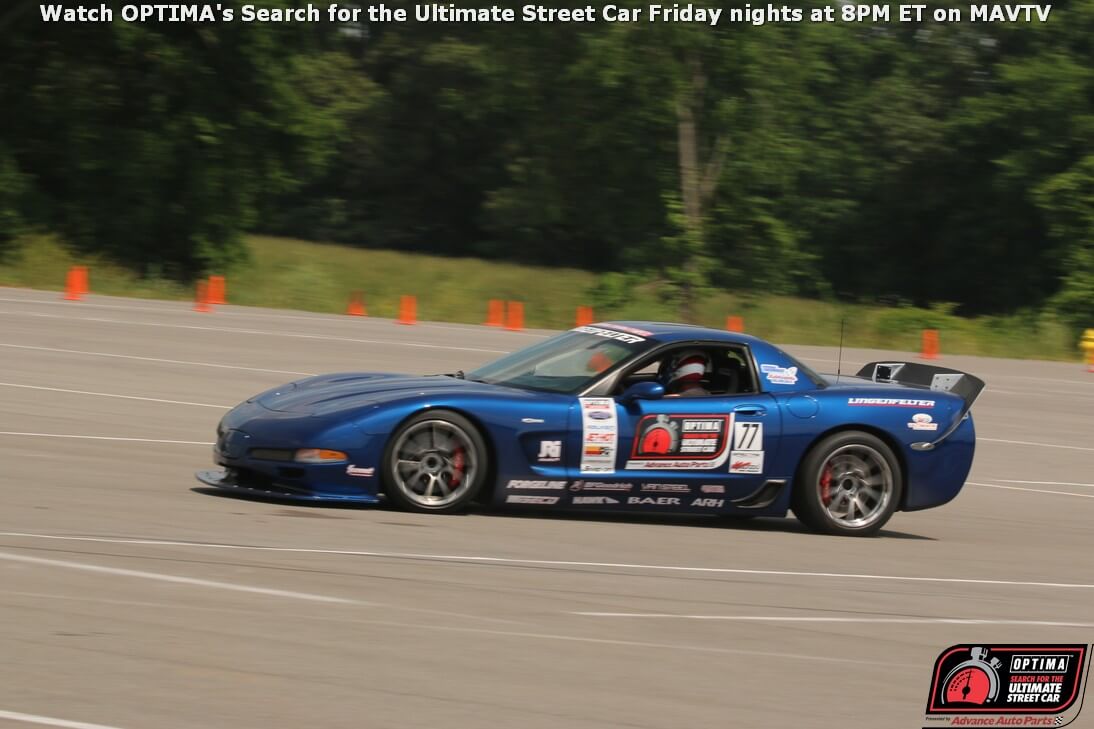 Sponsor

Location
Danny Popp has already won the OPTIMA Ultimate Street Car Invitational twice and he squarely has his sights set on becoming the first three-time winner of the event. However, his participation in the remaining qualifying events of OPTIMA's Search for the Ultimate Street Car, presented by Advance Auto Parts, may have a bigger impact on who makes the cut in 2015, than anyone else in the field.

For those who are unfamiliar with Danny Popp, let us tell you that he has a closet full of SCCA National Championships, he is as tough a competitor as anyone in the OSUSC in any of the five elements. If there was a way to get an extra point in the road rally, he'd try to do it. He is also one of the most gracious competitors in the series, offering valuable advice to his fellow competitors on setups, strategy and the subtle nuances of navigating an autocross course in the most-efficient manner possible. In addition to that, he can basically tear apart and put back together anything he drives and he understands how to dial a car in for competition as well as anyone.

With the luxury of having a 2015 OUSCI invite in his back pocket, Popp has split time this season between his C5 Corvette and the Lingenfelter L28 Camaro. Through seven events, he has managed to place himself inside the top-20 in both the GT and GTL classes, but there may be a dramatic shift in focus for the final two events of the year. Popp is the only GTL competitor in the top-20, who is signed up to run at both Road America and Fontana. Since he has already qualified for the OUSCI, running in these events allows Popp the opportunity to dial in his car for Las Vegas, while sizing up his competition. However, in the process of doing that, he also becomes one of the largest consumers of valuable points in the series.

Popp's split between the two rides effectively minimized his chances of winning either the GTL or GT championship, although the math could still work on the Camaro in GT, if he opted to run that car in the remaining two events and he could put enough distance between himself and the current leader, Bryan Johnson (which is no easy task). However, that would mean sacrificing potential testing opportunities for the Corvette he will ultimately be bringing to SEMA and the OUSCI. In essence, the points he earns have little meaning to him, while at the same time have a tremendous impact on everyone else who is trying to either win the GTL championship or point their way into the OUSCI.

Doug Wind's Dodge SRT4 currently leads the GTL class and second-place James Forbis is just over 20 points behind. However, Forbis has punched his ticket to the OUSCI and is not registered for the final two qualifying events. After those two, it's about 75 points back to third-place Martin Pond, who is registered for the final double-points event at Fontana. Pond was one of several competitors who changed course mid-season and moved to a different class. In Pond's case, he felt he could score more points and have a better chance of making it back to the OUSCI in his Mercury Zephyr, if he dropped weight from his wagon and moved to the lightweight class from GTV.

In OPTIMA's Search for the Ultimate Street Car, competitors can earn an invitation to the OUSCI by winning their class at a qualifying event (or by being the highest finisher in their class, who has not already qualified). At the end of the season, the top competitor in each of the four classes, who has not already qualified will earn an invite to the OUSCI, based on their point total in their class. The next 11 competitors, based on total points (and regardless of class) will also receive invitations.

With that in mind, Douglas Wind is setting himself up for an invite, by registering at Fontana and Martin Pond is doing the same. That's all well and good, but there are plenty of other competitors out there, whose position is not nearly as secure as Wind and Pond, who would love to grab as many points as they can. Here's the problem for them- Danny Popp always wants to win. At Road America, Popp will see Brandon Ranvek, who lost a close contest to him at the 2014 OUSCI, for the first time since that meeting. Brandon Ranvek also wants to win.

Those two guys will likely be going at it pretty hard at Road America and have to be considered among the favorites to win the event, if not grab a bunch of points (perhaps in the range of 116 points each, based on their other event performances). That will make it very tough for Danny Tinch, Ryan Buck and Mike DuSold to grab enough points to either win the class at that event or add points to move them closer on their season total.

DuSold's season totals may not show it, but he is making great strides every time he hits the track, having gone from 57 points at his first event in Texas to 104.8 at Pike's Peak and that's with 12 points he left on the table for the Lingenfelter Design Engineering Challenge. DuSold is working to add the necessary items that will allow him to score those points at Road America and with those extra 12 in his total, that could put him right in the range of the 116 points Popp and Ranvek have both been averaging at events. DuSold will need it, because even if he knocks it out of the park and still finishes behind another non-qualifier at Road America, he won't have enough points on the season to make it into the OUSCI. He will either need to win his way in at Road America or receive a KN Spirit of the Event invitation to qualify for the OUSCI.

With Ranvek and Popp already qualified for the OUSCI, the third-place finisher at Road America could get the invite or it could even drop to fourth place, if Tone Diaz, who has also already qualified, finishes behind Popp and Ranvek in the third position. In addition to those three qualified hotshoes, there will be 18 other competitors duking it out, so points will be scarce and well-earned in this class at Road America. However, competitors there will also see an invitation handed out to someone in their class for winning the KN Spirit of the Event award. As staggering a challenge as it may be to earn points in that class at Elkhart Lake, at least two of the 18 non-qualified competitors will get an invite that day and others may get the nod when the points chase ends.

Moving to the final qualifying event at Fontana, things don't really get any easier for GTL competitors. The class may be slightly smaller at 16 competitors, but Popp will be there again, as well as Pond and Wind, who basically need to be running when the weekend ends, in order to lock in their invitations. From there, it becomes a dogfight among at least a half dozen different competitors who are currently in the top-20 in GTL and looking to move up.

Karl Dunn has been relatively-quiet all year, but he is still in ninth place in the standings. A consistent performance at Fontana could give him a season total of more than 430 points, which could move him up to sixth place in GTL, but more importantly, catapult him from outside the top-20 to inside the top-10 among non-qualifiers.

Mike Hamrick's '66 Mustang in GTV currently sits on the bump spot in season points at 326.0033, but he could get bumped at Road America, moving the bar higher. However, with four KN Spirit of the Event invitations available at Road America, if anyone in the top-15 non-qualifiers receives one (or more) or wins their way in, it could move the bump spot in the other direction. That could put Gregg Biddlingmeier's Ford Mustang very much in the hunt, as he runs at Fontana and possibly even Joe Escobar's Pinto, depending on who wins their way in and gets KN invites.
However, there are several other competitors, who are currently at the back of the top-20 in GTL points, who are all signed up to run at Fontana. Kenneth Allan Mitchell, John Lazorack III and Rich Willhoff are all capable of finishing up with between 375 and 400 points on the season. The amount of points they can capture at Fontana again goes back to Danny Popp.

It's probably safe to say Danny Popp will have two distinct groups of people cheering him on in the final two events. At Road America, it will be the competitors he will see at Fontana in October. At Fontana, it will be the competitors he just saw at Road America. You can join them. Buy your VIP Pit Passes for the OPTIMA Faceoff at Road America on August 30th here and the final OPTIMA Ultimate Street Car Invitational qualifier at Auto Club Speedway here.