Danny Popp wins 2011 OPTIMA Ultimate Street Car Invitational in his 2006 Chevrolet Corvette Z06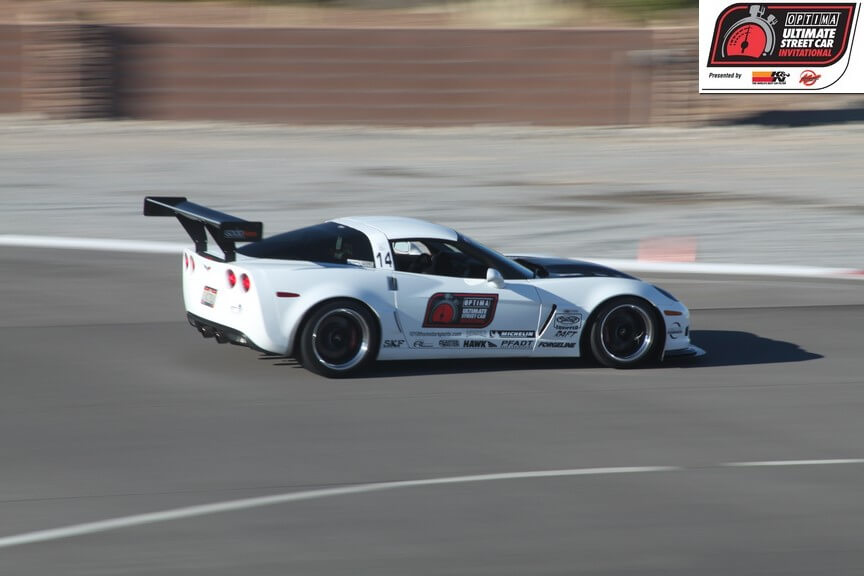 Ultimate Streetcar
Sponsor

OPTIMA Batteries

Location

Pahrump, NV
Last Friday, while the rest of the SEMA exhibitors and attendees packed up and headed home, 53 drivers, their vehicles, sponsors and the entire OPTIMA Batteries team headed northwest one hour to Pahrump, Nevada, to compete in the highly-anticipated OPTIMA Ultimate Street Car Invitational, presented by KN Filters and Wilwood Disc Brakes. The fierce competition yielded tight results with a tie for first place overall between Danny Popp and Mark Stielow, the 2010 OPTIMA Invitational winner. The official scoring system tiebreaker ruling designates the winner is determined by the BFGoodrich Hot Lap Challenge fastest lap. As Popp had the advantage, he and his respected 2006 Z06 came out on top, winning the coveted title of OPTIMA Batteries Ultimate Street Car of 2011.
Danny Popp, who currently resides in Ohio, is a skilled driver with an impressive list of amateur credentials. Popp is a Corvette technician/race specialist by trade at McCluskey Chevrolet in Cincinnati. Popp's heavily-modified Corvette along with extensive seat time in SCCA, NASA and One Lap of America events provided that extra edge to beat some very tough competition.
"It was a thrill to compete in the 2011 OPTIMA Ultimate Street Car Invitational. I have watched this event for the past two years and to be able to win this event as a rookie has me elated," said Popp. "The field this year was incredible and the competition was fierce. The growth of this event is exciting and I look forward to attempting to defend the title again next year, if we are fortunate enough to be invited."
One of the true OPTIMA Invitational heroes was Popp's fellow Corvette competitor Peter Callaway, who helped save the day for Popp by giving him the master cylinder off of his 2008 Callaway Corvette SC652, so Popp could compete in his final event, the Wilwood Disc Brakes Speed Stop Challenge. Without this act of sportsmanship and camaraderie, Popp would have been eliminated.
OPTIMA Batteries announced Popp and each of the segment winners at an awards ceremony immediately following the close of events on Saturday, November 5th at Spring Mountain Motor Resort and Country Club. All participants are acknowledged for being selected to compete in the exclusive event and the following is a list of top-finishing results:
Overall OPTIMA Ultimate Street Car
1st –Danny Popp, 2006 Chevrolet Corvette Z06
2nd – Mark Stielow, 1969 Camaro
Raybestos Performance Design Competition
1st – Phil Gerber, 1967 Chevy Nova
2nd – Curt Ukasic, 1962 Nova Runt
BFGoodrich Hot Lap Challenge
1st – Danny Popp, 2006 Chevrolet Corvette Z06 (Fastest time 01:42.208)
2nd – Pete Callaway, 2008 Callaway Corvette SC652 (Fastest time 01:44.749)
Ridetech Street Challenge Autocross Competition
1st – Danny Popp, 2006 Chevrolet Corvette Z06 (Fastest time 00:38.251)
2nd – Mary Pozzi, 1973 Chevrolet Camaro RS (Fastest time 00:39.414)
Wilwood Disc Brakes Speed Stop Challenge
1st – Gary Rubio, 2009 Nissan GTR (Fastest time 00:06.541)
2nd – Mark Stielow, 1969 Camaro (Fastest time 00:07.096)
"This year's event once again exceeded our expectations in terms of excitement, level of performance and design and the involvement of the entire performance industry," said Cam Douglass, Director of Marketing and Product Development for OPTIMA Batteries. "From muscle cars to hot rods to imports and street trucks, we had builders and owners of the hottest cars in the world out on the track showing that these vehicles really can do what they are built for."
New this year, fans were able to view the action from the front row. More than 500 spectators came out to enjoy the high-performance racing action. The entire event, from the pre-SEMA builds to the awards ceremony, was shot for a national TV show, which will air in early 2012 on a national cable network.
Sponsors of the 2011 OPTIMA Ultimate Street Car Invitational include the presenting sponsors, KN Filters and Wilwood Disc Brakes, and the race event sponsors, including BFGoodrich, Ridetech, Wilwood Disc Brakes, Raybestos, and Detroit Speed and Engineering. Additionally, The Roadster Shop, MagnaFlow, RECARO, Harman Kardon and Pioneer are associate sponsors for the OPTIMA Invitational. For full event results, more information on the OUSCI participants, visit the OUSCI Facebook page. Click here for more information on how you can compete in the DriveOPTIMA qualifying series and make it to Nevada in your ultimate street car.