Danny Popp's 2003 Chevrolet Corvette Z06 | 2014 OUSCI Recap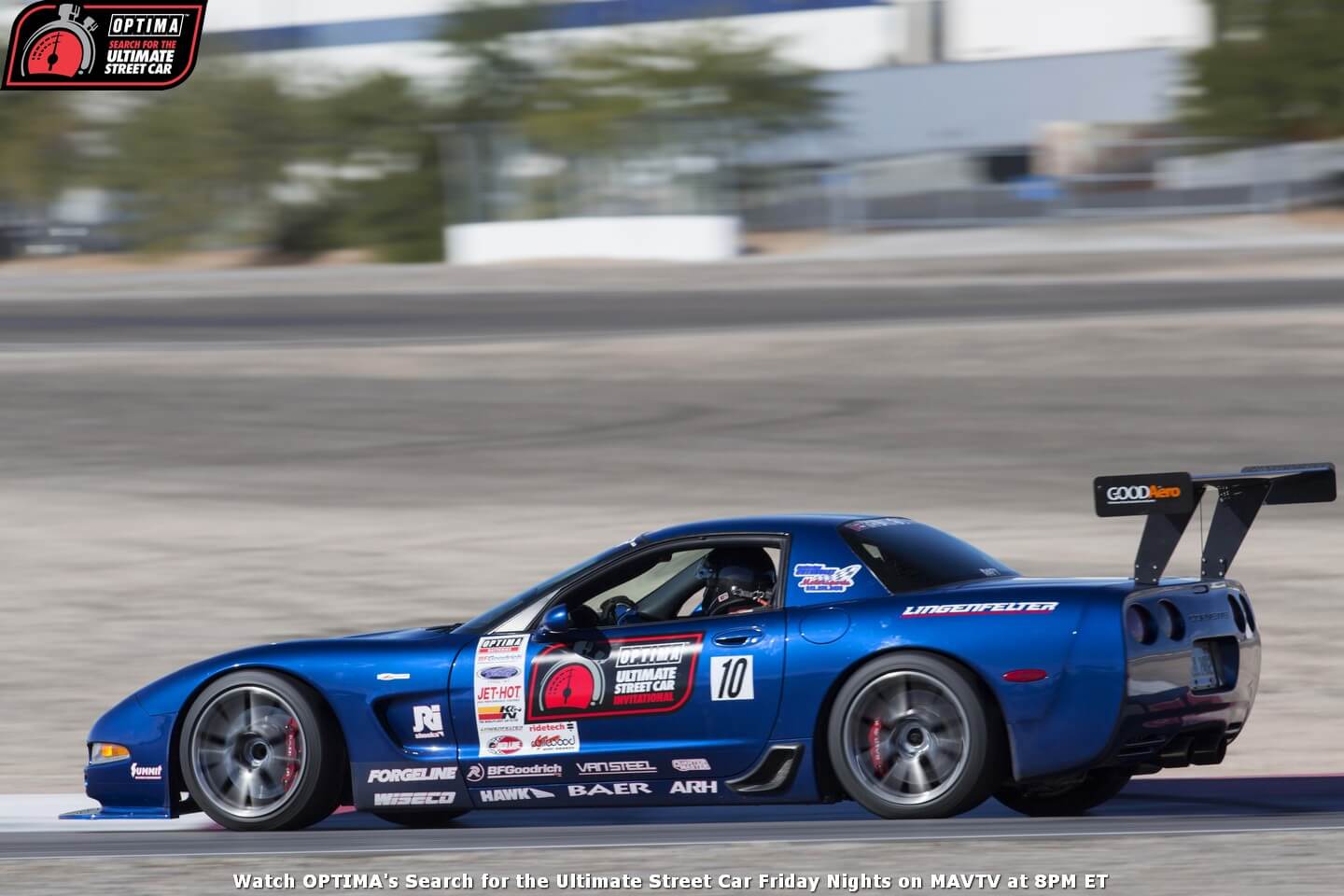 Ultimate Streetcar
Sponsor

OPTIMA Batteries

Location

Las Vegas, Nevada
Winning the OPTIMA Ultimate Street Car Invitational, presented by K&N Filters, one time is no easy feat. Winning it a second time is even tougher. In 2014, Danny Popp became only the second competitor in the event's history to win the OUSCI two times, joining Mark Stielow (2010 2012) in that exclusive club. While extremely competitive, Popp is also very generous with his knowledge and expertise, not only in driving tips, but car preparation as well. While he wants to win, maybe more than anyone else, he also wants to win against the very best competition and is more than willing to offer help to his fellow competitors.
Case in point, Danny is an instructor for 10/10ths Motorsports and knowing there was an OUSCI qualifying event at the National Corvette Museum Motorsports Park in June, he alerted his fellow competitors to an opportunity to get out on the new venue ahead of time at a 10/10ths event in April. This isn't just an opportunity to get seat time at a new venue, because as an instructor, Popp is basically willing to share his secrets for finding the fast way around the track with his fellow competitors. There are also more than a few competitors in the field, who can point to Popp as someone who has either offered great advice on setting up their cars for competition or walked them around the RideTech Street Challenge Autocross, showing them the fastest line.
Danny's generosity is a rare trait in a competitive driving world, where setups are closely-guarded secrets and we greatly appreciate his participation in DriveOPTIMA and OUSCI events. While some may see new rule changes as a thinly-veiled attempt to prevent Popp from making a repeat performance in 2015, the reality is Danny will be extremely competitive in any event he enters, regardless of the rules or even the vehicle he is driving. He is just that great of a driver and competitor, whether we see him in his Corvette or any other vehicle.
Danny was also more than generous with us in sharing his thoughts on the 2014 OUSCI, which we bring to you now-
Being the pinnacle event for OPTIMA's Search for the Ultimate Street Car, I thought the 2014 OUSCI went very well in retrospect, with the new venue, new format and 100% more cars. I knew early in the year, that the field would become increasingly more competitive- there were some REAL "shoes" there, with REAL equipment. It was by far the best show of vehicles, preparation and talent that had yet partaken in this event.
I was very happily surprised by the outcome. I always expect to do well given my experience, accomplishments, preparation and sponsor support, but this year was a complete crap shoot, as to who would come out on top. The field was stacked full of people with like experience, accomplishments and hardware. Competing in events is always fun regardless of the outcome, but it's even more fun being competitive for the overall win. Talking with people "in the know", and understanding just how they were going to run this new format, initially led me to believe that an all-wheel drive car would be the 2014 OUSCI Champion.
My early interpretation was correct, as well as who I thought would be at the top of the list. The all-wheel drive cars were dominant in the Wilwood Disc Brakes Speed Stop Challenge and had a distinct advantage in the Autocross, especially with the way that the Autocross was constructed with two standing starts per total time, short initial bursts of acceleration from the start and a tight 180-degree turnaround. Being able to put power into the ground was absolutely paramount in both the Speed Stop and Autocross alike. My early guesses as two "whom" were also correct, in that Brandon Ravnek's Mitsubishi Evo won both of those events. During those events, I was just happy to be the fastest RWD/2WD competitor allowing me to be close enough to the top, to enable the possibility of still coming out well overall.
My confidence level was much higher on the BFGoodrich Hot Lap Challenge, as although the AWD cars still had an advantage, it was less of one, as low-speed power application was far less necessary. I knew I had a REALLY good car for that event and focused heavily on trying to win that event outright and have enough cars between myself and Brandon to overcome the deficits of the first day.
I needed several positions between myself and Brandon to offset my runner-up finish in the Autocross and my fifth-place finish in the Speed Stop, meaning I would need to finish at least six positions ahead of Brandon in the Hot Lap Challenge. I felt horrible for Brandon when his Evo expired the engine in the first session after only having a couple of hot laps. It was a stroke of luck for me, but I just stuck my head down and kept digging. The results for this event and times came out very late due to a MyLaps issue, but we finally had results before the very last session and realized that although I was winning the Hot Lap Challenge, I needed help from fellow competitors to be able to get the overall win.
That's when I realized my good friend and teammate, Todd Rumpke's Corvette was one of THOSE guys behind Brandon, who still should not have been. I gave him a huge pep talk before that last session and with help from Todd, who had accomplished my goals for him, as well as Mark Stielow and Ken Thwaits, who also posted faster times than Brandon, I was able to gain enough positions to help me contend for the overall win. My thanks to those guys for sure, because without them putting forward their best efforts in the final session, I would have assuredly not won.
Even after the Hot Lap Challenge ended, who had won the overall win was still anyone's guess, as no one knew what had occurred during the Lingenfelter Performance Design Engineering segment. We all had to wait for the nearly-immediate awards presentation to find out who won the OUSCI. No one knew until the overall positions were announced and when Brandon was awarded second place, I knew that I had the only other car within reach. I was absolutely ELATED to have hard work, dedication and preparation come to fruition by winning my second OUSCI title, but I was also heartbroken for Brandon and the RS Motors gang, who are VERY formidable competitors.
In essence, I did a little better than I expected to do before the event. The only unexpected issues that I encountered were during the Detroit Speed Road Rally segment, where my clutch fluid boiled in traffic, making my clutch pedal stick occasionally on the floor. I was also nearly rear-ended by another competitor, when I abruptly had to stop for a red light. Other than that, the Lingenfelter Corvette ran flawlessly during the event.
The only thing I think I would've done differently would've been to do more testing and refinement prior to the event. How the Corvette ended up running at the OUSCI instead of the Lingenfelter L28 Camaro was really just a matter of circumstance, after the Corvette won the event at Gateway in the Lingenfelter L28's absence, due to the incident at Road America.
It wasn't until mid-September, when Mike Copeland made the executive decision to run the Corvette at the OUSCI in lieu of the Camaro. The damage from Road America was still present, so in just six short weeks, the body repairs were performed, aero was installed, a new engine, transmission, differential, brakes and other various pieces and parts were installed, which took MUCH time out of testing opportunities for the Corvette. The Corvette was fast, but could it have benefited from being more sorted before heading west? I guess that's what 2015 is for.
As in years past, the quality of cars in the field is always top-notch, but the number was doubled. So in that, you have at least twice as many good car and driver combinations, as well as more top-notch efforts because of the much broader reach of marketing and the television programs. There were some really cool and innovative machines this year, at least double the previous years, if not more. OPTIMA Alley was quite impressive as well!
What surprised me most at the event, was how many people were having off-track excursions on the road course (including myself, as I dipped two off on two separate occasions) and how much foreign material ended up being on the racing surface because of it. The most-impressive car and driver combination to me, was Ronnie Soliman's improvement from the first USCA event of the year at Laguna Seca to the final performance in Las Vegas. Had his Mitsubishi Evo stuck just ONE of the bonzai Speed Stop passes, he would have finished even higher!
I have three suggestions for future competitors, who are preparing for this event- Seat time, Seat time and SEAT TIME. The cars and the preparation of them is important, but nowhere near as important as getting routine practice at these types of events to have consistent and FAST driving. Consistency wins events and helps with evaluations of car set-ups for further evolution of the platforms. That and do NOT be like me and throw the kitchen sink at the car in the last five weeks before the event. Again, having a consistent, stable platform and knowing what the car will do in all circumstances trumps the unknown in the event!
Preparations are already underway for OPTIMA's 2015 Search for the Ultimate Street Car and event registration opens Monday, January 19th at www.driveOPTIMA.com. Will you be ready to take on Danny Popp and his Corvette in 2015?