David Carroll's 1975 Datsun 280Z- 2016 OUSCI Recap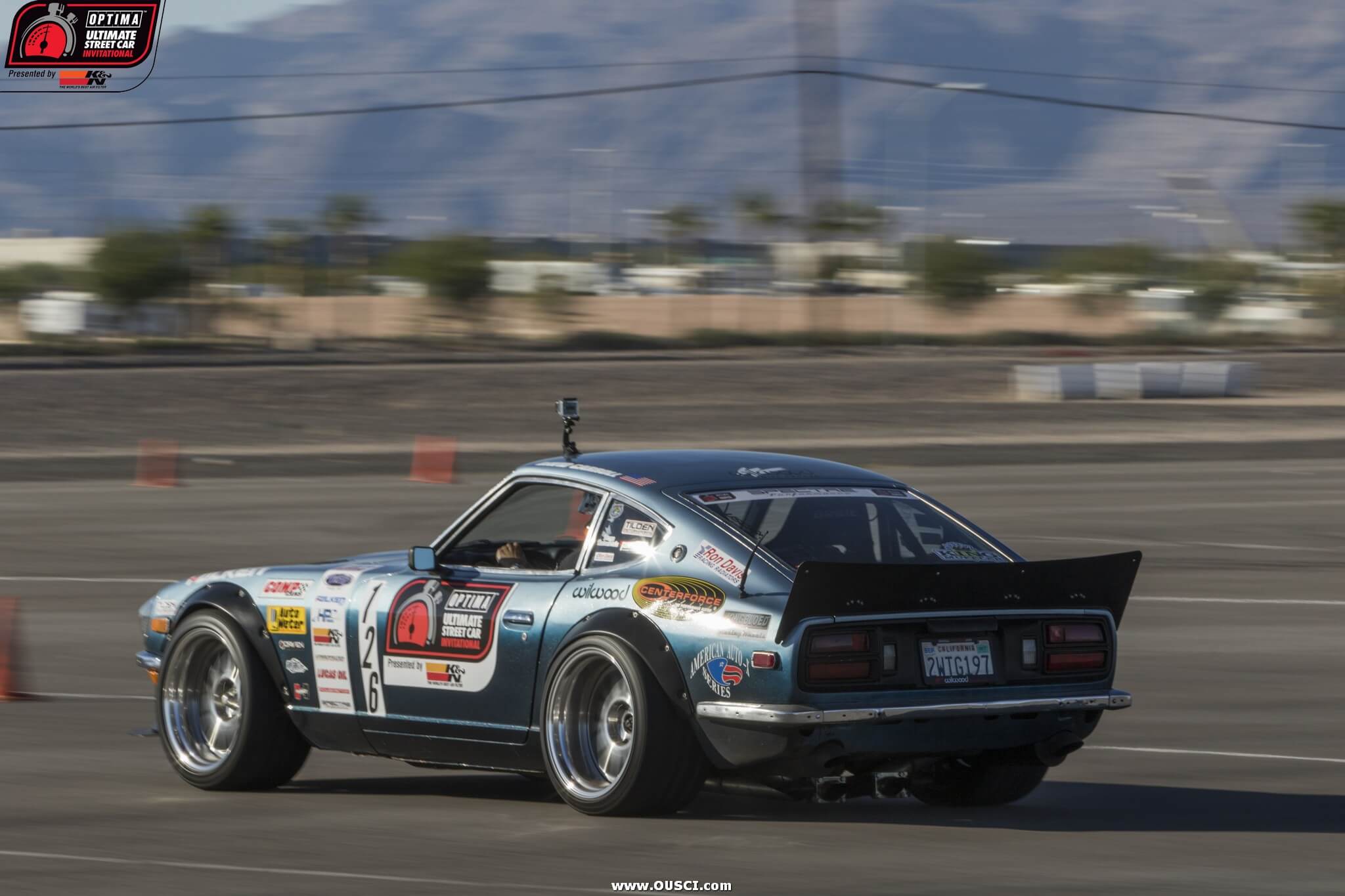 Ultimate Streetcar
Sponsor

OPTIMA Batteries

Location

Las Vegas, NV
The 2016 OPTIMA Ultimate Street Car Invitational, presented by K&N Filters, marked the second consecutive appearance of David Carroll's 1975 Datsun 280Z. While not the first vintage Z car to compete in the OUSCI, Carroll's is certainly the most-potent and the first to earn an invite at a qualifying event.

The original engine has been replaced with a Tilden Motorsports LS3, that produces 540 horsepower and 500 lb.-ft of torque at the wheels, which are three-piece, 18-inch hoops from Jongbloed Racing, wrapped in Falken Zenis RT615K 315-series rubber. The transmission is a T56 mated to a Centerforce DYAD clutch and driveline components from Southbay Driveline. The rearend is an SNR200 Q45 VLSD with custom CV axles.

On the suspension side of things, the Datsun features coilovers on all four corners with a Techno Toy Tuning camber kit in the front and an SNR200 kit in the rear. The fuel tank is a 15-gallon unit from Rock Valley Antique. The brakes are sourced from Wilwood, with 13-inch rotors and Superlite calipers in the front and 12-inch floating rotors and calipers in the rear.

The exhaust system features a Flowmaster muffler, mandrel-bent three-inch piping, Quicktime Performance electric cutouts and the entire system was custom-fabricated by King Muffler of Morgan Hill, California. Body modifications include a 240Z grille, front and rear bumpers, as well as a custom front aluminum splitter and rear spoiler. JPN Garage super flares help hide the rubber. The electric steering rack was sourced from Silvermine Motorsports and the custom roll bar was fabricated by Marcus Fry Racing, Inc. and now secures five-point harnesses from DJ Racing. The gauges are Autometer Ultra II models.

David is very appreciative of his sponsors, which include K&N Filters, SPECTRE Performance, Tilden Motorsports, Pacific Fabrication, Wilwood Disc Brakes, JongBloed Racing Wheels, Falken Tires, Marcus Fry Racing, OPTIMA Batteries, Autometer Gauges, Flowmasters Exhaust, Hurst Shifters, Quicktime Performance, Centerforce Clutches, COMP Cams, MSD, DJ Safety, TestCarDatabase.com, Ron Davis Radiators, XtremeKustom Details, Southbay Driveline, Trackspec Motorsports, King Muffler and Silvermine Motorsports.

Carroll's season started out at Thunderhill, where he placed fourth in a very competitive GTL class. Eyeing up the schedule, David opted to sign up for the OUSCI qualifier at Pike's Peak, hoping the class size might be smaller and some of the heavy hitters would have already secured OUSCI invites, as Rich Willhoff did at Thunderhill. That strategy paid off for Carroll, as his podium finish in GTL behind Rich Willhoff and Ken Thwaits, who had both already qualified, earned him the invite for Vegas.

With his 2016 invitation secured, Carroll could focus on redeeming himself at the 2016 OUSCI, after having his weekend end early in 2015 when his axle snapped on the Speed Stop. That incident triggered what David refers to as the "snowball effect," because that failure led to a new rearend, upgraded axles, new hubs, a five-lug conversion all the way around, new wheels, larger tires,, bigger flares and a new driveshaft.

The car and driver both responded well in 2016, as David notched a 28th place finish in the Lingenfelter Design & Engineering Challenge. Carroll did even better on the Detroit Speed Autocross, where he finished 22nd overall, just 4 thousandths of a second behind Danny King's 2011 Porsche Turbo S. The PowerStop Speed Stop Challenge, which proved to be his downfall in 2015, turned into his strongest segment in 2016, with David edging out Kyle Tucker's 1970 Camaro for 14th place. David capped off the weekend with a 32nd-place finish in the Falken Tire Road Course Time Trial, which gave him 408 points on the weekend and a solid 22nd-place finish overall. You can see more of David's car in action on OPTIMA's Search for the Ultimate Street Car TV Series, that airs each weekend on MAVTV and is available on-demand on the OPTIMA Network on Roku. You can also follow David on Instagram at Datsun570Z.