David Stundon's 2009 GT500 SuperSnake | 2013 OUSCI Preview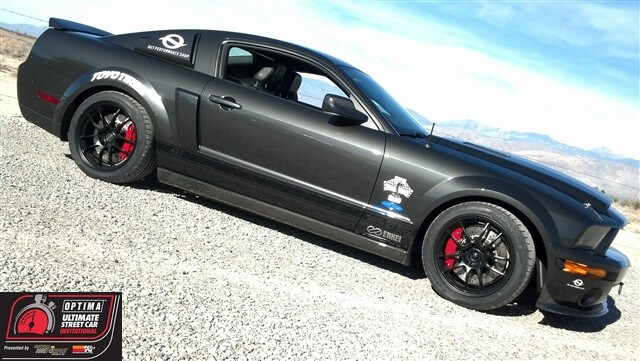 Ultimate Streetcar
Sponsor

OPTIMA Batteries

Location

Pahrump, NV
You'll find a little bit of everything in the OPTIMA Ultimate Street Car Invitational (OUSCI), presented by Royal Purple and K&N Filters. There are imports, European cars and plenty of domestic representation in the field and they span decades of automotive excellence.
When we previewed David Eckert's incredible 1969 Ford Mach 40, it answered the question of "What if" Ford had created a Mustang in 1969, based on the architecture of the legendary GT40. While Eckert's Mustang represents the "What if," David Stundon's 2009 GT500 SuperSnake Mustang represents what Ford (or more specifically, Shelby American, Inc.) actually did with a modern Mustang to maximize performance.
Let's cut right to the chase- 765 horsepower is on tap here. Those are big boy numbers and exactly the kind of power past OUSCI champions have needed to win it all in Pahrump. A polished Kenne Bell liquid-intercooled supercharger sitting atop the 5.4-liter engine is a big part of that combination, but in some ways, it is just the tip of the iceberg. Horsepower (and for that matter, torque) coming out of an engine is only as useful as the rest of the vehicle can make it by the time it reaches the street, if it makes it that far at all.
Shelby builds these cars to be driven and with that in mind, several upgrades have gone into the car to ensure maximum performance and durability. A Shelby cooling system with an all-aluminum radiator not only helps keep engine temperatures in check, but also the previously-mentioned supercharger and power steering system, which can be very important in high-speed, road course applications. Baer six-piston calipers and CL brake pads have also been added on all four corners, to ensure the SuperSnake can slow down from high-speed runs it is very capable of making.
As impressive as Shelby's package is right out of the box, Stundon took things several steps further with additional modifications. A CorteX Racing adjustable coilover suspension system has been added up front and a Don Richardson Watts Link system has been added in the rear. CorteX rear lower control arms have also been added, as well as OutPerformance CorteX edition 18-inch Enkei racing wheels, which are shod with 295-series Toyo rubber on all four corners.
Don's other modifications include BMR subframe connectors, a tow hook system from Rennline Don Richardson and a Chicane Sport Tuning two-point rollbar with Sparco racing harnesses. Sure, the Shelbys came with plenty of trick carbon fiber parts and lots of numbered plates all over the place (Dave's car is #289 of 427), but will that impress the judges in the Lingenfelter Performance Design Challenge?
An even bigger question is how the car will do on the track? Stundon is a Southern Nevada resident, which may give him an edge on many of the OUSCI competitors, because he has logged plenty of track time at Spring Mountain Motor Ranch in a variety of vehicles. He has also spent time on the road course at the Las Vegas Motor Speedway and is a seasoned veteran in open road races. That should help him in the BFGoodrich Hot Lap Challenge, although Stundon did indicate he doesn't have as much experience in autocrossing and unless someone runs in American Street Car Series events or OUSCI qualifiers, they probably haven't experienced anything like the Wilwood Speed/Stop Challenge.
David still believes he has a great opportunity to win the OUSCI and we have no reason to doubt him, given the car he is bringing. This is definitely an event you'll want to catch, but if you missed seeing it live, add the OPTIMA Network on Roku and watch all the past TV coverage.