David Stundon's 2009 Shelby Super Snake at the 2014 OUSCI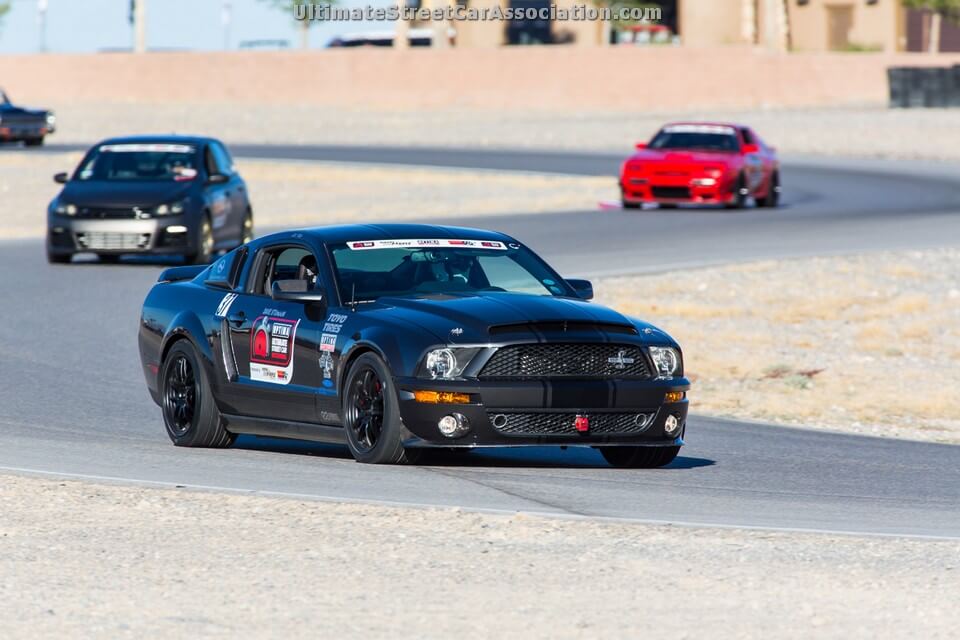 Ultimate Streetcar
Sponsor

OPTIMA Batteries

Location

Pahrump, NV
The OPTIMA Ultimate Street Car Invitational (OUSCI), presented by Royal Purple and K&N Filters, continues to draw a wide variety of vehicles, although traditional muscle cars are still well-represented. One of the most-iconic muscle cars of all-time may be the Ford Mustang and the Shelby name has to be considered among the most-iconic in all of motorsports. David Stundon's 2009 Shelby Super Snake represents both of those camps very well.
Being local, Stundon was familiar with the event and realistic about where he thought he would finish. He expected to finish about 32nd overall and came in just a few spots behind that in 37th. Stundon did finish exactly 32nd in the BFGoodrich Hot Lap Challenge with a fast lap of 2:02.572 at Spring Mountain. Just two years ago, that time would've been good enough for 23rd fastest, so the bar is definitely being raised by the entire field.
The OUSCI lost a lot of daylight in 2013. Part of that was due to SEMA being pushed back by a week this year, but with the OUSCI now being held after daylight savings time ended, it resulted in a very early wake-up call for many of the OUSCI participants. Being a resident of Pahrump, Stundon was not impacted as much as the other competitors, especially those that made the early-morning drive up from Las Vegas.
While the early start for tech may have seemed unnecessary to some, the event organizers knew how critical the daylight hours were to TV production and the group photo at the end of the day. Fortunately, the event went off flawlessly and was wrapped up in record time, allowing for plenty of time to take the group photo afterwards, as well as several magazine photo shoots, which routinely take place following the day's activities.
Stundon enjoyed himself enough at this event, that he plans to make some upgrades to his car, so he can perform better in various events. Those changes include a differential stabilizer, a four-point body stiffener and front shock tower support bar. He is also contemplating changes to his braking system, that will allow him to easily make adjustments as he moves from one event to the next. David also plans on honing his skills in the Wilwood Speed Stop Challenge, an activity typically only found at events in OPTIMA's Search for the Ultimate Street Car series.
When we've asked competitors which vehicle and/or competitor impressed them most in the OUSCI, we received a wide range of answers. Stundon felt Herb Adams' Camaro was worth mentioning. "Herb is a prime example of an owner, builder and racer, who has stood the test of time and improvements in equipment technology," said David.
Stundon is already looking forward to qualifying events in 2014 and with good reason. The first DriveOPTIMA event at Mazda Raceway Laguna Seca is only about three months away!