Daytona Awaits Ultimate Street Cars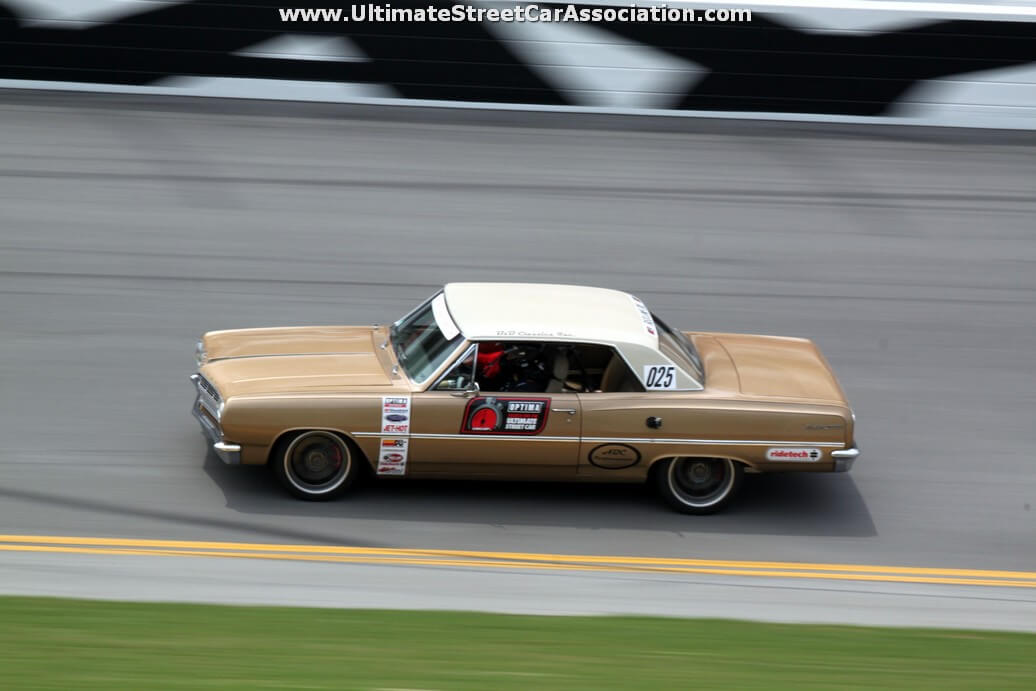 Ultimate Streetcar
Sponsor

OPTIMA Batteries

Location

Daytona Beach, FL
Ask any serious race fan to compile a bucket list of race tracks and Daytona International Speedway would surely be on every list and probably at or near the top of most of them. It is truly an iconic facility, steeped with tradition for both NASCAR and sports car racing fans alike. It seems almost too good to be true that the Ultimate Street Car Association is holding a qualifying event there in May of 2014 for the OPTIMA Ultimate Street Car Invitational (OUSCI). An immediate reaction might be one of skepticism and understandably so- How close to the track will people really get? Will they get to drive on the high-bank portion of the track? Will track access be limited to pace laps at a controlled speed?
That's typically what happens, isn't it? Some promoter sells unsuspecting fans on a once-in-a-lifetime chance to get out on an unbelievable facility, only to find out the offer really was unbelievable- money is collected and the promises made are barely delivered upon in a far more limited scope than what was so convincingly promised. Kind of like paying $5 at the carnival to see the last known unicorn, only to be shown a common goat with one horn missing.
There is no such bait and switch tactics at the upcoming DriveOPTIMA event at Daytona International Speedway. Bring your street car and bring a helmet, because they're sending you out on the same high banks raced by Petty, Waltrip, Earnhardt, Kenseth, Gordon and many others. The DriveOPTIMA series will send you out on the Roval, which incorporates much of the super speedway, as well as the same infield road course used during the Rolex 24 Hours race. In fact, Event Director, Jimi Day, tells us they have a full nine hours of track time scheduled for the BFGoodrich Hot Lap Challenge on Saturday, but that's not all.
Competitors will start out the weekend, by running in the Detroit Speed & Engineering Road Rally on Friday, May 23rd. Once they've completed the BFG Hot Lap Challenge, they will return to the track on Sunday, for the Ridetech Autocross, the Wilwood Speed Stop Challenge and the Lingenfelter Performance Design Challenge. The question won't be whether or not someone is able to get on the track and drive or how fast they'll be allowed to go once out there, but whether they'll have enough energy to take full advantage of all this weekend has to offer.
Consider the following- Competitors at the first Search for the Ultimate Street Car event at Mazda Raceway Laguna Seca drove a combined 2,500 miles during the seven-hour BFG Hot Lap Session. In addition, they also logged 882 passes on the Ridetech Autocross and Wilwood Speed Stop Challenge. The next DriveOPTIMA event at Texas Motor Speedway offered more of the same- 2,112 BFG Hot Lap road course laps and another 1,242 passes on the Ridetech Autocross and Wilwood Speed Stop Challenge.
Schedule time off from work, call your parents to watch the kids, do whatever you need to do to get down to Daytona International Speedway on May 23-25, 2014, because this is the real deal. Did we also remember to mention this event will be televised as part of the OPTIMA's Search for the Ultimate Street Car TV Series? It will be. While we're laying that out for you, we should probably also mention that OPTIMA handed out nine invitations to the 2014 SEMA Show at the first two DriveOPTIMA events and will be handing out more in Daytona.
Event organizers want to make sure everyone gets more track time than they can possibly handle and the TV production crew wants to make sure they capture as much of the action as possible, so space for this event is limited to the first 100 entries. Don't delay, go to the Search for the Ultimate Street Car Series website and reserve your spot for Daytona today!