Dieter-Heinz Kijora's 2014 Mercedes-Benz CLA45 AMG | 2014 OUSCI Preview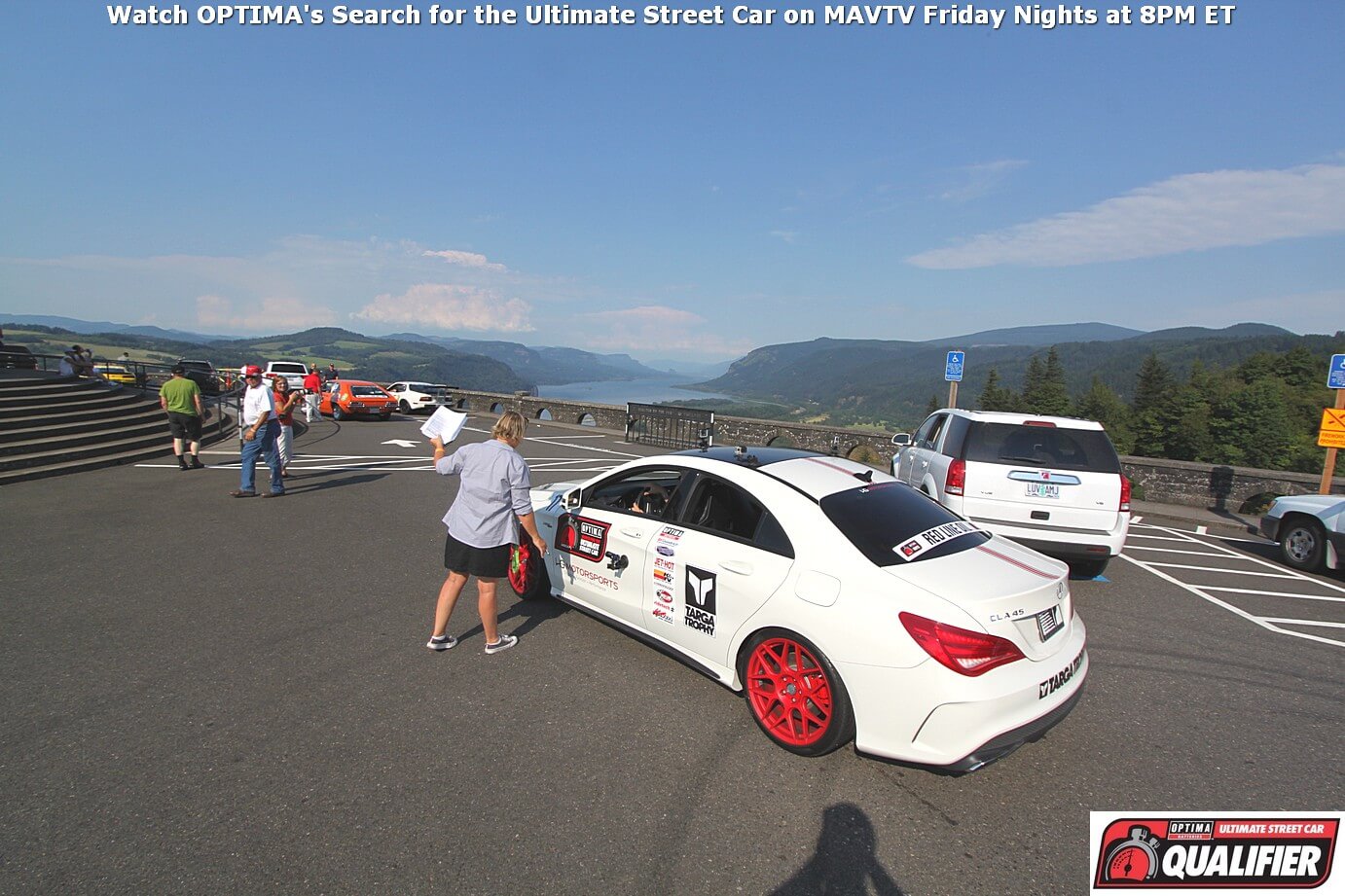 Ultimate Streetcar
Sponsor

OPTIMA Batteries

Location

San Diego, CA
Dieter-Heinz Kijora may have a fairly-unique name and while it may not be all that familiar to OPTIMA Ultimate Street Car Invitational (OUSCI) fans, his company, HG Motorsports, is certainly no stranger to the competition. In fact, another car from their stables, Casey Wallace's 2011 Nissan GT-R, has also qualified for the 2014 OUSCI, in addition to Chris Frick competing back in 2012 in an HG Motorsports Fiat 500. While those cars may represent a broad spectrum of the automotive world, they all have a consistent theme- performance.
Dieter's 2014 Mercedes-Benz CLA45 AMG is no exception. Kijora arrived at Portland with approximately 10,000 miles on the car already, so it's safe to say they've been putting the AMG through it's paces. The car weighs in at just under 3,500 pounds from the factory and although they made some upgrades for the Portland event, the turbocharged 2.0, four-cylinder engine was largely untouched, but still producing 360 horsepower. The suspension did receive some upgrades from KW clubsport and the colorful hoops are courtesy of HRE wheels. Aside from those tweaks and the HG Motorsports cat-back exhaust system, the car basically rolled into Portland International Raceway close to stock form.
However, an invitation to the OUSCI almost necessitates change. Everyone steps up their game, because...well, everyone else steps up their game. Kijora knows what he is up against and while he would very much like to win, realistically, he feels finishing just behind the front-runners in what he describes as a, "measly four-cylinder, four-door sedan" would be a victory unto itself, against machines that on paper should absolutely own the track.
If Kijora goes down, he'll go down swinging and with plenty of time spent at the Bondurant Advanced Road Racing School, the Derek Daly Performance Driving Academy, as well as a background as a NASA Pro Racing instructor (he finished on the podium in TTU at the 2006 National Championships at Mid-Ohio). The plan he outlined for us on upgrading the CLA45 focused on four areas- power, brakes, aero improvements and the interior.
"We have been working with our tuner on a plug-n-play power module that will allow us to get some more customized tuning as we start adding more parts," says Kijora. "After getting some good track feedback, we have been looking into developing an upgraded engine oil cooler kit. Our upgraded turbo unit will be ready shortly and should give us around 50 extra horsepower." HG Motorsports has also been working with a company in Germany to get some custom injectors that will allow them to use E85 for more power and better drivability, thanks to cooler engine temperatures.
On the aero side, Dieter tells us HG Motorsports has teamed up with APR Performance and added a trunk-mounted wing similar to the CLA250 wing, as well as a front air splitter.
Inside, HG removed the rear seat and added a bolt-in roll bar with race harnesses to help the RECARO Sportster seats function more as intended. They have also been working with Girodisc Brakes and created a two-piece sport brake disc kit and some custom stainless steel brake lines. Their goal from a horsepower standpoint is to have about 500 ponies on tap for Las Vegas, which Dieter hopes will be enough to take down some of his fellow AWD competitors and keep him within striking distance of the top dogs. Time will tell and we can't wait to see it all go down in Las Vegas.

If you couldn't see the action unfold in person, you can always watch all the past TV coverage for free on the OPTIMA Network on Roku.