DriveOPTIMA Charlotte 2022 Results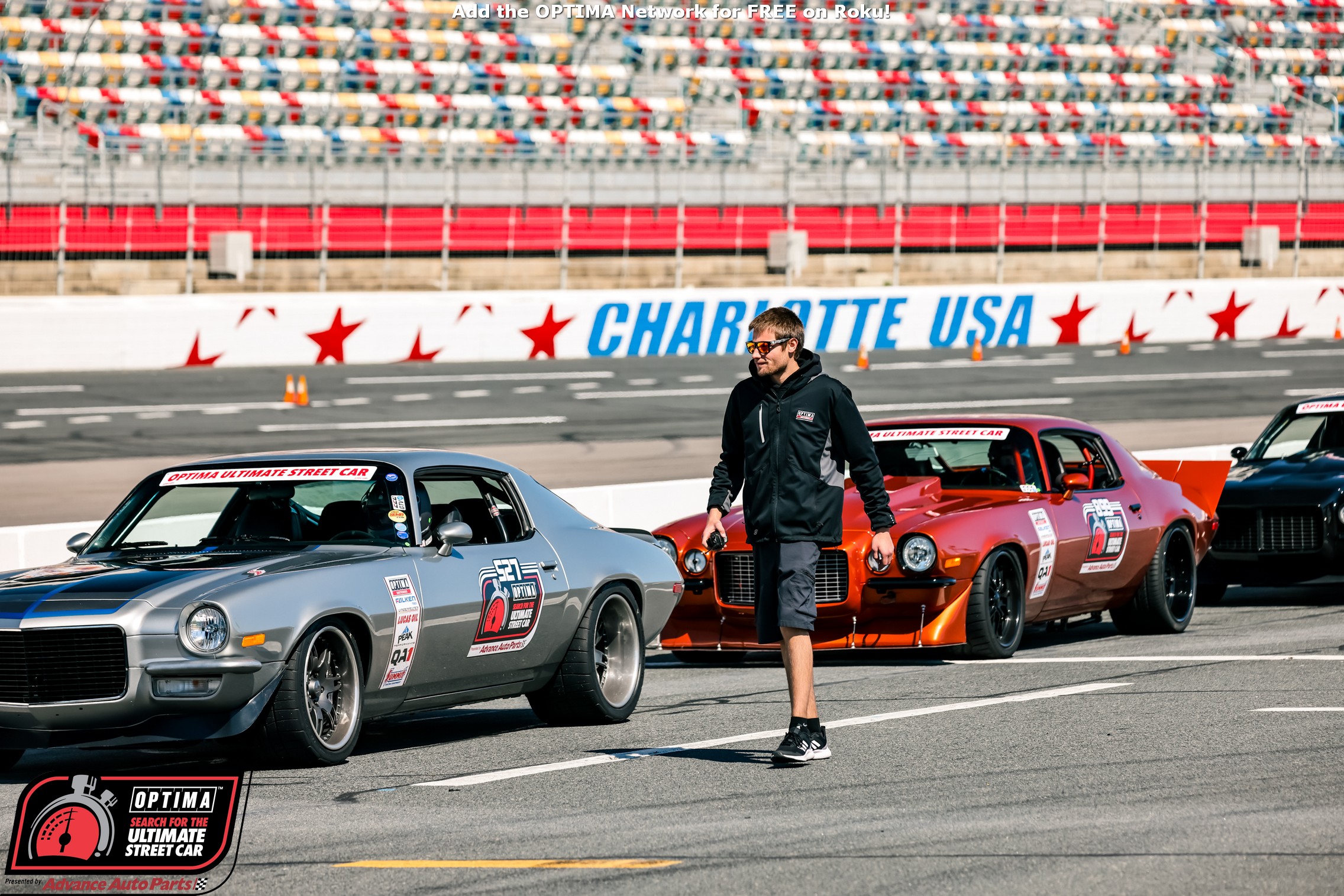 Ultimate Streetcar
Sponsor

Advance Auto Parts

Location

Concord, North Carolina
The ninth season of OPTIMA's Search for the Ultimate Street Car, presented by Advance Auto Parts, began at Charlotte Motor Speedway on the weekend of March 19th. A sold-out field of competitors converged on the track for competition that spanned three days and included five different segments- the Lucas Oil Road Rally, Lingenfelter Design & Engineering Challenge, QA1 Autocross, Peak Performance Challenge & Falken Tire Road Course Time Trial.
See the top finishers from each class below, as well as a full gallery of images. See the complete results
here
and be sure to tune in to MAVTV every Friday night at 8PM ET/PT to watch the series on TV!
GT Class (post-1989, 3,200+ pounds, 2wd sedans, 4-seater coupes, trucks, etc...)
1. Jonathan Blevins, 2008 Ford Mustang
2. James Thomas, 2016 Ford Mustang
3. Tim Schoch, 2016 Ford Mustang

Classic Car Liquidators GTV Class (pre-1990, 3200+ pounds)
1. Joe Gregory, 1964 Chevrolet Corvette
2. Jason Bottenfield, 1969 Chevrolet Camaro
3. David Schardt, 1970 Chevrolet Camaro

GTS Class (post-1989, 3200+ pounds, two-seaters & awd vehicles)
1. Bob Sobey, 2013 Nissan GT-R
2. Mike Gallagher, 2016 Ford Focus RS
3. Richard Forsythe, 2008 Chevrolet Corvette

Downforce Motorsports GTR Class (OE-licensed replicas, minimum weight 2350 pounds)
1. Dan Long, 1966 Superformance GT40
2. Dennis Olthoff, 1966 Superformance GT40

Holley EFI GTL Class (non-compacts under 3200 pounds)
1. Garry Walsh, 2004 Chevrolet Corvette
2. Rob Edmonds, 2001 Chevrolet Corvette
3. Stephen Watkins, 2002 Porsche Boxster

No Limit Engineering GTT Class (Trucks & SUVs over 3200 pounds)
1. Jesse Vaughn, 1978 Chevrolet C10
2. Brian Finch, 1970 Chevrolet C10
3. Stephen Dorrick, 2005 Nissan Frontier

GeauxMoto GTC Class (two-wheel drive compacts, 107-inch wheelbase or less)
1. John Laughlin, 2007 Honda S2000
2. Douglas Wind, 2004 Dodge SRT-4
3. Dayton de la Houssaye, 2006 Mazda MX-5

Speedtech Lucky 7 Outlaw Class (relaxed aero rules, pro drivers allowed)
1. Anthony Palladino, 1969 Datsun Roadster
2. Angela Payne, 2016 Chevrolet Corvette
3. Bob McKeever, 1995 BMW M3

Summit Racing Spirit of the Event Award:
JB Granger, 1967 Chevrolet C10



2022 OPTIMA Search for the Ultimate Street Car Schedule
Charlotte Motor Speedway March 18-20
Sonoma Raceway April 30-May 2
Road America May 20-22
Portland International Raceway July 15-17
VIRginia International Raceway October 7-9
Utah Motorsports Campus October 14-16
OPTIMA Ultimate Street Car Invitational LVMS November 2-7