DriveOPTIMA Daytona 2019 Results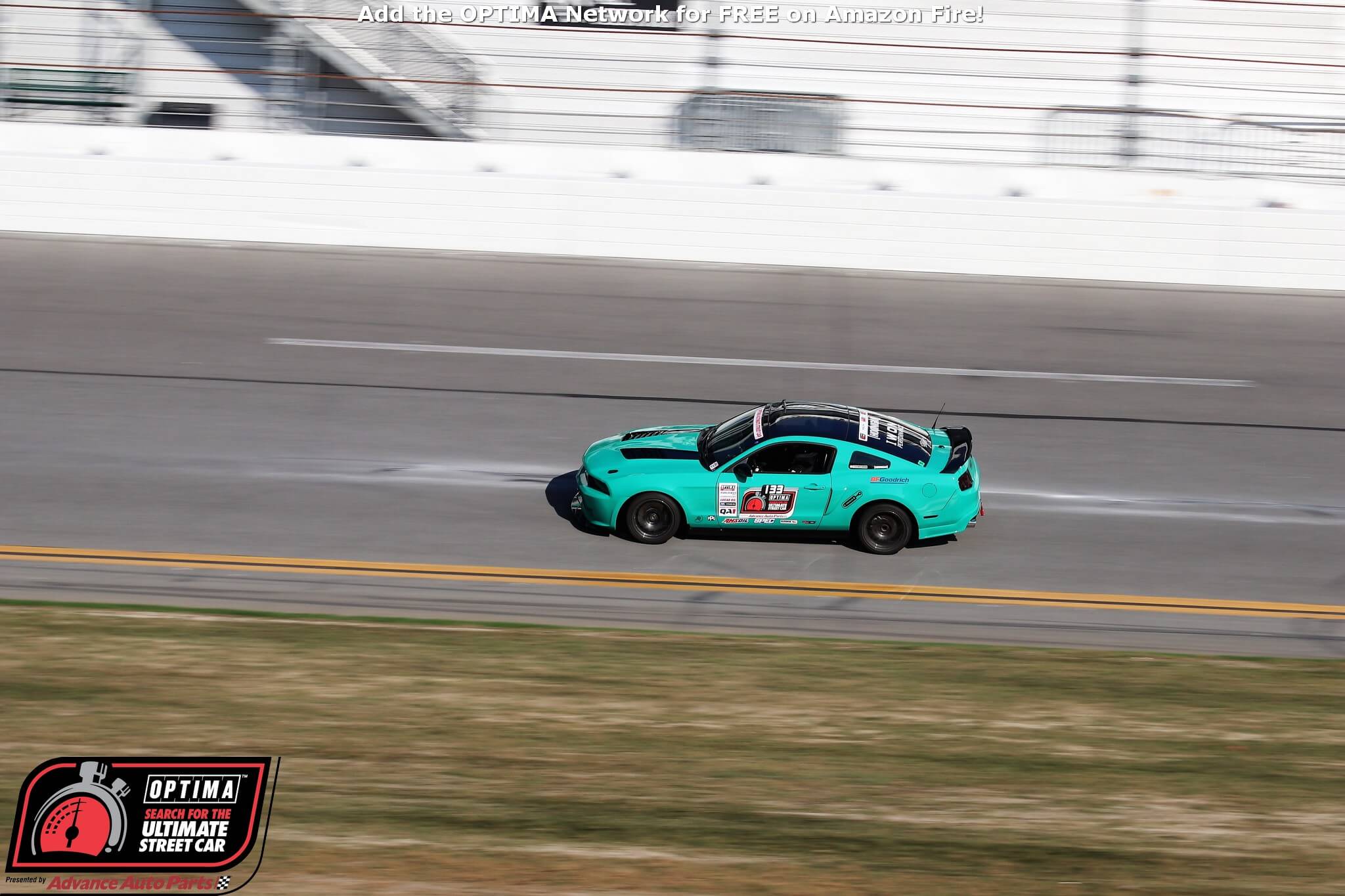 Ultimate Streetcar
Sponsor

Advance Auto Parts

Location

Daytona Beach, FL
If there's one thing that we've learned in all the years of running OPTIMA's Search for the Ultimate Street Car, presented by Advance Auto Parts, is that it's not for everyone. As appealing as the idea might be to take your street car out on an iconic track like Daytona International Speedway, it is not a facility well-suited for ill-prepared cars. While not a technically demanding track relative to many of the others in the series, the speeds at Daytona and the unique demands it places on vehicles requires some degree of preparation beyond what one might do for a typical track day.

Tire pressure needs to be closely-monitored and treated differently than most other tracks. The extreme speed found at Daytona can also cause problems for suspect hood latches and window trim. The g-forces generated by running the high banks at speed requires an oiling system up to the task. Braking systems need to be more than capable of handling heat and speeds they are unlikely to face anywhere else. Miss on any or all of those elements or others and the results can be, well, not so good.

But Daytona is SO much fun. It is a track unlike any other and the one-percenters who run in the DriveOPTIMA series have been chomping at the bit to return ever since the series first visited in 2014. The tire companies like Falken, the engine builders like Lingenfelter, the brake companies like PowerStop and the suspension companies like QA1, as well as individual builders, like Smitty's Custom Auto and Schwartz Performance all look forward to the opportunity to visit Daytona and showcase their wares.

This track and this series is where they can separate themselves from the pack. A lot of people can lay down a nice paint job, finish out an interior and drop a crate engine into a hotrod, but what can you do with that car? Win a few trophies at local shows? Maybe cruise to the local cars & coffee or take a longer trip on Power Tour? That's probably more than enough for most car enthusiasts, but there are some who want more from their cars or at least expect more, as the invoices from builders get larger and the price tags on parts get more expensive.

OPTIMA's Search for the Ultimate Street Car series is where the rubber literally meets the road. A car that can survive a weekend in the OPTIMA series can probably do just about anything else and go just about anywhere else and many cars in the series do exactly that from autocross events to hill climbs and open road races. Cars that finish at the top of these events are among the very best examples you'll find anywhere in the world, from the fit & finish of the interior to the power that makes it to the wheels, these really are the ultimate street cars.

The intent of this series is to positively promote the companies that support the automotive aftermarket, from the parts manufacturers to the people who put it all together and make it all work. Even if someone has no intent of ever entering a car in this series, if they're buying parts for their own car or looking for a reputable builder, they're probably paying close attention to the players involved in this series and asking harder questions of those who want no part of it.

Those who do want to be in the mix had a great time at Daytona, picking up invitations to the 2019 SEMA Show and valuable points in pursuit of a run at regular season championships. See the results below, as well as a massive album of images from the World Center of Racing. Watch the cars and trucks that are built beyond what you'll find anywhere else each weekend on MAVTV (Channel 214 on DIRECTV & 1105 on Uverse) and find out how you can get involved at www.DriveOPTIMA.com. See another full album of images from this event here.
Classic Car Liquidators GTV Class (pre-1990, 3200+ pounds)

1. Chris Smith, 1970 Chevrolet Camaro
2. Jim Stehlin, 1973 Chevrolet Camaro
3. Bret Voelkel, 1967 Chevrolet Camaro

RECARO GTS Class (post-1989, 3200+ pounds, two-seaters & awd vehicles)

1. Steve Kepler, 2013 Nissan GT-R
2. Michael Levitas, 2014 Porsche 911
3. Ryan Mathews, 2002 Chevrolet Corvette

Holley EFI GTL Class (non-compacts under 3200 pounds)

1. Jamie Elliott, 2009 Chevrolet Corvette
2. Alex Peitz, 2017 Chevrolet Corvette
3. Matt Post, 2008 Chevrolet Corvette

OPTIMA Chargers GTE Class (BEV electric vehicles)

1. Karen Thomas, 2018 Tesla X
2. Huggy Alvarado, 2014 Tesla S

GTC Class (two-wheel drive compacts, 107-inch wheelbase or less)

1. Jeff Schwartz, 2015 Scion FRS
2. Dayton de la Houssaye, 2009 Mazda MX-5

OPTIMA Batteries GT Class (post-1989, 3200+ pounds, 2wd sedans, 4-seater coupes, trucks, etc...)

1. Cliff Elliott, 2016 Ford Mustang
2. Tony Scalici, 2018 Chevrolet Camaro
3. Brian Shelley, 2017 Chevrolet Camaro

Outlaw Class (relaxed aero rules, pro drivers allowed)

1. Cody Mason, 2018 Chevrolet Camaro
2. Danny Popp, 2019 Chevrolet Corvette
3. Patrick Daugherty, 2012 Chevrolet Corvette

Spectre Performance Spirit of the Event Award: Alex Hilliard, 1964 Chevrolet C10 pickup
Centerforce Clutch Performance: Steve Kepler, 2013 Nissan GT-R
Mac's Tie Downs that Won't Let You Down: Henry Crawn, 1968 Ford F100
Anderson Composites Competitors' Choice: Jonathan Stroup, 2018 Chevrolet Corvette
Total Cost Involved First Timer: Jamie Elliott, 2009 Chevrolet Corvette
FireaAde Great Save: John McKissack, 1966 Ford Fairlane