DriveOPTIMA Las Vegas 2018 Gallery One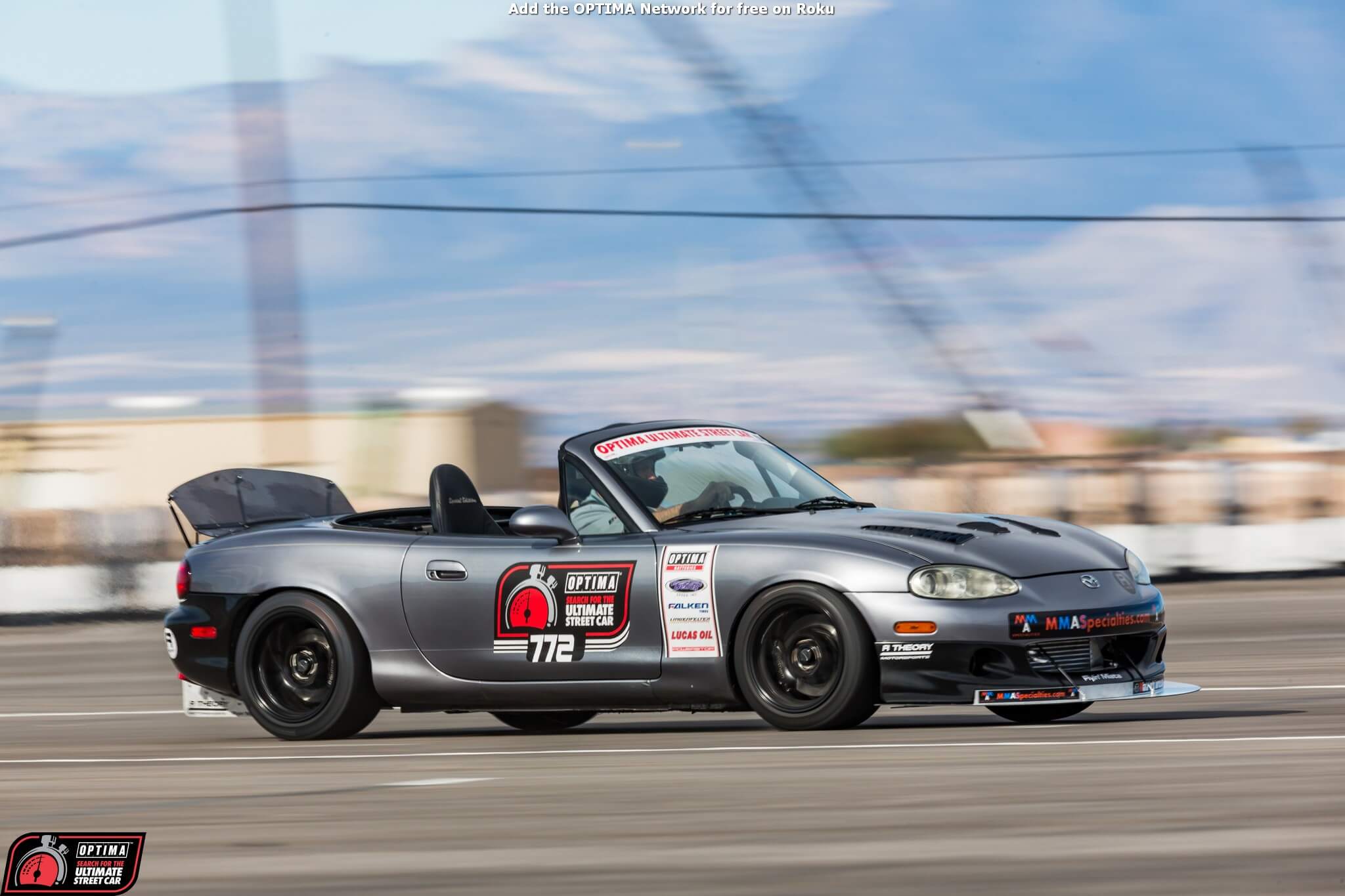 Ultimate Streetcar
Sponsor

Advance Auto Parts

Location

Las Vegas, NV
OPTIMA's Search for the Ultimate Street Car Series returned to action in 2018 at Las Vegas Motor Speedway and the fun and friendly competition picked up right where it left off at the 2017 OPTIMA Ultimate Street Car Invitational (OUSCI). A sold-out field converged on the track, spending two days letting it all hang out.

Interestingly enough, in looking at the podium finishers in each class, it appears as if the field in 2018 may have been significantly deeper than 2017, meaning valuable points were harder to come by at least for the cars at the top. Only Austin Barnes' 490-point performance in winning the RECARO GTS Class was a higher point total than the winning score in the RECARO GTS Class in 2017 (475 points). Likewise, only Efrain Diaz's 428-point performance in finishing 3rd in the QA1 GTV Class was higher than the third-place score in 2017 (418).

Slight adjustments in the scoring for the Lingenfelter Design & Engineerig Challenge also appear to have benefited at least a few of the QA1 GTV cars, who would have previously had their D&E score torpedoed out of the top-20 because of a burned-out bulb. That means more of the QA1 GTV cars, which tend to do well in D&E, did well, capturing valuable points and overall positions in that category.

We're already less than a month away from our next event at NOLA Motorsports Park, so there won't be much turnaround time for those looking to run at both events. Don't forget you can watch all the past episodes of OPTIMA's Search for the Ultimate Street Car series for free and on-demand on the OPTIMA Network on Roku.
QA1 GTV Class (pre-1990, 3200+ pounds)
1. Chad Ryker, 1968 Chevrolet Camaro
2. Nick Relampagos, 1970 Chevrolet Camaro
3. Efrain Diaz, 1969 Chevrolet Camaro

RECARO GTS Class (post-1989, 3200+ pounds, two-seaters & awd vehicles)
1. Austin Barnes, 2010 Dodge Viper
2. Jordan Priestley, 2017 Chevrolet Corvette
3. Brandon Williams, 2009 Nissan GT-R

Holley EFI GTL Class (non-compacts under 3200 pounds)
1. Ken Thwaits, 2006 Mitsubishi Evo
2. Rich Willhoff, 2006 Chevrolet Corvette
3. Duke Langley, 2002 Chevrolet Corvette

GTE Class (BEV electric vehicles)
1. Matthew Scott, 2017 Hyundai Ioniq

GTC Class (two-wheel drive compacts, 107-inch wheelbase or less)
1. Kevin Schultz, 2008 Honda S2000
2. Sammy Valafar, 2004 Mazda Miata
3. Matt Trainham, 2018 Hyundai Veloster

Franklin Road Apparel GT Class (post-1989, 3200+ pounds, 2wd sedans, 4-seater coupes, trucks, etc...)
1. Eric Sheely, 2018 Chevrolet Camaro
2. Mike Maier, 2017 Ford Mustang
3. Chad Langley, 2018 Chevrolet Camaro
SPECTRE Performance Spirit of the Event Award: Duke Langley, 2002 Chevrolet Camaro
Participant's Choice: Austin Barnes, 2010 Dodge Viper ACR
Total Cost Involved First Timer: Paul Molina, 2017 Ford Mustang GT350R
Biggest Letdown from Mac's Tie-Downs, the tie-downs that never let you down: Mike DuSold, 1967 Chevrolet Camaro
Centerforce Clutch Performance of the Weekend: Efrain Diaz, 1969 Chevrolet Camaro

2018 OPTIMA Search for the Ultimate Street Car Schedule
Las Vegas Motor Speedway March 17-19
New Orleans Motorsports Park April 14-15
National Corvette Museum June 2-3
Pike's Peak International Raceway July 7-8
Barber Motorsports Park August 4-5
Auto Club Speedway September 15-16
Road America October 6-7
OPTIMA Ultimate Street Car Invitational November 4-5