Erik Vandermey's 2007 Mazda MX-5- 2016 OUSCI Preview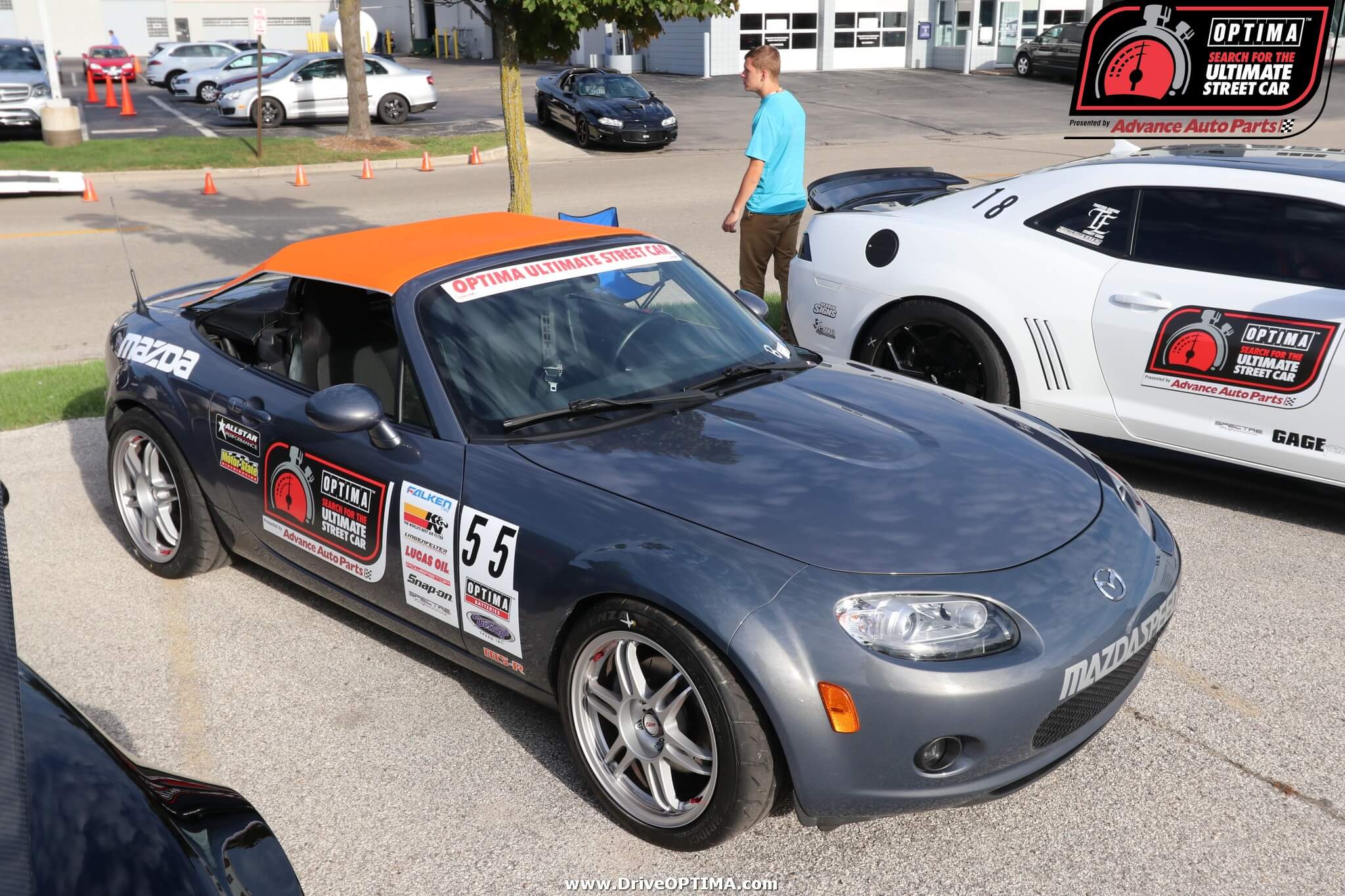 Ultimate Streetcar
Sponsor

OPTIMA Batteries

Location

West Chicago, IL
This blog marks the return of a very popular feature, where we profile competitors in OPTIMA's Search for the Ultimate Street Car, presented by Advance Auto Parts and we lead off the features with Erik Vandermey's 2007 Mazda MX-5. Why Erik? Because when we put the word out requesting background information on OUSCI cars, Erik was the first one to respond, so here we go!

Erik's invitation to the 2016 OUSCI was very unique in that he qualified at the Motorstate Challenge, but his entry was contingent upon him competing in an OUSCI qualifying event after Motorstate, which he did. In fact, Erik competed at both the NCM Motorsports Park and Road America events this season, finishing seventh at NCM and sixth at Road America in the GTL class. The Detroit Speed Autocross is Erik's strongest suit at these events and he placed 6th in class at both events, and 13th and 18th overall at NCM and Road America respectively. Surprisingly, Erik finished even better in the Falken Tire Road Course Time Trial at Road America, notching a fifth-place finish in GTL, 25th overall. Erik finished up the season in 20th place in GTL points, based on his performance at those two events.

So what's the backstory on Erik's car from a build standpoint? In 2007, Mazda offered an option package (MazdaSpeed MS-R), that could be added to any base-level MX-5. As such, Erik tells us any modifications referencing that are considered, "factory upgrades," according to the SCCA rulebook. As a result, when he ran the car last year, it really had minimal aftermarket upgrades. His car currently represents the only Mazda entry in the 2016 OUSCI, although more could be added via Golden Ticket invitations at the SEMA Show.
The paint is stock and the body is for the most part as well, although the car does feature chassis bracing, three-point rear subframe braces, a mid-section X-brace, a rear subframe brace and a trunk-mounted spoiler as part of the MazdaSpeed MS-R package. It also has a MazdaSpeed chrome fuel filler door and a Blackbird Fabworx NC RZ rollbar.

The Mazda now rides on 17x9 Kosei K1-TS 17x9 wheels with Bridgestone RE-71R tires and StopTech slotted performance rotors with Hawk Street/Race brake pads all the way around. The MX-5 suspension consists of Koni Yellow shocks (converted to double-adjustable), springs, a front swaybar and viscous LSD as part of the MS-R package. Erik also added a Hotchkis 21mm rear swaybar. We're happy to report Erik's car also runs a YELLOWTOP OPTIMA battery, which easily turns over his swapped Mazda MZR 2.5-liter engine. Moto-East handled ECU tuning and Good Win Racing supplied the Triple Pass aluminum racing radiator. The car also has a Racing Beat radiator screen and the MazdaSpeed MS-R oil cooler.

The Mazda's air filter is from Spectre Performance and also runs a MazdaSpeed cold air intake it. Other breathing upgrades include a ceramic-coated Good-Win-Racing Max Power long-tube header, midpipe with cat and Helmholtz resonator, along with a Roadster Sport Street single muffler with a removable resonator tip. On the electrical side, Erik enjoys music through a Mazda iPod integration module and LED fog lights configured as daytime running lights from The Retrofit Source. The MX-5 also has LED running lights and triple-blink LED brake lights.

Erik added an H3R 2.5-lb fire extinguisher for safety's sake and the unique, custom-fabricated Spyder/Bikini top was made with Hartz fabric. You can learn more about Erik and his ride at his Facebook page. You can catch Erik's Mazda in action when OPTIMA's Search for the Ultimate Street Car, presented by Advance Auto Parts, airs on MAVTV, specifically in the Road America and NCM Motorsports Park episodes.