Father's Day Gift Ideas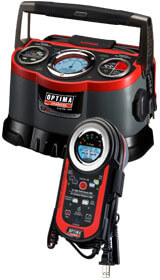 Tips & Support
Sponsor

OPTIMA Chargers

Location

Milwaukee, WI
Father's Day is just a few weeks away (June 15th) and we know some of you are still at a loss for what to get dad on his special day. We have two can't-miss gift options that are perfect for just about every dad out there- the OPTIMA Chargers Digital 1200 Battery Charger or the OPTIMA Chargers Digital 400 Battery Maintainer. Either one of these units is sure to bring a smile to just about any dad's face.
Would your dad need or want one of these chargers? If your dad fits any of these descriptions, he could probably find a use for one of these chargers-
He owns a car
He owns a truck
He owns a boat
He owns a motorcycle
He owns a personal watercraft
He owns a snowmobile
He owns an ATV
He owns a UTV
He owns a riding lawnmower
He owns an RV
These chargers work great on all of these 12-volt battery applications and if your dad has more than one of these vehicles in his garage, he could definitely find a use for one of our chargers. Now that we're already into late-May, most of the country has been able to enjoy at least a few nice weekends. That means most folks have gotten their summer toys out of storage or at least fired them up to make sure everything is working fine.
If your dad has a vehicle that hasn't started up yet, it might be because it needs a new battery. If that's the case, the best time to buy a new OPTIMA battery is when you buy a Digital 1200 Charger from us at the same time. The reason is because we will extend the warranty coverage by one additional year on any OPTIMA battery that is purchased from us at the same a Digital 1200 Charger is purchased from us.
That's a deal that is too good to pass up, so order your OPTIMA Charger today!