Final Pre-SEMA OUSCI Invitations Announced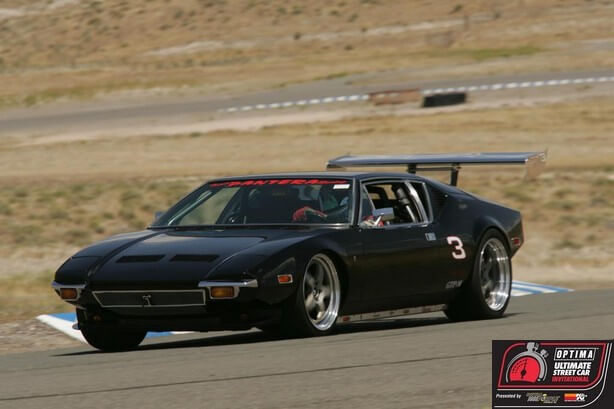 Ultimate Streetcar
Sponsor

Location
OPTIMA
®
Batteries announces another highly anticipated round of drivers and one-of-a-kind vehicles to compete in the sixth annual OPTIMA Ultimate Street Car Invitational, presented by KN Filters and Royal Purple Synthetic Oil. The wide variety of vehicles to be showcased at this year's OPTIMA Invitational assures an action-packed event to be held on November 9th at Spring Mountain Motor Resort and Country Club, a state-of-the-art 313-acre racing facility and motorsports country club with North America's longest racetrack at six miles in Pahrump, Nev. Congratulations to the following participants selected to compete in this year's OUSCI:
· Herb Adams (1977 Chevrolet Cheverra)
· Bob Benson (1972 De Tomaso Pantera)
· Betim Berisha (1985 Porsche 911)
· Richard Caleel (2012 Cadillac CTS-V)
· Lou Krukar (2009 Ford Shelby GT 500)
· Dave Eckert (1969 Ford Mustang)
· Troy Ladd (2014 Ford Mustang)
· Jason Overell (2013 Subaru WRX STi)
· Dave Stundon (2009 Ford Shelby Super Snake)
· Todd Treffert (2012 Mercedes SLS)
This final group of invitees includes a strong representation across all segments and will be on display during the 2013 SEMA Show in the OPTIMA Invitational Car Corral, located in the Silver lot outside of the South Hall. The group contains a solid offering of Ford products, including Dave Eckert's amazing mid-engine '69 Mustang (called the "Mach 40") and a pair of 2009 Shelby Mustangs. OUSCI veteran Troy Ladd, known for his award-winning and track-capable traditional hot rods, has a completely customized 2014 Mustang to challenge for the win at this year's event. The addition of a classic De Tomaso Pantera (pictured) straddles the line between imports and domestics, a unique entry that many fans will likely cheer on.
The number of foreign-built entries continues to grow, with three more added in this announcement. Two more German entries (including an iconic 911 upgraded by Southern California's BBI, and a stout Mercedes SLS) join the Subaru WRX ST-I of Targa Trophy series founder Jason Overell. The addition of these entries pushes the percentage of imported vehicles higher in 2013 than in any previous year. The Ultimate Street Car Invitational is truly becoming an international challenge.
One of the legends of American automotive performance, Herb Adams, is bringing one of his vintage "Cheverra" Camaros out to the event. Herb's "Very Special Engineering" (VSE) was recognized as the leader in GM F-body suspension development throughout the 1970s and '80s. Enthusiasts should be curious to see how the Cheverra will compare to today's great road machines.
Wide Range of Years, Makes and Models
"The line-up of vehicles this year is phenomenal and we are very pleased with the diversity of styles and broad range of vintages represented," says Cam Douglass, Director of Product Development and Marketing for OPTIMA Batteries. "It's very exciting and it's impossible to pick an odds-on favorite to win as we head into the 2013 SEMA show. Surely, the Golden Ticket winners selected from the show floor will be contenders to win as well."
Final Chance for an Ultimate Street Car Invitation – Exciting New Process
As in years past, a committee made up of OPTIMA Batteries and industry representatives will walk the SEMA Show floor in Las Vegas, looking for the best potential competitors across all vehicle segments. The committee will identify and notify 20 "Golden Ticket" candidates prior to Thursday morning, November 7. New for this year, all 20 candidates will be given a certificate that they can proudly display on their vehicle throughout the SEMA Show floor. Ten final "Golden Ticket" winners will be announced at the OPTIMA Batteries press conference at 11 a.m. PT on Thursday, November 7 in the OPTIMA Batteries booth (#22755). Those who are not awarded as final "Golden Ticket" winners will walk away with a certificate for a complimentary OPTIMA Battery, a free ticket to the event and will serve as alternates for the existing 2013 OPTIMA Invitational participants.
Spectator Tickets Going Fast – Buy Now!
Exciting for participants and spectators alike, the OPTIMA Ultimate Street Car Invitational will once again be filmed for television and will air later on MAV TV. Fans wanting to spectate are advised to act quickly because the 2012 event sold out and this year, a very limited number of OUSCI tickets remain. The cost is $30 per person, which includes a free event T-shirt.