First Competitors Announced for 2014 OPTIMA Ultimate Street Car Invitational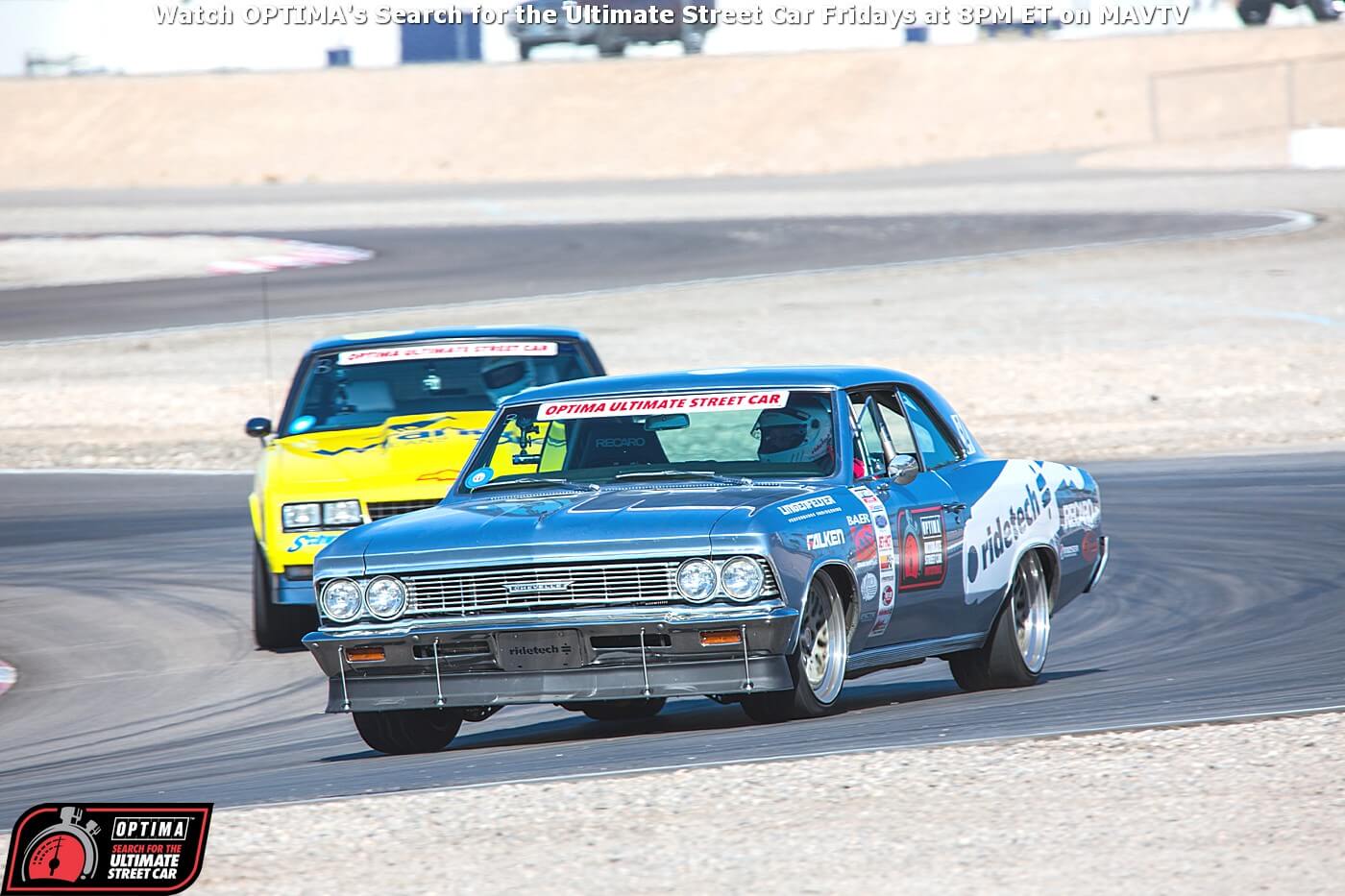 Ultimate Streetcar
Sponsor

OPTIMA Batteries

Location

Las Vegas, NV
September 26, 2014 (GLENDALE) – OPTIMA Batteries is proud to announce the first round of participants for the highly-anticipated 2014 OPTIMA Ultimate Street Car Invitational, taking place the weekend of November 8-9. For the first time in its seven year history the OPTIMA Invitational will occur at the Las Vegas Motor Speedway and will feature approximately 100 vehicles making it the largest field to ever compete for the prestigious title of Ultimate Street Car. Spectator tickets to the seventh annual OPTIMA Invitational will be available for purchase online. The cost is $30 per person, which includes a free event T-shirt.
The first 37 qualified drivers and their vehicles are listed below:
Ken Thwaits (2014 Chevrolet Camaro)
Danny Popp (2003 Chevrolet Corvette)
Kyle Tucker (1970 Chevrolet Camaro)
Dan Howe (1984 Chevrolet Monte Carlo)
Ronnie Soliman (2006 Mitsubishi Evo)
Bob Bertelsen (1969 Chevrolet C-10)
AJ Santiago (2011 Nissan GT-R)
Andy Smedegard (2001 Honda S2000)
Dan Livezy (1964 Chevrolet Corvette)
Betim Berisha (2011 Porsche 911)
John Lazorack III (1988 Chrysler Conquest)
Ricky Kwan (2012 Nissan GT-R)
Bryan Johnson (2013 Chevrolet Camaro)
Jane Thurmond (1964 Chevrolet Corvette)
Robert Jackson (1967 Volvo Amazon)
Mark Frazier (1971 Datsun 240Z)
Jeff Montgomery (1963 Chevrolet Corvette)
Karl Dunn (2002 Chevrolet Corvette)
Martin Pond (1980 Ford Fairmont)
Duke Langley (2012 Chevrolet Corvette)
Jake Rozelle (1969 Chevrolet Camaro)
Casey Wallace (2011 Nissan GT-R)
Todd Earsley (2003 Mitsubishi Evo)
Rodney Prouty (1968 Chevrolet Camaro)
Michael "Junior" Johnson (2006 Chevrolet Corvette)
Steve Kepler (2013 Nissan GT-R)
Jakey Sampson (2010 Chevrolet Camaro)
Brandon Ranvek (2006 Mitsubishi Evo)
Terry Fair (2011 Ford Mustang)
Mike Maier (1966 Ford Mustang)
Wes Drelleshak (1959 Chevrolet Apache)
Michael Werner (2008 Mercedes CLK63)
Dieter-Heinz Kijora (2014 Mercedes AMG CLA250)
Debbie Farrington (1964 Chevrolet Chevelle Wagon)
Todd Rumpke (2006 Chevrolet Corvette)
Douglas Wind (2004 Dodge Neon SRT-4)
Matt Alcala (2012 Ford Mustang)

Defending 2013 Champion Bryan Hobaugh will also be competing with his 1965 Chevrolet Corvette.
One Qualifying Event Remains
Throughout 2014, OPTIMA Batteries will complete a total of ten qualifying events using a similar multi-dimensional format that tests both driver skill and vehicle performance. At the conclusion of each of these events, select enthusiasts have been offered a chance to participate in the OPTIMA Invitational. Only one qualifying event remains: the Ultimate Street Car Association event at the Pittsburgh International Race Complex on October 3-5.
All New Outdoor Competitor Display Area
All competing vehicles will be on display at the 2014 SEMA Show and the majority of them can be seen in the all-new "OPTIMA Street Car Alley." This will be located between the Westgate Hotel and Casino (formerly the Las Vegas Hotel) and the Las Vegas Convention Center North Hall, an area many SEMA Show attendees are familiar with as they walk from the host hotel to the Convention Center. Additionally, OPTIMA will still maintain their indoor show display, one of the largest booths in the Central Hall, and will reveal leading up to the show some creative promotions incorporating both the indoor and outdoor areas.
Television Series Filming All Weekend
The season-ending episode of the popular MAVTV Network series "OPTIMA's Search for the Ultimate Street Car" will be filmed throughout SEMA week and over the weekend during the popular Ultimate Street Car Invitational event. An exciting three-day format will kick-off at the close of the SEMA Show on November 7th and conclude on November 9th, when spectators at the track can watch as the 2014 OPTIMA Ultimate Street Car is crowned.
Wide Range of Years, Makes and Models
"The vehicles participating in this year's event is phenomenal. We've got some brand new 2014 models and some vintage cars from the '50s, '60s and '70s, too. There's a wide range of American cars, but plenty of European and Japanese entries are also competing. We are very proud of the diversity here," says Cam Douglass, director of product development and marketing for OPTIMA Batteries. "It's impossible to pick a favorite to win as we head into the 2014 SEMA show. Surely, the Golden Ticket winners selected from the show floor will be contenders to win as well."
Golden Ticket Invitations Still Upcoming
As in years past, a committee made up of OPTIMA Batteries and industry representatives will walk the SEMA Show floor in Las Vegas, looking for the best potential competitors across all vehicle segments. The committee will identify and notify 20 "Golden Ticket" candidates prior to the OPTIMA Batteries press conference at 1:30 p.m. PT on Thursday, November 6 in the OPTIMA Batteries booth (#22755). Those nominees who are not ultimately selected to compete will walk away with a certificate for a complimentary OPTIMA Battery and will serve as alternates for the event.
2014 OPTIMA Ultimate Street Car Invitational Event Details
The OPTIMA Invitational activities at Las Vegas Motor Speedway will offer something for every fan, with the BFGoodrich Hot Lap Challenge, Ridetech Street Challenge Autocross, Wilwood Disc Brakes Speed Stop Challenge and the Lingenfelter Performance and Design Challenge and the Detroit Speed and Engineering Road Rally all bringing different aspects to each participant's overall score. All participating vehicles will have to pass the scrutiny of the Centerforce Tech Inspection prior to competing to ensure safety.
To see some of the action and excitement now, check out the OPTIMA Network on Roku, where we maintain all the past TV coverage for the series.