Five reasons why you need to get to an OPTIMA qualifying event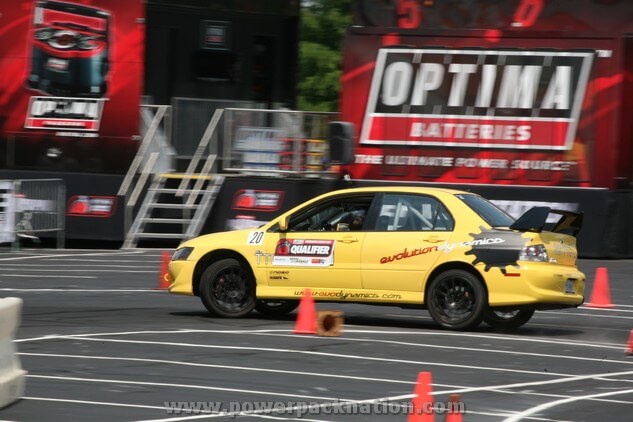 Ultimate Streetcar
Sponsor

OPTIMA Batteries

Location

Nationwide
As we've been spending the past few days reaching out to the participants in the 2012 OPTIMA Ultimate Street Car Invitational (OUSCI), presented by Royal Purple & K&N, we've been amazed at the feedback we've been getting. Overwhelmingly, our competitors have been telling us how much they enjoyed the event and how badly they want to return in 2013. With limited spots up for grabs, making a return trip to the OUSCI is a long shot for many competitors.
Those who have participated in past OUSCI events do have the benefit of that experience and the process they went through to get there, which is why we want to shed some light on what it takes for those of you who may be looking to get in for the very first time. With that, we give you five reasons why those wishing to participate in the OUSCI do everything in their power to make one of our qualifying events.


More than half of the 2012 OUSCI field participated in a qualifying event. We've had literally thousands inquire over the years about running in the OUSCI, but only a handful are selected each year. Sending us a letter or e-mail is appreciated, but the numbers clearly show those who participate in qualifying events are given more consideration and are more likely to be selected. One of the reasons qualifiers yield so many invitations, is because participating in those events often proves to our Race Directors that a vehicle is capable of performing at a very high level without breaking.
Invitations aren't always given to the event winner. Todd Earsley took out the field at the 2012 OPTIMA Faceoff at Arlington, presented by K&N and Royal Purple, but his victory didn't result in an automatic invitation to the event (he was later given an at-large invitation), Instead, Paul Welch and Cliff Elliot were given invitations, because our Race Directors felt they epitomized the spirit of the event and exhibited a lot of enthusiasm. We still end up inviting some of the absolute fastest street cars in the world, but we don't want average enthusiasts who pour their hearts and souls into their cars to think participating in the OUSCI is beyond their reach.
More than one invitation can be given out at qualifying events. Brian Davis and Pedro Gonzalez both punched their tickets to SEMA and the 2012 OUSCI at the OPTIMA Faceoff at Road America, presented by Royal Purple. Just like the Faceoff at Arlington, neither driver was necessarily the fastest either. Likewise, Blue Offutt and Dr. Mark Capener were both spotted at the Silver State Classic Challenge. Blue received the Spirit of the Event invite and Dr. Capener was invited later and eventually ended up having his Lamborghini on display in the OPTIMA Booth in the Central Hall at SEMA
Practice makes perfect. One of the biggest advantages competitors who ran in qualifying events have over the rest of the field is their familiarity with the format of the OUSCI. It is not uncommon for invitees from the SEMA Show to have little or no prior experience in any of our disciplines. While some may have made passes on an autocross course and a few may have logged miles on a full-blown racetrack, the unique format of the Wilwood Brakes Speed Stop Challenge is a challenge for even the most-skilled drivers to master in their first few attempts.
Qualifiers are a fun time with great people. Let's not forget why we all do stuff with our cars- because it's FUN! The format of many OUSCI qualifying events has become so popular, that an entire racing series has been spawned using the same format and now takes place all over the country. You'll also find a lot of great folks who are more than willing to offer assistance and advice to folks who are looking to step up their involvement.
With that, we encourage you to get out and enjoy your car in 2013. We'll be looking for you!