Ford Excursion Aftermarket Wheels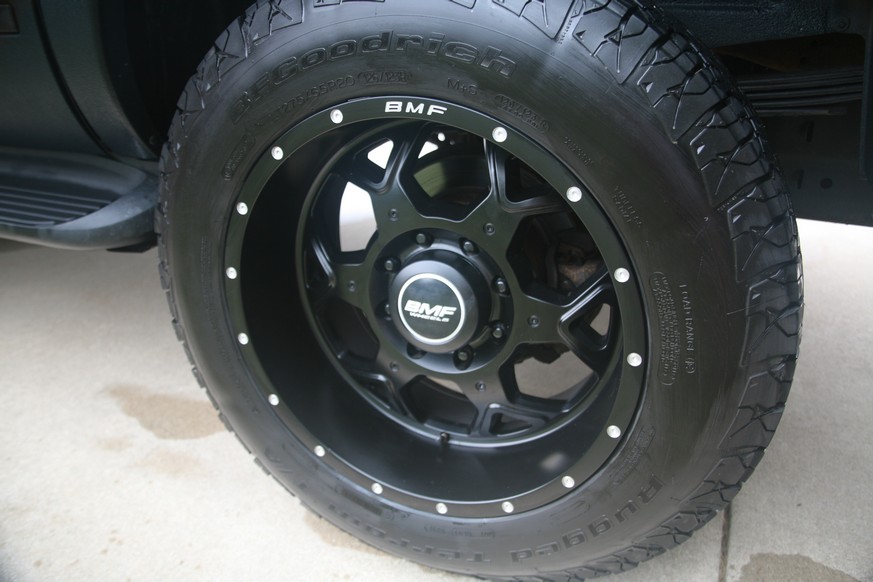 Trucks
Sponsor

OPTIMA Batteries

Location

Caledonia, WI
As we continue our look at the various components on the OPTIMA Batteries Power Pack Nation Ford Excursion, today we'll take a closer look at the BMF wheels we chose for our ride. The model we chose is BMF's S.O.T.A. model, which stands for "Solider Of The Apocalypse"- a very cool name for a very cool wheel and a very appropriate look, considering the rest of the truck.
When you spray a vehicle in bedliner that ends up looking like flat black paint in most light conditions, shiny, chrome or polished aluminum wheels really are out of the question from an appearance standpoint. While BMF does offer these wheels in both a chrome (super plate) and "death metal" (gloss black) finish, we chose the third option- stealth, which has more of a satin finish and compliments the rest of the truck very well.
In addition to having the right look, these wheels came in the right configuration (8-lug) and a size (20x10) more fitting of a truck of this stature, than the stock-sized 16-inch wheels. Even though the OEMs hadn't quite embraced 20-inch wheels in 2003, the Excursion had little issue accommodating the larger hoops, especially after we did a"VB" spring swap, which resulted in a ride height more comparable to the F-250 pickups, which did end up coming from the factory with 20-inch wheels in some trim models. We suspect the Excursions received different springs to give them more clearance for standard garage door openings. Protecting the finish on a vehicle becomes much less of a concern, once it is slathered in bedliner, so garage clearance really wasn't a consideration.
In the end, BMF's 20-inch wheels helped give us the overall look we wanted, from the ride height/stance to the complimentary finish, all without being too overstated. See more of this Excursion and our choice of BFGoodrich tires here.