Franklin Road Apparel GT Class Championship Chase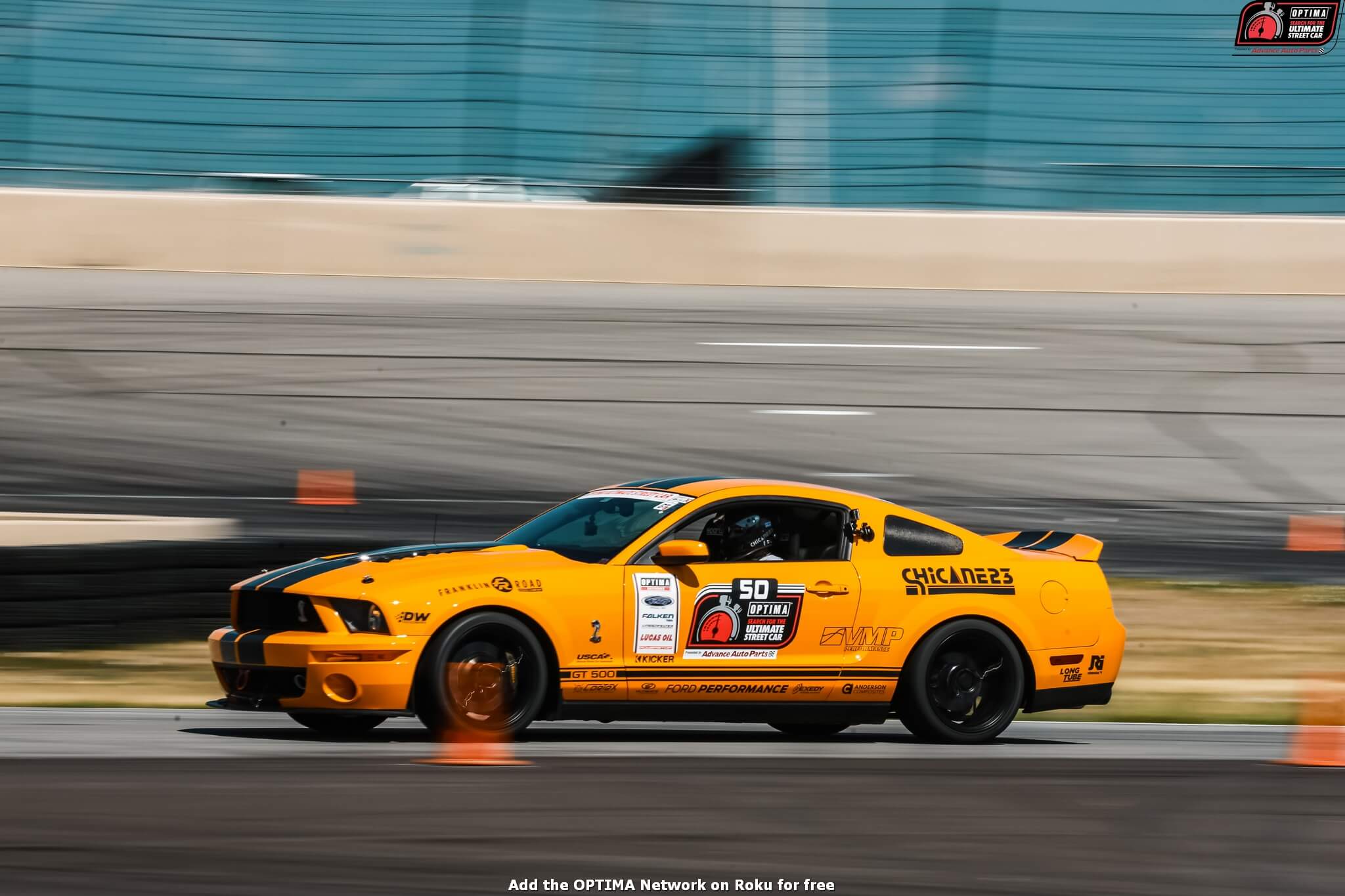 Ultimate Streetcar
Sponsor

Advance Auto Parts

Location

Milwaukee, Wisconsin
Five events are complete and two are yet to be run in OPTIMA's 2018 Search for the Ultimate Street Car, presented by Advance Auto Parts. Perhaps no class in this series has experienced as dramatic a shift in the 2018 season as what we are seeing in the Franklin Road Apparel GT Class. Bryan Johnson's Camaro has won this class for the last three years in a row, but he is yet to make an appearance in the 2018 season. While Johnson is registered to run at Road America and would need to win or be the top non-qualifier in the Franklin Road Apparel GT Class, in order to make a return visit to Las Vegas for the SEMA Show and OPTIMA Ultimate Street Car Invitational (OUSCI), he has already conceded any chance of winning an unprecedented fourth consecutive regular season championship.

The points in this series are based on a competitor's best-three finishes and with just two events remaining and plenty of competitors with substantial point totals already, Johnson would have no chance to make up ground, even if he were to finish with a perfect 500 points in each of the final two events. That means the man everyone is chasing this season is Jonathan Blevins and his 2008 Ford GT500 Mustang. While Blevins has run in all five events so far this season, he campaigned a different Mustang in the season-opener at Las Vegas Motor Speedway. As points follow the driver/car combination, Blevins' point total started over in the second event and he has since amassed 1,330 points.

While we have a pretty good idea of who is set to run in the final two events, entries are always fluid as cars drop out and plans change. At this point, Blevins is signed up to run in the final event at Road America and any performance of 438 points or more would add to his season total and make him even tougher to catch. Chad Langley's 2018 ZL1 Camaro currently sits in second place with 1,245 points and is not signed up to run at either of the two final events. Even if he did run in another event, Langley would need to score 472 points to pass Blevins, which seems unlikely at this point. That doesn't mean Blevins has sewn up the championship though.

Eric Sheely sits further back in 11th place right now, having only run two events so far this season, but he does plan to run his 2018 ZL1 1LE Camaro again at Fontana. If Sheely were to score 458 point in Fontana, he would surpass Blevins' total and take the lead. If Sheely were to find a way to also enter and run at Road America, any total above 436 points there would also add to his total. So if Sheely runs at Fontana and scores 450 points, that would place him just seven points behind Blevins heading into Road America. Would he be content to call it a season and meet everyone in Vegas for the OUSCI or would he want another crack at Blevins in Elkhart Lake?

Sheely isn't the only contender as the season winds down, as at least three other drivers have a mathematical chance of catching Blevins. Cliff Elliott's 2016 Ford Mustang GT is the longest shot at this point, needing 498 points at Road America to top Blevins. John Laughlin's 2016 Mustang could also do it with a 479-point performance, but he isn't signed up for either of the final two events. A third dark horse could emerge though in Mike Maier's 2017 Mustang GT.

Maier typically runs the West Coast events and has not yet qualified for the 2018 OUSCI. While he isn't shown as being registered for Auto Club Speedway, there's a good chance we could see him there. Even though Maier would need to score 494 points to pass Blevins at ACS, if he were to run well there and also run again at Road America, he would only need a 456-point average to pass Blevins' current total in the final two events. There's still plenty yet to be decided and the points chase gets even fiercer as we look at the other classes.

You can watch the excitement unfold every Friday night on MAVTV, starting at 8PM Eastern, as a new season of OPTIMA's Search for the Ultimate Street Car, presented by Advance Auto Parts begins airing September 28th. You can also watch all the past episodes from all the past seasons free and on-demand anytime on the OPTIMA Network on Roku.