Free OPTIMA Battery Certificate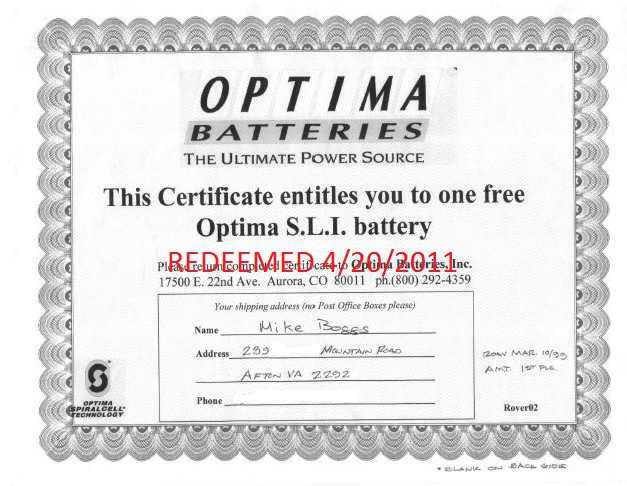 Trucks
Sponsor

OPTIMA Batteries

Location

Arvonia, VA
Twelve years ago, Mike Boggs attended the Rover Owners Association of Virginia's Mid-Atlantic Rally. At that event, Mike was fortunate enough to win this gift certificate for "one free OPTIMA S.L.I. battery." For those who don't know, "S.L.I." stands for starting/lighting/ignition. In other words, an OPTIMA REDTOP battery.
Mike didn't need a new battery at the time, since his current OPTIMA REDTOP was performing just fine. He did check back in with us in 2001, to make sure the certificate was still valid (it was). Finally, after 12 years of waiting, Mike's REDTOP finally needed replacing, so he contacted us to redeem his gift certificate, which we were certainly happy to do.
We hope if Mike is lucky enough to win another free battery gift certificate from us, that it takes him another 12 years to cash it in!