Goodguys' 1932 Ford Roadster Giveaway Car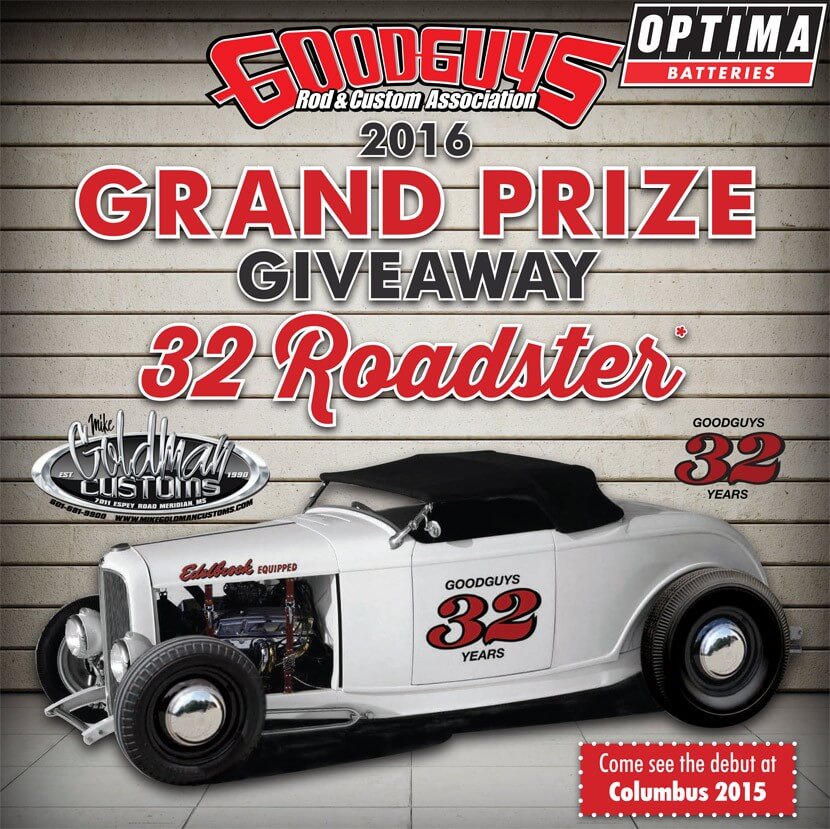 Cars
Sponsor

OPTIMA Batteries

Location

Nationwide
A timeless hot rod roadster has been chosen as Goodguys' 2015-2016 Grand Prize Giveaway Car! It will debut at the 18th PPG Nationals July 10-12, 2015 in Columbus, Ohio and then be toured for a year, before being given away at the 2016 Goodguys PPG Nationals. Goodguys event participants, online entrants and current members will all be eligible to win this hot hiboy.
Mike Goldman Customs of Meridian, Mississippi will steward the build. The Brookville Roadster-bodied 1932 Ford hiboy roadster will start with an OPTIMA battery and ride on a TCI Chassis with a four-inch dropped axle and four-link rear. Get-up and go will be provided by an Edelbrock Performer 310 Triple Deuce crate engine and it will be covered in PPG white with red black graphics, with a black chopped canvas top and white steel wheels.
"We wanted to do something timeless and traditional," said Ed Capen Vice President of Goodguys Sales Sponsorships. "We've done some spectacular musclecars and trucks in the past few years, so we wanted to reach back into the roots of hot rodding and create a bitchin' deuce roadster. With Mike Goldman's impeccable build quality and the industry's top suppliers donating products, we know this car will not only be top notch, it will stand the test of time upholding our long standing hot rod roots."
OPTIMA is proud to be the Ultimate Power Source for this project and we can't wait to see it at it's debut later this year! See more hot rod content here.