Grubnic charges to first round win in Pomona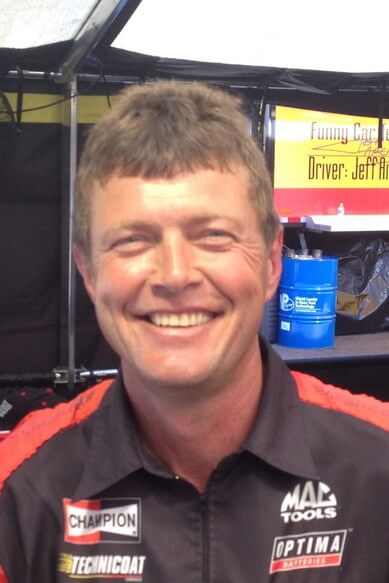 Events
Sponsor

Location
Native Australian David Grubnic is back behind the wheel of the OPTIMA Batteries Top Fuel Dragster for Kalitta Motorsports this season. The 2013 NHRA Mello Yello Drag Racing Series kicked off this past weekend with the season-opening Winternationals in Pomona, Calif.

Grubnic shook off some of his recent Pomona struggles and started the season solid. Qualifying in the even number rounds was stellar as the OPTIMA Batteries dragster achieved a 3.812 elapsed time in the second session of qualifying on Friday evening. He backed that up with the third best pass of the last session, a 3.776-sec. blast that would have been even quicker but the blower belt broke right before the finish line. His Sunday first round competition was Morgan Lucas.

Although Lucas's 3.76-sec. pass would prove to be formidable, Grubnic was not to be outdone. The OPTIMA Batteries team laid out a 3.741-sec. pass that would prove to be the best of the first round of qualifying. Although the second round did not yield the results that the Kalitta Motorsports team was hoping for, Grubnic was happy with his first event efforts and more importantly happy that a fellow competitor is okay after racing accident in the opposite lane.

"That's not exactly the start we wanted for our OPTIMA Batteries team, but we will take it. The 3.74 first round run really showed a lot of promise," Grubnic, a 50-year old resident of Bozeman, Mont., said. "On a separate note we wanted to win second round, but we are very glad Antron [Brown] is ok. That was a bad one, and very hard to watch from my vantage point. We will move forward and look to continue the solid runs in Phoenix."

Grubnic is an 18-year Top Fuel veteran and earned his first career Top Fuel victory in Topeka in 2005, becoming the first racer born outside North America to win an NHRA Top Fuel event. Grubnic, known affectionately by his peers and fans as "Grubby," is coming off another great NHRA season. He picked up his third career victory at Topeka early in the season and combined the win with semi-final finishes at Norwalk, Seattle and St. Louis to give him another Countdown to the Championship placement and another season in the top ten in the final standings. Grubnic's 16 round wins in 2012 were his highest in six seasons, combined that with him returning to a team with the legendary Connie Kalitta at the crew chief helm, Grubnic is excited for the beginning of the NHRA season.

Grubnic leaves Pomona solidly in the top 10 in the standings in the seventh position. He is four points behind his teammate Kalitta in sixth, and five markers behind fifth place.