GTE Championship Chase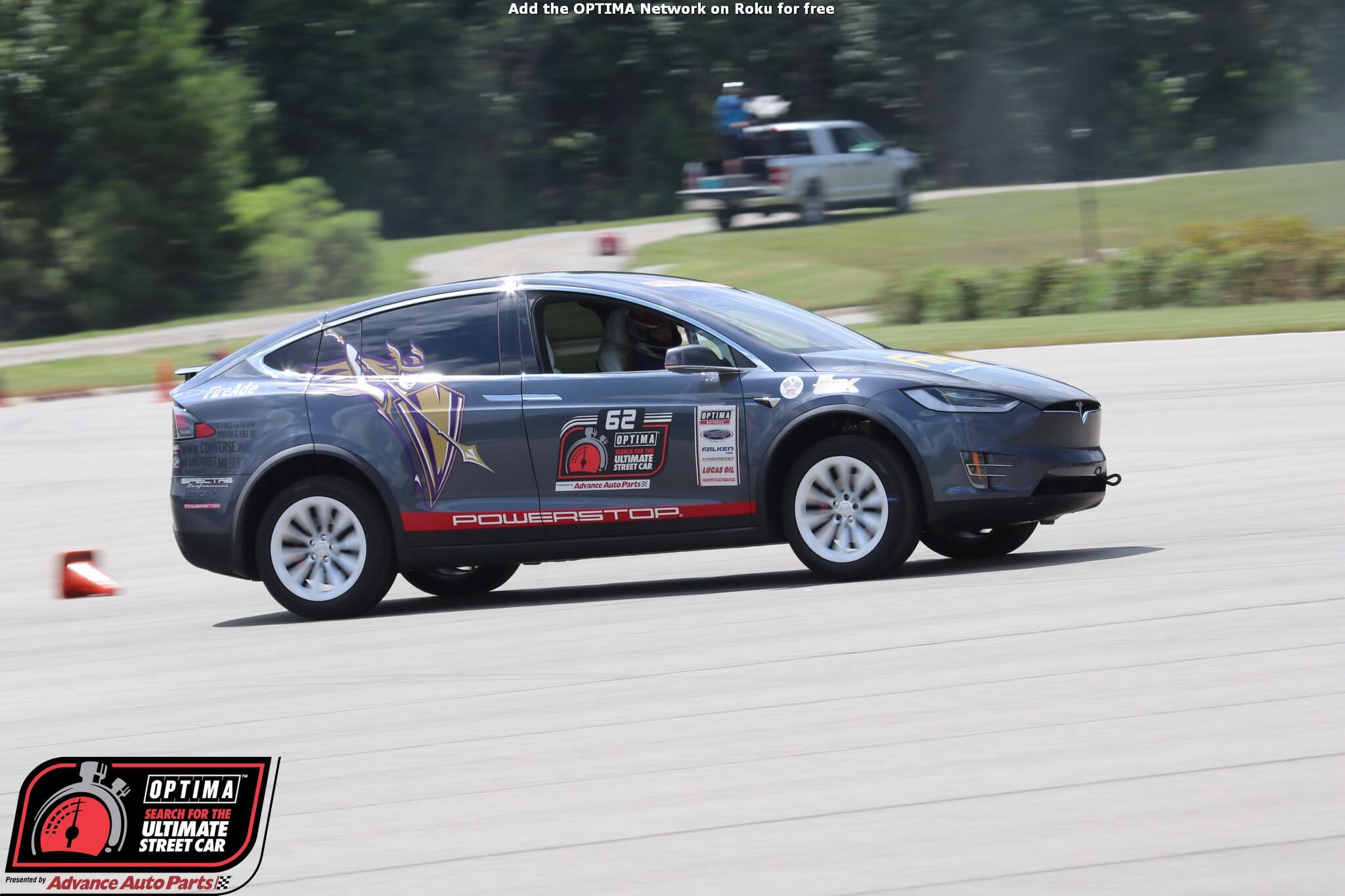 Ultimate Streetcar
Sponsor

OPTIMA Batteries

Location

Nationwide
The GTE Class for Electric Vehicles in OPTIMA's Search for the Ultimate Street Car, presented by Advance Auto Parts, has produced a surprising points chase in it's second full year of competition. While season one may have been more about attendance than accomplishment, competitors in 2018 definitely need to do more than just show up if they want to win the regular season points championship. There are three main contenders in this chase, each with an interesting story.

Dr. Karen Thomas is the current points leader in her 2018 Tesla X P100D. While it's not the Model 3 some might have expected to be competing in this series, it has still proved to be a formidable foe from what is arguably the biggest name in EVs right now- Tesla. Dr. Thomas routinely smokes V8-powered musclecars off the line in the PowerStop Brakes Speed Stop Challenge and after three events, she holds a 223-point lead over defending class champion, Matthew Scott and his 2017 Hyundai Ioniq.

Scott's effort is backed by Hyundai and when you look at the hundreds of competitors in this series, a Hyundai might be one of the last ones you'd expect to have factory support, but the series has offered them a great opportunity to take a deep dive into EV high-performance, while squaring off against some of the biggest & hottest names in the automotive business in Chevrolet and Tesla. Scott will need to post a 224-point performance at Auto Club Speedway to pass Karen for the points lead. His lowest total this season is 293 points, so that is likely to happen, but it doesn't clinch the championship for him. Thomas will make another run at Road America and will know the number she'll need to get the lead back for good, but she's not alone.

Vernon Jolley's 2015 Chevy Spark is that third horse in the race and can't be counted out yet. Jolley is a very experienced driver and an SCCA national champion, who was competing in the series in his Ford Mustang. Unfortunately, a catastrophic engine issue sidelined that car for the remainder of the season. Jolley still had his entries into these sold-out events and wanted to compete, so he opted to move over to the GTE Class and picked up the Spark. While he only posted a 239-point performance so far this season, that was enough to capture a GTE class entry to the SEMA Show and OPTIMA Ultimate Street Car Invitational. If Jolley can step up his performances and average better than 303 points in the final two events, he'll pass Dr. Thomas' Tesla and contend for the regular season championship as well.

Will the factory-backed team claim a second title or will an independent be the new champion? We'll find out at Road America. See how the other points battles are shaping up in the GTC class here.