Ian Baas' 2012 VW Golf MaxR- an OUSCI Preview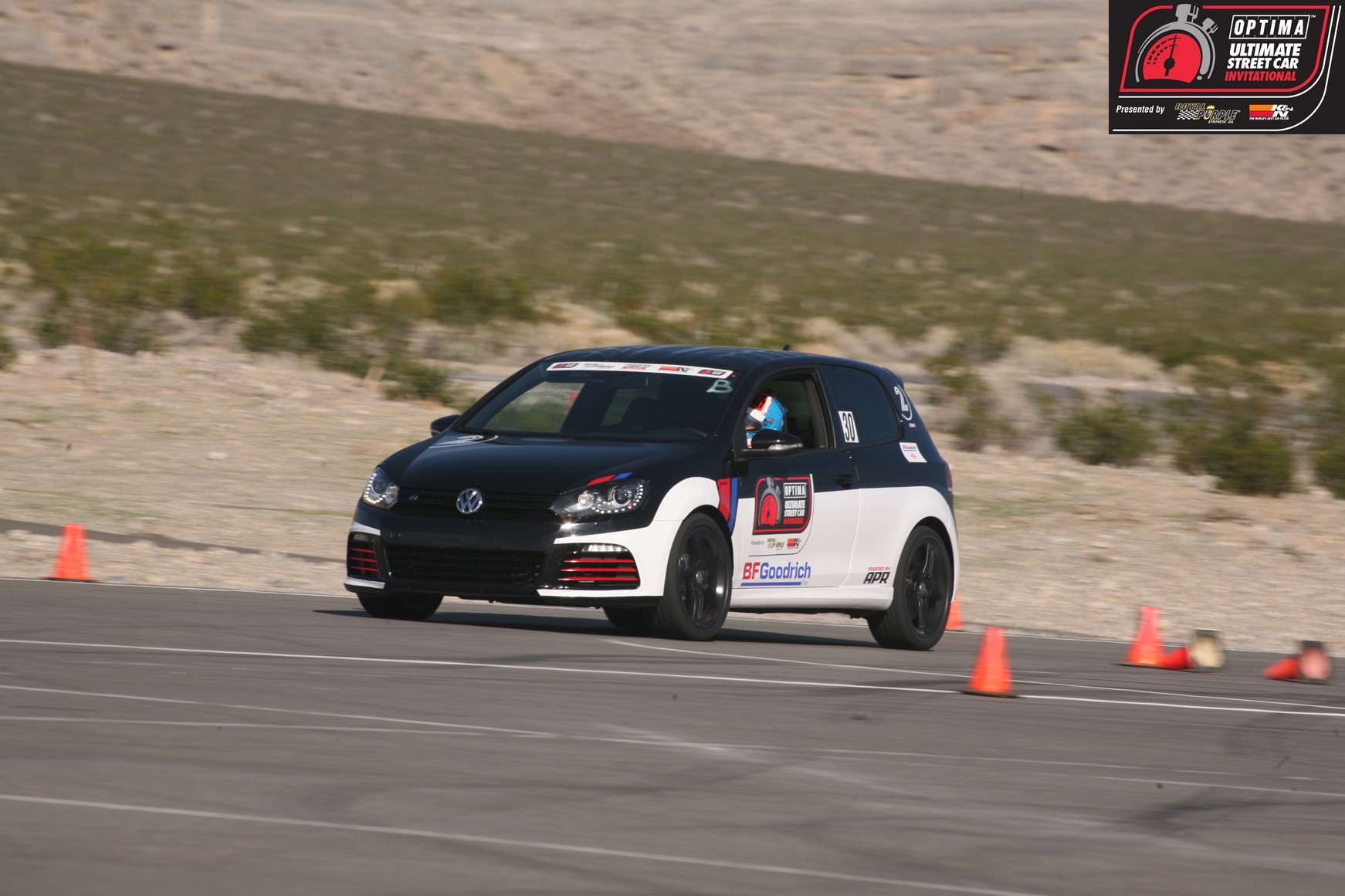 Ultimate Streetcar
Sponsor

OPTIMA Batteries

Location

Pahrump, NV
Today's preview for the 2012 OPTIMA Ultimate Street Car Invitational, presented by Royal Purple and K&N, focuses on the second VW in our field, the 2012 VW Golf MaxR, piloted by Ian Baas. We say "piloted," because "driven" would only be used for cars producing less than 500 horsepower. Ian's VW weighs in at 507. Speaking of weight, we don't even know the exact weight of the car, but even the four-door diesel Golf barely clears 3,000 pounds, so we expect this car to weigh significantly less than that.
Although they didn't offer specifics, the crew at APR Motorsport have basically dumped everything into this car that they learned from their race-winning VW GTIs, including a fully-built APR Stage 4 engine, a complete race suspension and everything from lightweight uprights to solid spherical bushings. Did we mention it is also all-wheel drive? For those of you familiar with lap times at various tracks, this car has already laid down a 1:34.7 at Big Willow.
Wilwood Disc Brake Speed Stop Challenge? Mincemeat for this AWD, ABS-equipped screamer, with six-piston calipers clamping down on VW Racing brakes, although the weight of the full interior may slow it down slightly. RideTech Autocross Challenge? Kid stuff for this car. BFGoodrich Hot Lap Challenge? Bring it on.
Why so confident? Because this car even has it's own MaxR Facebook fan page that boasts more than 8,700 fans (take that Red Devil Camaro). Because the Ian Bass behind the wheel is the same Ian Baas who won the GT class at the 2006 24 Hours of Daytona and has a racing rap sheet a mile long, that currently includes a ride in the APR Motorsport Audi R8 GRAND-AM car and the Audi B8 S4 in the GRAND-AM Continental Sports Car Challenge. It's safe to say this little 2.0-liter turbo and it's very capable driver could cause all kinds of headaches for the field of the 2012...if it were eligible to compete.
Blood pressure levels of the OUSCI competitors can now return to normal, as both Ian Bass and the MaxR VW are only participating in an exhibition capacity. Why are they competing in an exhibition capacity and what exactly does that mean?
Each year, OPTIMA invites professional drivers to the OUSCI, to help set benchmarks for the field to chase. Past invitees include Paul Tracy, Sam Hubinette and Tanner Foust, just to name a few. These drivers and the cars they run help give the competitors in our field a sense of where they are at as drivers and where their cars are at in terms of performance. They also serve as a good reminder of why we don't invite professional race car drivers to compete in our event.
We'd like to thank BFGoodrich, who just so happens to sponsor both the VW MaxR and the OUSCI, for making it possible for Ian and the Golf to appear at our event. Even better, Ian will not be the only professional driver to make an appearance at the 2012 OUSCI. Who will the other drivers be? You'll want to be there to find out. If you missed it, add the OPTIMA Network on Roku and watch all the past TV coverage for free!