Is a Porsche the Ultimate Street Car?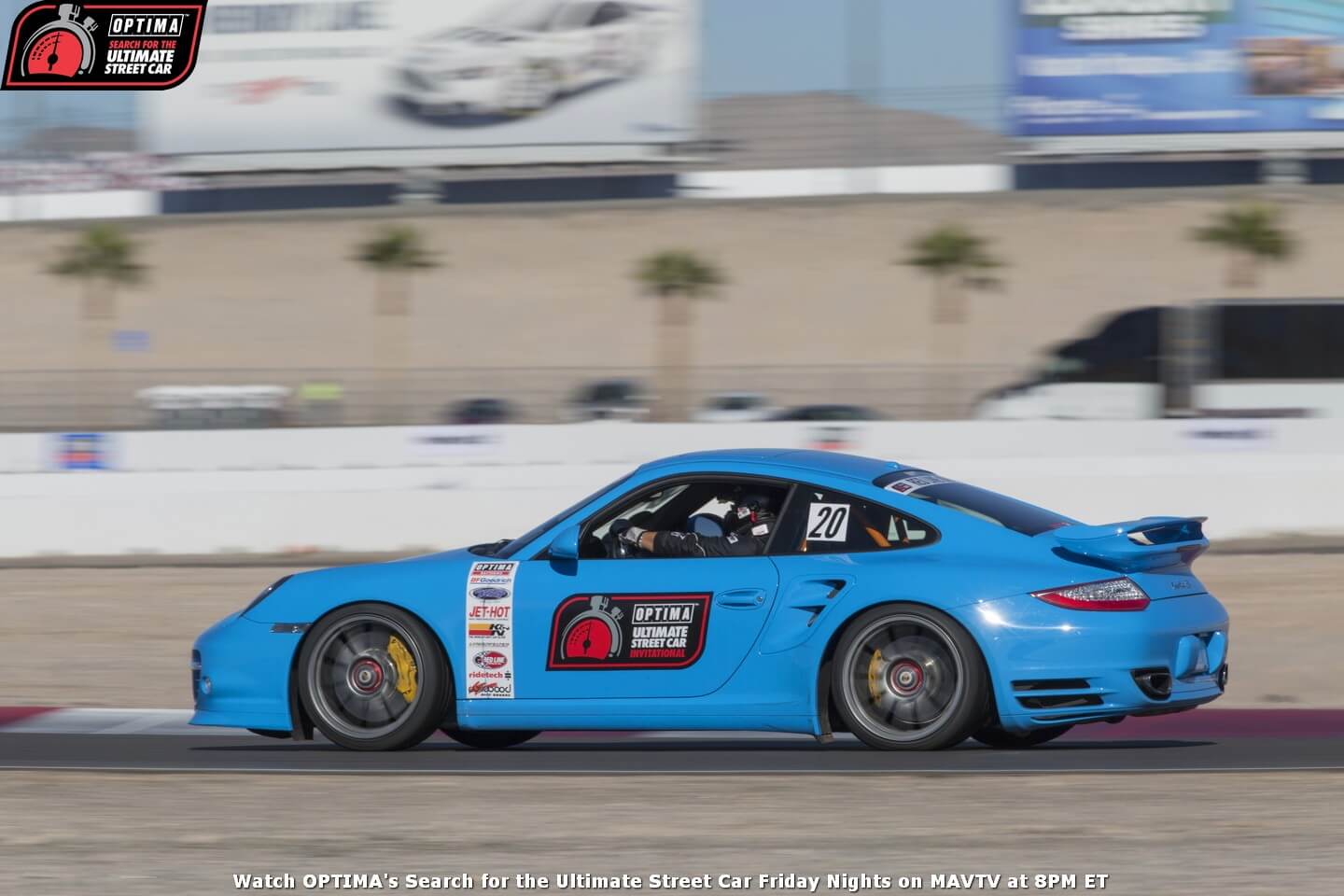 Ultimate Streetcar
Sponsor

OPTIMA Batteries

Location

Las Vegas, NV
For several years now, those who follow the OPTIMA Ultimate Street Car Invitational (OUSCI) closely have long-suggested that the Ultimate Street Car might very well be some type of Porsche. Several have run in the event over the years and done quite well, but as with all the other options, it would likely take the right car with the right modifications and the right driver to bring home the title. The potential is definitely there though.

Joey Seely's '86 Carrera was plucked off the SEMA Show floor in 2012 and posted a 17th-place finish in a car he actually drove on a daily basis, that had some front suspension issues and a blown-out shock. It's not very often SEMA Show selections post a top-20 finish, especially in a daily-driven car with known issues. The following year, Betim Berisha came in with a 2008 997 TT and posted a 14th-place finish in his rookie outing.

In 2014, five Porsches made their way into the field, including return trips for Berisha and Seely. Betim topped all of them and ended up on the podium in his 2011 911 TT, while Larry Woo's 2012 911 finished 17th and Joey Seely's 2007 997 TT finished 19th. That was also the first appearance of a GT3 RS, although Monty Pack finished back in 38th place that year.

A GT3 RS returned in 2015 as a sponsor entry and there was great concern that a driver as capable as Andrew Zalasin could end up running the table. That ended up not being the case and because the car was nearly stock, it ended up pointing out one of the big question marks not only for Porsches, but any other exotic or supercar that might enter field.

The Lingenfelter Design & Engineering Challenge evaluates cars based on modifications and improvements that have been made to them in a variety of areas from performance to appearance. Many of these supercars have very high pricetags right out of the box and are very capable performers, whose owners might not see the need to push the envelope any further, especially if their cars are more capable than 99.99% of anything they may come across on the road or track.

If someone shows up at the OUSCI with a bone-stock or close to it supercar, their score in Design & Engineering won't necessarily hurt them, as no one is penalized for showing up with a mint condition vehicle, but their D&E score may not help them, as the field is typically full of cars that have been modified and upgraded to the hilt. Zalasin held his own on the track, but wasn't the world-beater everyone feared he might be and the GT3 RS score in D&E didn't do anything to help him in the final results. However, Clay Shearer did make quite a bit of noise posting a sixth-place finish in his 2015 911. Once again, the car wasn't far from stock, but it did very well in all the timed segments.

We should mention that Chris Porter's '86 Porsche 948 has competed in several OUSCIs along the way and has been a consistent performer, although he's done it somewhat outside of the box, with LS power under his hood. Danny King also made an appearance in the 2016 OUSCI with his 2011 Porsche Turbo S. King posted a top-ten finish in the PowerStop Speed Stop Challenge, but left too many points on the table in the other segments to finish inside of the top-25 overall.

King's performance does point out an interesting wrinkle, in that some of these supercars and their drivers do have the potential to perform exceptionally well in at least one segment. If the right combination of cars and drivers made it to the OUSCI, they could create points gaps in segments like the Speed Stop or Detroit Speed Autocross, even if they may not contend for the overall win. Those gaps could make it very difficult for someone like Danny Popp to overcome a deficit on the Falken Tire Road Course time trial. Could it happen? There are several Corvettes over the past few years, that have created gaps on the Road Course even though they didn't contend for the overall win. Their performances in that segment helped propel Popp to victory, so it's certainly feasible that other cars could have a similar impact in other segments.

Are the cars we've examined as possible OUSCI championship contenders the only possible contenders? Absolutely not! One of the great things about this event is that the creativity of the entries and different tastes of the competitors make the scope of the OUSCI one of the broadest and diverse fields in all of motorsports.

A short list of drivers who have been very competitive in vehicles outside the half dozen models we've already covered would include the '66 Mustangs of Mike Maier & Filip Trojanek, the second gen Camaros of Kyle Tucker, Brian Finch, Mary Pozzi & Brian Hobaugh, Bryan Johnson's fifth gen Camaro, Brett Voelkel's '33 Ford and Brian Hobaugh's C2 Corvette, but there are probably far more that aren't even on our radar yet.

Do you think you have what it takes to contend for the OUSCI title in a car we haven't mentioned? Bring it out to one of our qualifying events and show us what you've got!