Jake Rozelle's 1969 Chevrolet Camaro | 2014 OUSCI Recap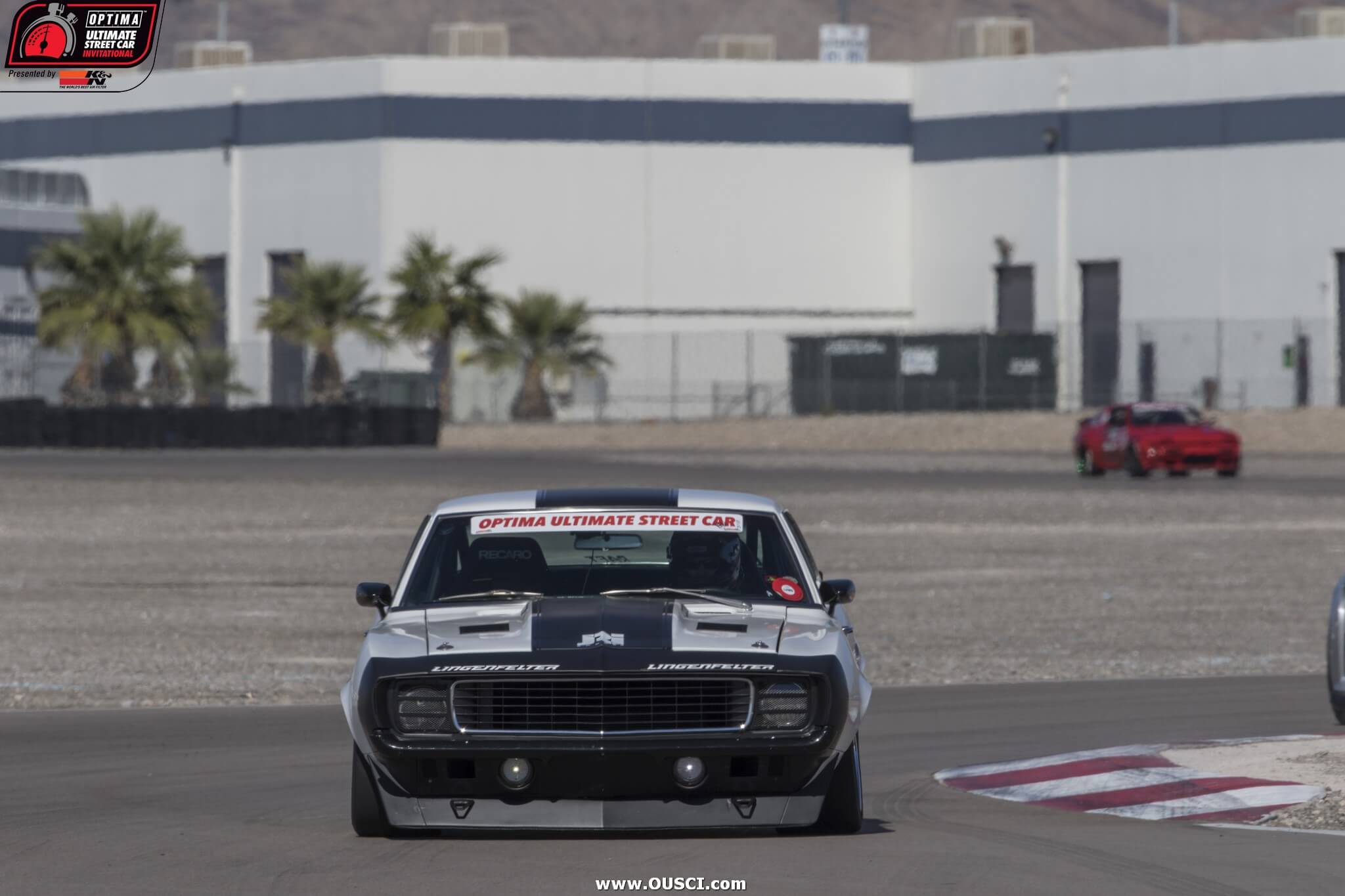 Ultimate Streetcar
Sponsor

OPTIMA Batteries

Location

Las Vegas, NV
Jake Rozelle has been tabbed as the young upstart all year long in OPTIMA's Search for the Ultimate Street Car and he didn't disappoint in his first foray into the OPTIMA Ultimate Street Car Invitational (OUSCI), presented by K&N Filters. Jake ran his 1969 Chevrolet Camaro in both California qualifying events in 2014, picking up the invite in the GT3K class at Fontana back in June, so he had plenty of time to ramp things up for SEMA and the OUSCI in November, although as is often the case, mods came fast and furious as the big day neared.
While Jake's Camaro delivered a solid performance in Las Vegas, he knew there was more potential available. "The reliability on the car was top-notch and I have to thank my dad, Cris Gonzalez and everyone else who has supported us for such a smooth-running weekend," says Jake. "Our rapid transformation of the car resulted in all the right components being there to succeed, but a less than ideal setup that hurt our final position in the event," says Rozelle. "Since then, we have refined the car to the point I wish it would have been at for OUSCI, but it is now ready for next season."
The setup wasn't a factor in the Detroit Speed Road Rally, where Rozelle picked up the 25 points he needed and the rapid transformation helped elevate the Camaro's finish in the Lingenfelter Performance Design Engineering Challenger, where it tied Scott Sengpiel's RX-7 for 23rd place. On the track, Jake found himself embroiled in an epic battle in all three events, where dozens of competitors were separated by mere tenths of a second (or less).
In the RideTech Street Challenge Autocross, 17 competitors posted times in the 44-second range. Finishing in the front of that group meant a top-25 performance, but those in the back barely made it into the top-40. Rozelle finished in the middle, placing 31st. A total of six competitors posted 15.0xx times on the Wilwood Disc Brakes Speed Stop Challenge and Jake edged out fellow Camaro competitor, Kyle Tucker by .021 thousandths of a second for 21st place.
Jake turned in his best performance of the weekend in the BFGoodrich Hot Lap Challenge, where his F-body was one of seven vehicles to post a 1:49.xxx lap time, finishing 19th overall. For the weekend and his rookie visit to the OUSCI, Rozelle finished 23rd overall. "We had a great time and I had over a dozen friends and family there for support," says Jake, who didn't make it out to Vegas himself, until after completing a midterm on Wednesday night.
If he could've done things differently, he probably would've made the changes to his car sooner, to get the development it needed. "More horsepower also would have been a big help on the road course, since most of the cars that beat us were putting out more than our 505 crank horsepower," says Rozelle. "The only big surprise was how tight the autocross was, which was pretty different than the more open courses I ran at the USCA events at Laguna Seca and Fontana. The speed stop course was different as well, but I felt really comfortable on it and really enjoyed its layout."
The OUSCI competitors who most-impressed Jake were the Evos. "I've seen Danny (Popp) drive C5 Z06s wicked fast before, so we all knew it was going to be an incredible platform, but for Brandon Ranvek to come out and almost win with hardly any laps on a road course he had never been on before was absolutely incredible," says Jake. "However, the reliability issue among those cars definitely seems to be their shortcoming."
The best advice Jake could offer for future competitors is just to come in with an open mindset and adapt to what is going on at the event. "Who knows if next year we will still have the dual autocross format or what other changes there will be, so the best thing we can do as competitors is bring a well-sorted car and drive it to the best of our abilities," says Rozelle. "We are really looking forward to next season with the new rules that really look good for a car like our Camaro, as it creates a class we can really be competitive in. Thank you to all the people at OPTIMA and the USCA, that make this series a reality, I'll see you at Thunderhill!
If you'd like to do more than just see Jake's Camaro at Thunderhill on the weekend of February 28th, you can add the OPTIMA Network on Roku and watch all the past TV coverage from the series. Until then, you can find Jake on Facebook and Instagram.