James Clay's 1996 BMW 320i Touring Wagon | a 2013 OUSCI Preview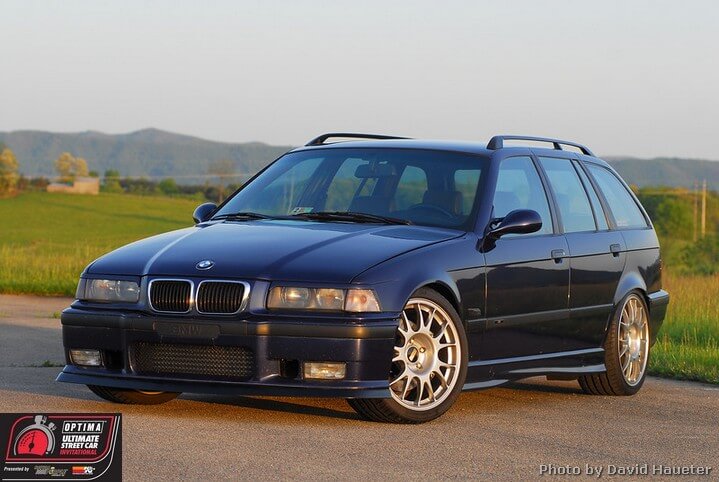 Ultimate Streetcar
Sponsor

OPTIMA Batteries

Location

Pahrump, NV
"Ultimate" is a very strong word to use and one that we don't use lightly, whether we're talking about OPTIMA Batteries as The Ultimate Power Source™ or referring to our signature event, the OPTIMA Ultimate Street Car Invitational (OUSCI), presented by Royal Purple and K&N Filters. When you describe a street car event as the "Ultimate" event, we think you really need to open it up to all street cars, not just those of a specific make, model or era. Add continent to that list as well.
What you see before you is James Clay's 1996 BMW E36 Touring. It is obviously a BMW and while it may look similar to other BMWs you have seen before, this particular model was never sold in the US market. In fact, in order to get this car imported from Sweden, Clay had to have it disassembled and shipped over in pieces. Apparently, the English translation for the German word "station wagon" is Touring estate. Maybe it isn't, but that's how BMW owners refer to their station wagons, which they also spell with an "e"- wagen.
This one showed up stateside with a wheezy little 2.0-liter six-banger, that probably did a great job of running kids to football (soccer to us) games and picking up groceries. As nice as that might be, we don't invite those kinds of cars (or engines) to our event and James Clay, owner of BimmerWorld and GRAND-AM racer, doesn't have much use for them either...at least not in that form.
However, Clay does have a soft spot for wagons, in fact, he loves 'em and wanted one unlike any other BMW wagon on this side of the pond. As soon as the car showed up, he and his crew at BimmerWorld went about converting it to US M3 specifications, which meant a change in seats, engine, driveline and brakes. From that point forward, they just went plain nuts with the thing, although you'd never know it by looking at it's relatively-plain wrapper.
When you race BMWs in GRAND-AM and you want a killer engine built for your stealthy wagon wagen, who do you call? The same guy who builds the engines for your race cars, Sunbelt Performance. Sunbelt built a 9:1 compression 3.2-liter straight-six with a Garrett GT-40R turbo bolted on for good measure. How does 580 horsepower at the wheels on 14 pounds of boost sound? Almost as good as 670 horsepower at 18 pounds of boost (Clay estimates they'll show up at the OUSCI running enough boost for about 600 horsepower).
No one knows better that you can't just drop a big horsepower engine into a car and call it a day than James. While it's fun to have all that power, this wagon actually serves as a rolling testbed for Bimmerworld. This engine helps them let their customers know what kinds of parts are needed to keep the rest of the car cool, calm and connected to the road when they have that much power on tap.
To that end, a Clutchmasters FX-650 twin disc clutch handles the transfer of power to a Diffsonline three-disc limited-slip differential packed with 3.23 gears. BimmerWorld fabricated the tubular manifold and exhaust system, which is controlled by a custom AEM management system. They also started Jet-Hot coating what they could and replaced standard lines with stainless steel upgrades to handle the heat.
Eibach springs and Moton double-adjustable shocks are paired with suspension upgrades from BimmerWorld's catalog and Ground Control. Performance Friction Z-rated brakes have been mounted on all four corners, featuring two-piece, four-piston calipers that were machined from a single block of forged material. In other words, these brakes are now legal for BMW Club Racing, as well as spec for GRAND-AM. Basically, just look at the contingency decals on any of Clay's three GRAND-AM race cars and assume most of that stuff has been packed into this car.
At this point, any OUSCI competitors reading this preview would likely be thinking, "What a cool exhibition car to be bringing to the OUSCI, I can't wait to see how my car stacks up against it. I'm glad it's not actually competing for the title!" If they are thinking that, they would be wrong. While it would be correct to assume that Clay, because of his professional driving experience, would be ineligible to compete in the OUSCI, that doesn't preclude a designated builder from competing in the car, which would be Josh Smith.
Smith is such a plain name for a guy who just wrapped up yet another GTS championship in his BimmerWorld E46 M3 (in addition to winning five races and setting two new track records in the first two weekends of competition in his BimmerWorld E92 M3). How do you say ringer in German? Who would you expect a guy like James Clay keeps company with, librarians? Fast guys stick together, just ask Todd Rumpke and Danny Popp.
There is no question this BMW is poised to compete and is capable of doing very well at the OUSCI. However, Clay has acknowledged the car has dealt with heat issues in the past and even when it is running well, it is a handful for even a capable driver. Add in the variable of the altitude at Spring Mountain, which has caused issues for boosted OUSCI competitors in the past and Clay Smith could see their fortunes go in either direction.
If you want to see more of Clay's BMW and like us, missed the 2009 feature on it in Bimmer magazine, you can catch the June 2008 issue of Grassroots Motorsports Magazine. If you want to see what happens when a BMW wagon opens up a can of you know what on a bunch of other street cars, add the OPTIMA Network for free on Roku and watch all the past OUSCI TV coverage on-demand. If you can't wait until then, check out this video of it spooling up and tearing around VIR.