Jeremiah Stotler's 2015 Ford Mustang- 2016 OUSCI Recap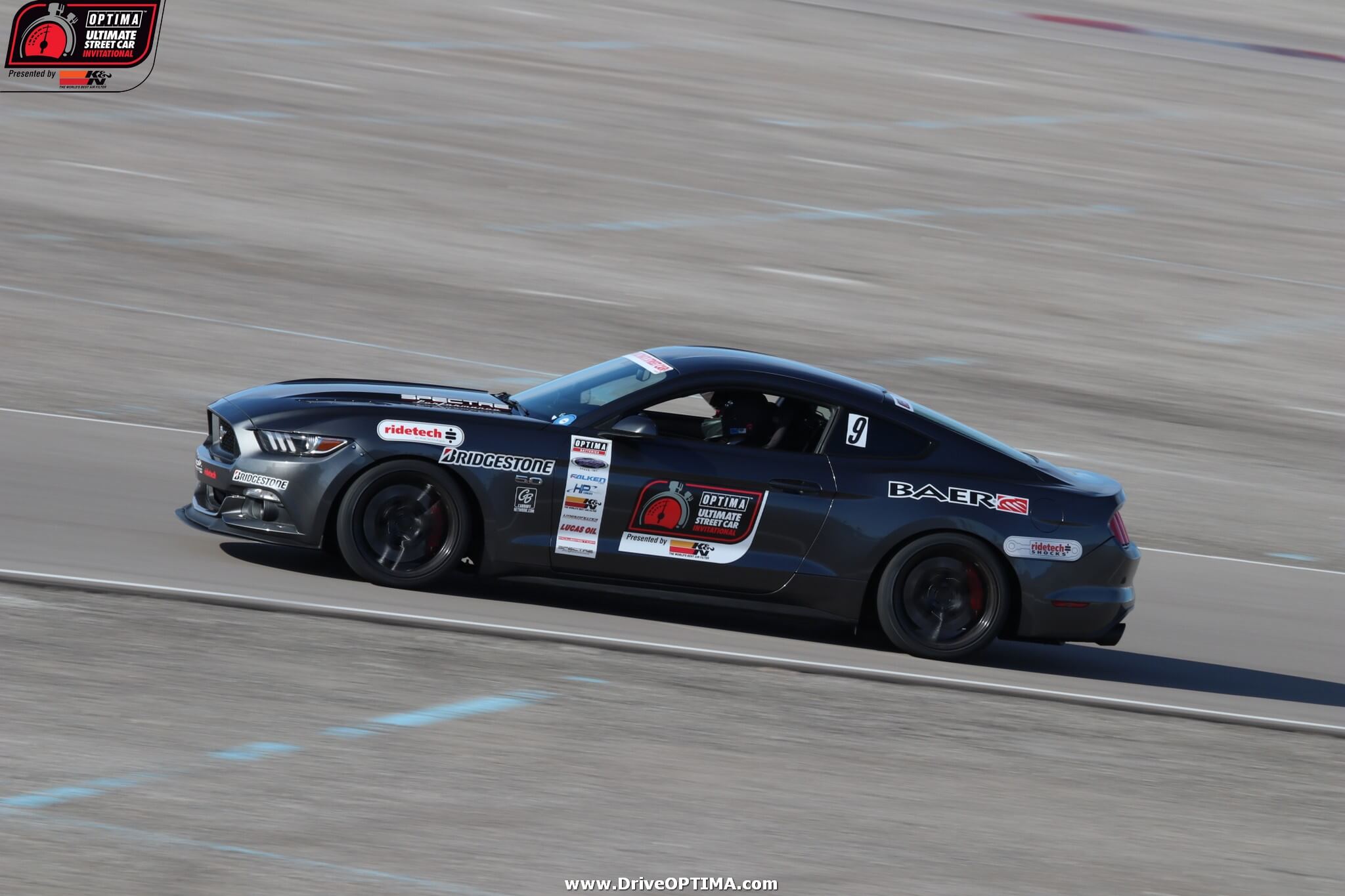 Ultimate Streetcar
Sponsor

Location
For the second year in a row, Jeremiah Stotler's 2015 Ford Mustang earned an invitation to the prestigious OPTIMA Ultimate Street Car Invitational, presented by K&N Filters. The OUSCI is very much an event where if someone doesn't make improvements to their car from one year to the next, they'll get left behind in a hurry. Stotler finished in the top-10 in GT class points for the 2015 season, punching his ticket for Las Vegas at Charlotte Motor Speedway. His performance at the 2015 OUSCI resulted in a 35th overall finish, bolstered by a 27th-place finish in the Detroit Speed Autocross and a 30th-place finish on the Falken Tire Road Course Time Trial.
Just qualifying for the OUSCI is challenging enough and in 2016, Stotler only gave himself one chance at the final qualifier of the year at Auto Club Speedway. Fortunately, Jeremiah's podium finish was a strong enough performance to earn a class invite from the GT class for the second year in a row. Stotler's performances are even more impressive when considering the modifications on his Mustang are primarily of the bolt-on variety.
Jeremiah's primary support comes from
RideTech
,
Baer Brakes
,
Bridgestone Tires
,
MBRP Exhaust
and
UPR
catch cans and that nearly sums up the modifications he's made to his platform. The engine only benefits ffrom an MMMR cold air intake, an MBRP exhaust and UPR catch cans. RideTech TQ coilovers help with handling, and BMR front and rear swaybars, a rear cradle lockout, differential lockout and jacking rails have also been added, as well as a Boomba transmission mount.
Jeremiah's front splitter, grille and hoot vents are all custom-fabricated and his interior features Corbeau FX1 seats a Cipher harness bar, RideTech five-point belts and a rear seat delete and that's it! So how did Jeremiah fare at the 2016 OUSCI? Real street car credibility probably helped him place 43rd in the Lingenfelter Design & Engineering Challenge, while the PowerStop Speed Stop Challenge proved once again to be his most-challenging timed event, where he finished in 43rd place.
Stotler once again excelled on the Falken Tire Road Course Time Trial, where he finished just 69 thousandths of a second behind Matt DeReus' BMW M3 in 34th place. Jeremiah ran even better on the Detroit Speed Autocross, where he finished 32nd overall, but once again came up 37 thousandths of a second behind Matt DeReus again! However, in the overall results, Stotler's across the board consistency placed him 39th in the field (DeReus finished 46th). That is slightly behind where Jeremiah finished in 2015, but still very impressive, considering the relatively-minimal modifications on his car.
The 2017 qualifying season will be here before you know it and registration will be opening soon at
www.DriveOPTIMA.com
, but you can re-live the past seasons before then, by watching OPTIMA's Search for the Ultimate Street Car, presented by Advance Auto Parts, every Friday night at 8PM Eastern on MAVTV. You can also
add the OPTIMA Network to your Roku device
and watch past episodes on-demand for free anytime.