Jim McIlvaine Wife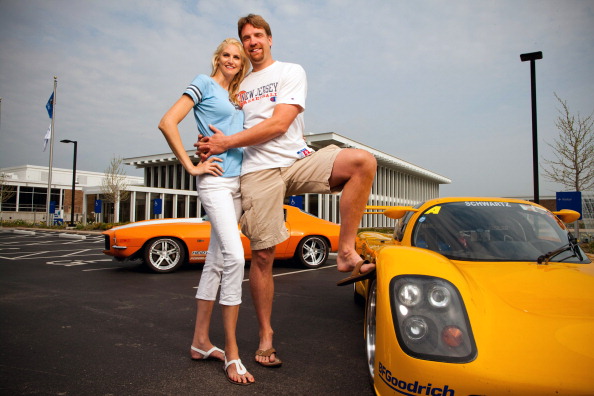 Events
Sponsor

OPTIMA Batteries

Location

Glendale, WI
It started with an e-mail several months ago, from someone named Pablo Torre. He claimed he worked for Sports Illustrated and wanted to interview OPTIMA Jim about an upcoming article on former NBA players and what they are doing now. Jim responded, but months went by and he never heard from Pablo. Then, a phone call came in late-April. Pablo ended up interviewing Jim (and his wife, Gwendolyn) for quite a while.
The interview was followed by several more weeks of silence, which as Jim learned in working for car magazines, is not all that uncommon. When Jim finally heard from Sports Illustrated again, it was from one of their photographers, who was looking to set up a time to photograph both Jim and his wife for an upcoming issue.
Since the interview revealed Jim's work with OPTIMA, it was requested that some of the cars Jim works with be present for the shoot. Just like car magazines, Sports Illustrated preferred cars of the colorful sort- reds, yellows, oranges, etc... Then, it was a matter of finding car owners willing to drive to OPTIMA's world headquarters in Glendale, Wisconsin. While the thought of having their car appear in Sports Illustrated certainly interested many car owners, there was some fear of the unknown- How much of the car would appear in the magazine? Would their car get left out entirely? Would their shop name and phone number be mentioned somewhere in the story?
There simply was no answer to any of those questions, until the magazine hit the newsstands. As a result, at least one car owner declined to participate, citing the expense involved in traveling to Glendale and the concern over the previously mentioned issues. In fact, some of the pictures taken during the three-hour shoot didn't include either car that did agree to appear for the shoot.
It really ended up being a gamble for both Randy Johnson of D&Z Customs and Jeff Schwartz of Schwartz Performance, who did agree to allow us to use their cars for the shoot.
Both car owners agreed to spend a Saturday morning having their cars included in a photo shoot with no guarantees and we greatly appreciate their willingness to help us out. Ultimately, both cars (or at least parts of them) did up appearing in Sports Illustrated, which has a weekly circulation six times the size of Hot Rod magazine's.
Jeff Schwartz's Ultima GTR, which Jim photographed for the March 2005 cover of Kit Car Magazine, ended up getting the proverbial short end of the stick. Just a portion of the right side of Jeff's car appears in the magazine, although part of a BF Goodrich decal on his right front bumper was visible.
Randy Johnson's '70 Camaro made out a bit better, as his car was probably more identifiable in the photo and his Heidt's decal Forgeline wheel and decal were visible.
We can't thank both car owners enough for their willingness to participate in this shoot and we hope that if either of these cars interest you, that you will click on the links we provided to either their company websites.