John Lazorack's 1988 Chrysler Conquest | 2014 OUSCI Preview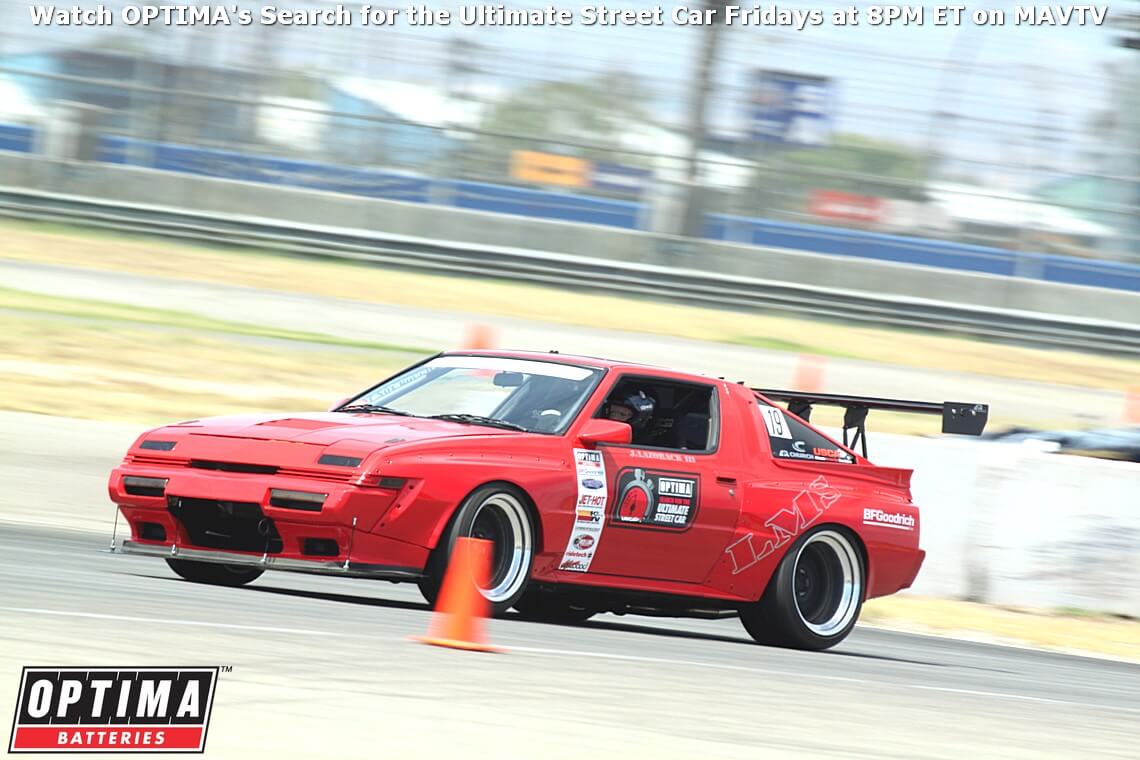 Ultimate Streetcar
Sponsor

OPTIMA Batteries

Location

Las Vegas, NV
John Lazorack III's 1988 Chrysler Conquest had a strong showing when it made it's rookie appearance in the 2013 OPTIMA Ultimate Street Car Invitational (OUSCI). Fresh off an appearance in (the now defunct) Modified Magazine's own street car shootout, John posted an impressive 26th-place finish in the 2013 OUSCI and he plans on improving on that effort significantly in 2014.
"Since I qualified, I've been doing a lot of "mental planning" for the car," says John. "My wife and I finally moved out of our apartment and into a house with an actual garage that fits two cars instead of barely one, which is huge for me, as I finally have a place to work." And work is exactly what John has put into his Conquest, arriving at the Fontana qualifying event with a car that was six inches wider than it was last year at the OUSCI. "The performance gains have been amazing," says Lazorack. "The Fontana qualifying event was definitely a learning experience for me, as the car does everything better and it was my first time driving it with the wider body."
The results speak to the marked performance improvements on the track as well. Only Casey Wallace in his Nissan GT-R managed to post a faster time in the BFGoodrich Hot Lap Challenge and only fellow GT2K competitor, Rob MacGregor outran him in the RideTech Autocross. John was also among the ten fastest in the Wilwood Speed Stop Challenge, which would suggest he'll once again be one of only a handful of OUSCI competitors who will be able to score points in all three on-track events.
The question isn't whether or not he'll be able to complete the Detroit Speed Road Rally, because his Chrysler is as legit a street car as we have in this event, but whether he'll be able to score enough points in the Lingenfelter Performance Design & Engineering portion of the event. With less than 11,000 Conquests hitting the streets in 1988, no one in the aftermarket is rushing to make aero kits, engine swap packages or basically anything else to support this platform. John has had to build or design virtually everything himself, from the Art Morrison-crafted rollcage to the LS1 swapped engine that now rests under the hood.
John had enjoyed competing in drift events with the car and it was a real daily driver, so when it arrived at SEMA last year, it did have some signs of use in various areas. John has either addressed those already with the aero kit he designed or will be addressing it with some minor paint work in the near future. He is also continuing to refine his alignment and suspension following the Fontana event and hopes to squeeze in a few more track test days before heading to SEMA.
One thing that was evident from his experience at both the 2013 OUSCI and the Fontana event is the need for more power. "The car is capable of out-handling just about every car in the field," says John, "but the lack of power is what is holding me back." Lazorack plans on increasing the output of his engine by close to 100 horsepower, which he expects will help him pull more through the straightaways. When it's all said and done, John expects the engine to produce somewhere in the range of 450-500 horsepower and weigh in at just under 3,000 pounds. "I've had to add a little weight with the wings and splitters, but I am hoping to lose it in other areas of the car," says Lazorack.
As for the venue of Las Vegas Motor Speedway, John is doing the same as many other competitors- studying videos of others who have driven the track. "I've been there to spectate a few times, but I have never run the track," admits John. "The track looks pretty small, which should be advantageous for cars with aero, that don't make a bunch of power. This should be good for me, as cornering is the strongest aspect of the car right now."
Even with the impressive lineup of cars already invited to the 2014 OUSCI, John thinks the driver will still be the determining factor in the outcome of this year's event. "Yes, the cars with perfect paint will score high in the Lingenfelter Performance Design & Engineering portion, but they are sure to fall short on the track," says Lazorack. "If I've learned anything from these events, its that a $10,000 car can destroy a $500,000 car with the right driver and a little determination. The cars that have TONS of driver aids are always fast, regardless of driver, especially in the Wilwood Speed Stop Challenge. I'm sure the GTRs, Evos and Porsches with launch control and ABS will do very well there, but I think consistency is key with events like these, and there will definitely be some surprises. I know what my car needs to win this event and like always I'm going to do everything I can to get it there."
John is confident the potential for a top-10 finish is within his reach, but he knows he'll have his work cut out for him. He would like to thank Shawn Church, at Church Automotive Testing for what he calls "the best tune you can get." He'd also like to acknowledge the assistance of APR Performance, D2 Racing and Motocam360. John would also appreciate it if you followed him @lazorj on Instagram.