Justin Stone's 2015 Subaru WRX | A 2014 OUSCI Preview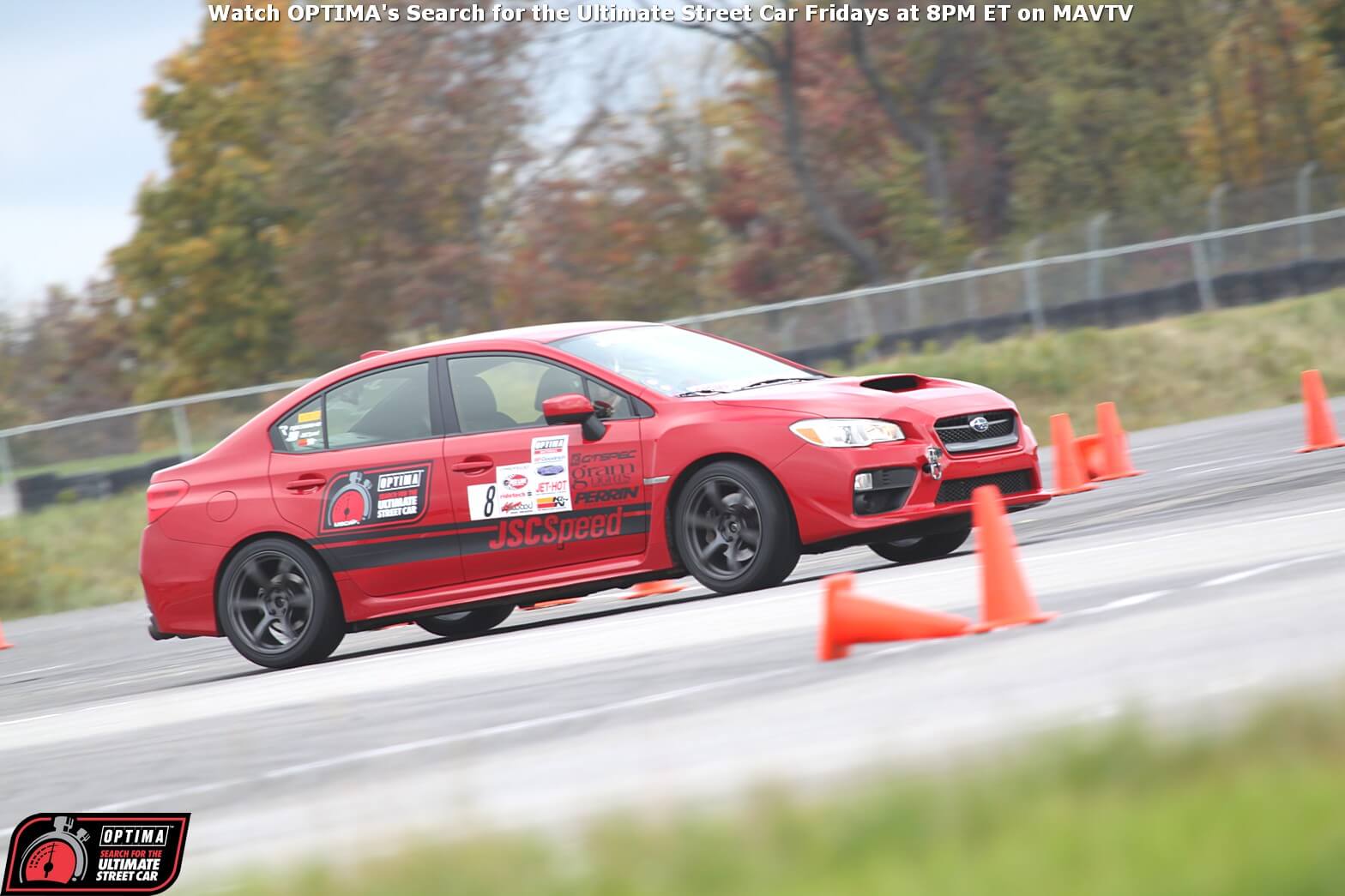 Ultimate Streetcar
Sponsor

OPTIMA Batteries

Location

Las Vegas, NV
Even though OPTIMA's Search for the Ultimate Street Car was a new series in its first year of competition in 2014, we saw several competitors get up to speed rather quickly on what it takes to be successful. Karl Dunn & Danny Popp both saw an opportunity in the GT2K (under 3,000 pounds) class and put together very competitive C5 Corvettes that have some wondering if the series will turn into a spec series for that generation of Y-bodies (it didn't). Others saw an opportunity to target the right events and score significant points in the season-long point standings, which is how the 2014 All-Wheel Drive Class Winner, Justin Stone, punched his ticket to the 2014 SEMA Show and OPTIMA Ultimate Street Car Invitational (OUSCI), presented by K&N Filters.
Stone's 2015 Subaru WRX first made an appearance back in June at the iconic Road America event and he quickly hatched a plan to target the two remaining double points events within a reasonable drive of his home in Doylestown, Pennsylvania- St. Louis and Pittsburgh. When everything was said and done, Stone emerged victorious in his class and behind only GT3K class champion Ken Thwaits, Bryan Johnson and Kyle Tucker in overall points on the season.
It has been a busy and eventful year for the proprietor of JSC Speed and we were able to catch up with him in between an American Endurance Racing event at Watkins Glen and preparations for the trip out West. In fact, by the time you read this, Stone will have already left Pennsylvania, driving his car to Nevada. Piling on miles is all part of Stone's plan for the WRX, as he is in the midst of testing and developing new products for Subaru's new engine. In fact, that was the specific reason he chose the WRX over the STI.
"The 2015 WRX has a lot of unknown potential, while the 2015 STI isn't too different than any STI since 2008 or even since 2004, as they all use the same EJ25 2.5L turbo engine," says Stone. "The 2015 WRX is revolutionary in that it has Subaru's all-new FA20DIT, a 2.0L direct-injected engine coupled with a twin-scroll turbo, which makes a very nice amount of boost from a relatively low RPM, especially for a Subaru. This low end grunt makes the 2015 WRX a very quick car, especially for the reasonably-low sticker price- ours was under $28,000 with absolutely zero options."
Justin no doubt sees an opportunity to get in early on the aftermarket for this new engine and one selling point he'll have for over his competition is battle-tested miles. By the time the Subaru rolls into Las Vegas, Stone expects to have more than 21,000 miles on the odometer, more than half being spent driving to, from or in Ultimate Street Car events. That real-world testing will help prove the functionality and durability of every modification he makes and he has gone to great lengths to document the build of the WRX, including test data.
Changes are still ongoing, even after the Pittsburgh event, although given his already busy schedule, engine and suspension fine-tuning will likely be the limits of mechanical changes before SEMA, with some livery changes in the works as well, to make space for OUSCI sponsor logos. Justin expects the car to be sending about 290 horsepower and 300 lb.-ft. of torque to the wheels in Las Vegas, with a curb weight of 3,400 pounds.
Stone has been scouting the road course at the Las Vegas Motor Speedway in videos and believes cars will need to be able to get power at lower speeds through some slow corners and there will be a couple of heavy braking zones, which makes him feel glad that he pro-actively upgraded his brakes earlier this year and installed a limited-slip differential to help the rear wheels get power coming out of the corners.
The 2014 OUSCI field is not only large, but diverse. Justin has squared off against plenty of his fellow competitors in qualifying events, so he has a good feel for the field and has identified some early favorites. "The GT-Rs are making so much power (700-900 horsepower) and can get it to the ground so efficiently," says Stone. "Combining Nissan's exceptional electronics with a few excellent drivers, the Godzillas could be the front runners on this tight course!"
Justin is a little more conservative in his outlook on his own performance. "I am very much a long shot at winning this event," admits Stone. "The JSC Speed 2015 WRX is such a new chassis and only has eight months of development behind it, while most of these cars have had many, many years (some decades) of development. I am just honored to have been able to earn my way to the OUSCI on points (and to have won the AWD class). I'll be happy with a top-20 finish."
Justin would like to acknowledge the assistance of many great sponsors, who have helped accelerate the performance of his 2015 Subaru, including Perrin Performance, Gram Lights wheels, Moto-East, Area1320, Cusco, GTSPEC and Turn 14 Distribution. You can also find JCSpeed on Twitter. We'd like to find you at the 2014 OUSCI at the Las Vegas Motor Speedway. The event took place on November 8th & 9th and the first 1,500 spectators received free event t-shirts. If you missed out, you can always add the OPTIMA Network on Roku for free and watch all the past OUSCI TV coverage.