Ken Edwards' 1966 Ford Mustang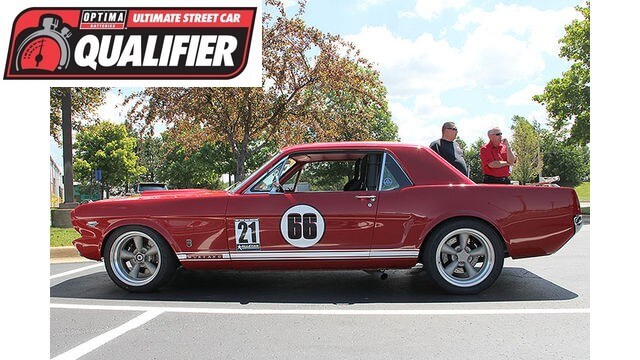 Ultimate Streetcar
Sponsor

OPTIMA Batteries

Location

Long Island, NY
It's been quite a year for Ken Edwards and we've still got a ways to go! Ken started out the year by shattering his leg and just recently was able to get behind the wheel and start running track events again. Fortunately, his injuries healed up enough to allow the New Yorker to get behind the wheel for last month's Motorstate Challenge, where Ken picked up an invite for the OPTIMA Ultimate Street Car Invitational (OUSCI).
The Mustang is not Ken's first foray into hot rodding or competitive driving. Seven years ago, he purchased a 1968 Camaro for his son, Ken Jr.'s birthday and the two had so much fun working on the car together, that three years ago they picked up this 1966 Ford Mustang, so Ken Sr. would have a set of wheels to drive at events alongside his son. The two have been mainstays at Pro-Touring events ever since (and totally addicted to autocrossing).
If you've been to Goodguys shows at Charlotte, Columbus or Springfield, there's a good chance you've seen this car already. Ken also recently received another feather in his Pro-Touring cap, when he was invited to compete in the Popular Hot Rodding Musclecar of the Year competition in 2012. Unfortunately, a blown engine put an end to that event for Ken, but he seems to take it all in stride.
Ken describes his Mustang as "old school vintage Trans-Am," although he acknowledges it has been getting some upgrades recently. The car was built out in California in the late-1990s, before it found it's way out to Long Island around 2000. Ken has been scrambling around lately (as one might expect after an OUSCI invite), but we'll be sure to get a full preview on his Mustang up before SEMA. For now, we can tell you he has some good folks in his corner, including past OUSCI competitor, Mike Maier, who has been helping get the pony car set up for it's date in the desert.
If you missed the 2013 OUSCI, you can always go back and re-watch it for free, anytime on the OPTIMA Network on Roku.