Ken Edwards' 1966 Ford Mustang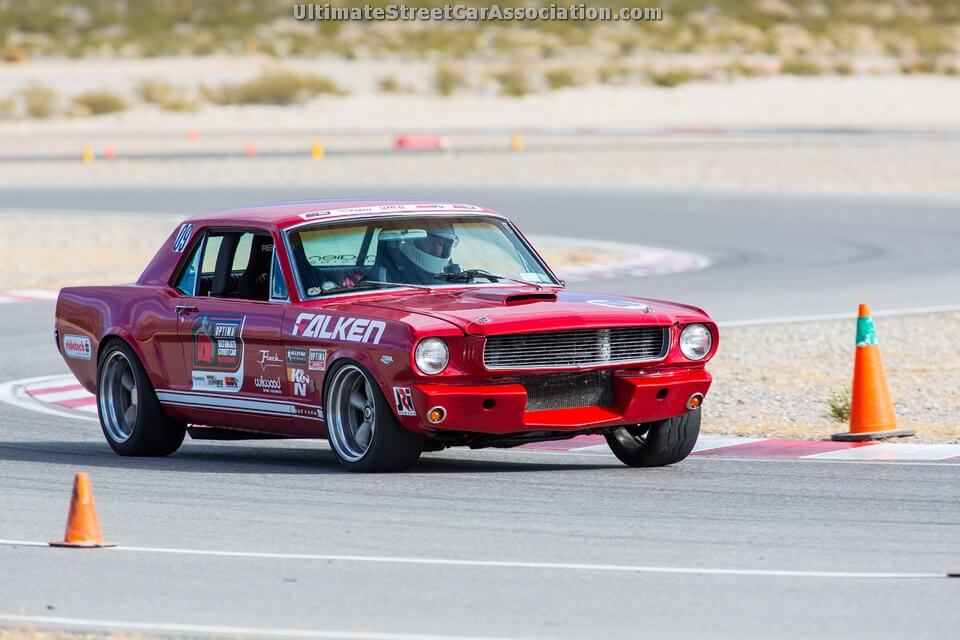 Ultimate Streetcar
Sponsor

OPTIMA Batteries

Location

Las Vegas, NV
We don't hear any excuses when we recap the OPTIMA Ultimate Street Car Invitational, presented by Royal Purple and K&N Filters. The excuses usually come when we try to invite folks to the OUSCI at the SEMA Show, only to find out their cars are much closer to artwork on wheels, than functional vehicles. What we do hear are explanations for how or why things actually happened the way they did. In most instances, these tend to focus on how the car performed in timed events or how much prior experience the driver had in an event like the Wilwood Speed Stop Challenge.
Ken Edwards' story is different than any we've told to date, as he is an experienced driver with a well-prepared car, yet by his own estimation, his top-30 finish fell well short of his own expectations for the event. So what happened? In two words, food poisoning.
"The car was awesome, but I got food poisoning the day or night before," said Edwards. "I drove the car the best I could after throwing up during tech, before and after the RideTech Autocross, but the worst was while I was on the back straight of the BFGoodrich Hot Lap Challenge, going 120 mph." Even under those adverse conditions, Ken still managed to grab 25th spot in both the Autocross and Hot Lap Challenge. "I was not going to call in sick, so I did my best," said Edwards.
The Wilwood Speed Stop Challenge requires drivers to be in their cars for the shortest amount of time. It was also held after lunchtime, which allowed Ken more time to recover from his illness. Those factors made it more likely that Edwards would be able to show the true potential of his Mustang. The pony car did exceptionally well there, finishing 13th overall and a scant .01 hundredths of a second behind Bob Benson's 12th-place Pantera.
Ken is confident the Mustang could've been much faster on the track, had he not been ill, but he still had a great time. "I was surprised at the variety of cars in the event," said Edwards. "I favor the vintage American cars, but it was cool to run with some of the exotics and I wondered what the outcome would be between the modern factory cars versus the home-grown, old-school musclecars."
Edwards thought there were at least eight different cars that were capable of winning the event, but he was really happy to see Brian Hobaugh's Corvette take home top honors. "I was really glad to see Brain get the win," says Ken. "Brian and his dad, Steve, are great people with an awesome, home-built car." Ken thought all the attention OUSCI competitors received as they exited SEMA for the Detroit Speed Road Rally was pretty exciting and the MAC Tool kit all competitors received was also a cool surprise.
Overall, Ken said he had a great time and felt honored to compete with some of the coolest and nicest friends anyone could ask for. Edwards encourages all future competitors to enjoy the day, because it was one he will not soon forget!