Ken Thwaits' $3,000 Bounty in OPTIMA's 2015 Search for the Ultimate Street Car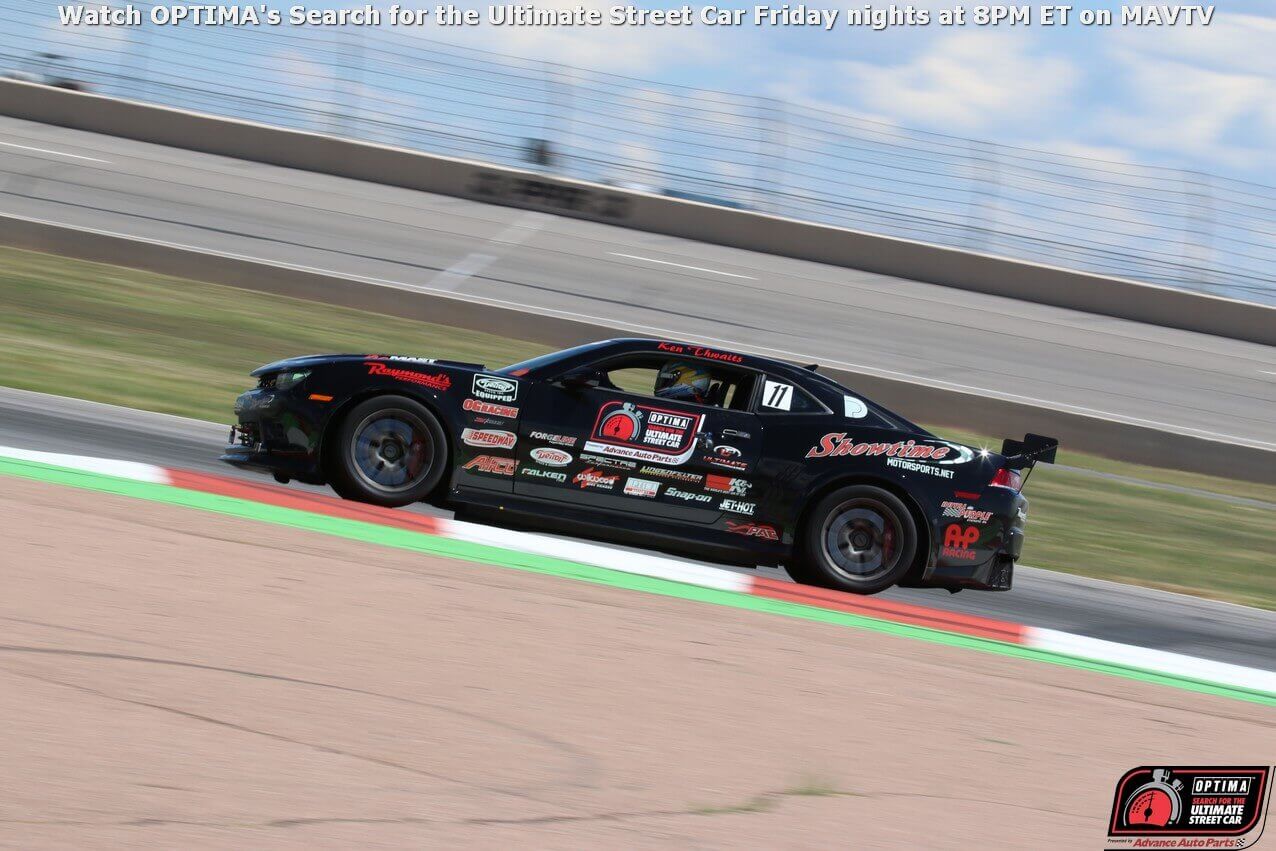 Ultimate Streetcar
Sponsor

OPTIMA Batteries

Location

Nationwide
With the second season of OPTIMA's Search for the Ultimate Street Car, presented by Advance Auto Parts, fully underway, fans of the series (and the hit TV series on MAVTV) are starting to learn more about the competitors and their unique personalities. Heroes and villains emerged immediately, as Ford people like the Ford drivers and Chevy people like the Chevy drivers, etc... However, one competitor has emerged from that heated fray and become the subject of even more attention and that is the 2014 regular season GT3K champion, Ken Thwaits.
Thwaits piloted three different Camaros during the 2014 campaign, including a new Z28, which became an Internet sensation after a close encounter with a wall at Road America went viral. Add in the fact that he has an awesome garage (pictured) with an incredible collection of Camaros, plans on running every event in the #DriveOPTIMA series and has secured sponsorship support from several top companies including Michelin, Raymond's Performance, Lingenfelter Performance Engineering, RideTech, Pac Springs, Royal Purple, OG Racing, Speedway Motors, Afco and Spectre, and it shouldn't come as a surprise that the target on his back has become bigger than most other competitors. While he is "the guy" a lot of people want to beat, competitors within the series will also tell you there is no one friendlier in the pits than Ken and he has gone out of his way to help nurture and grow the series, which may offer the best glimpse of how real, street-driven muscle cars stack up against each other in timed competition on the track.
As stories of Ken's generosity among his fellow competitors grow, one particular story has emerged above all others. It wasn't the Road America incident that is the subject of so much discussion now, but the $3,000 ponycar bounty his Showtime Motorsports team has placed on his own head. Their challenge is simple- any newcomer to OPTIMA's Search for the Ultimate Street Car series, that can win the GT class at an OUSCI qualifying event, in a late-model Ford Mustang or Dodge Challenger wins $3,000 cash. Winning the class would mean they'd beat Ken's Camaro, which has not proven to be an easy task so far. Ken won the GT class at the first event at Thunderhill, so the bounty now carries over to the next event at Texas Motor Speedway, where more than a dozen first-time Ford Mustang competitors have signed up.
With all the buzz surrounding Ken's bounty and the OPTIMA Search for the Ultimate Street Car Series on the rise, we thought it was a good time to catch up with Thwaits and ask him about the series, the bounty and what competitors are up against.
OPTIMA: First of all, congratulations on winning the GT class at Thunderhill and qualfying for the 2015 OUSCI. How familiar were you with Thunderhill going into the event and how did you think you and the car performed at the track?

Ken: Yes, the win at Thunderhill was great! As you know, last year we won the regular season GT points championship which was great, but we did not win an event in our class. With the new class rules it has helped level the playing field for late model (GT Class) cars. We are now seeing large numbers of GT class late-model cars signing up to compete which is great for everyone!
I was not familiar with Thunderhill at all with the exception of running the track on our driving simulator at our Showtime Motorsports facility in Tennessee. We had not even driven our cars since the 2014 OUSCI Las Vegas event in November of 2014, but we were able to get some testing in on the Thursday before the weekend, so that helped us immensely with our Sunday track set up.
OPTIMA: Did you get a chance to look over the three first-time Mustangs you went up against at Thunderhill and/or talk to their owners? If so, what were your impressions?
Ken: I did contact Terry Nelson prior to the event and introduced myself and also thanked him for participating. I knew that he was going to be a strong contender with his local knowledge of Thunderhill and his Mustang had extensive modifications to it. In the end, we both had a great time competing, he ran strong (fifth in class) and was a worthy adversary!
OPTIMA: Texas was the first event you competed in last year, so there is obviously some familiarity with that track. However, your bounty is for newcomers to OPTIMA's Search for the Ultimate Street Car, so there may be a lack of familiarity for those who are looking to take on your Camaro. What can you tell them about your car, how it is prepared and how you think it will run at this track compared to others?
Ken: What I have found is that the Mustangs that are in contention for the bounty actually have more local track knowledge than we do. They run numerous NASA events at the tracks that we compete at, so when we show up they are the ones with local track knowledge and we start behind the eight ball. I will admit our 2014 Camaro 1LE is strong and also reliable and you need to have both speed and reliability in order to prevail at these hotly-contested events.

I think the racetrack event at Texas will not be as much of a disadvantage to lower horsepower cars that we compete against, so we will see how it all shakes out. I do expect a dogfight to the last session on Sunday to determine the winner!

OPTIMA: Do you make significant changes in between events or just try to dial-in the combination you already have?
Ken: We do run a completely different set up on Saturday for the Wilwood Disc Brakes Speed Stop and Detroit Speed Autocross events. Then we switch over Saturday night for Sunday's Falken Tire Hot Lap Challenge and go from there. I also have to add that Raymond's Performance has built and modifies and improves this car every weekend that we compete. We also work extensively with JJ Furillo of Ultimate Performance to adjust and fine-tune the Camaro 1LE for each event that we run on the weekend. So there are a lot of moving parts that work in harmony, that account for a successful outcome.
OPTIMA: We saw just three cars challenge you for the bounty at California and they were all Mustangs. We're still more than a week out from the event in Texas and there already may be a dozen or more first-time competitors signed up or committing to sign up to compete against you there, but they again all appear to be Mustangs. Why do you think Dodge Challenger owners are still sitting on the sidelines and what do you think it will take to bring them out?
Ken: I really think that the Hellcat has had limited sales and there just aren't a lot of those cars out there, that have the type of owner who is willing to take their car to the track and have fun with it. I hope they prove me wrong, because nothing would please all of us more than to see a true Mopar vs. Ford vs. Chevy shootout!
OPTIMA: When you first offered this $3,000 bounty, how long did you think it might take for someone to win it and after having run the first event, has your opinion changed in that regard?
Ken: I thought after I opened my big mouth that I had made a big mistake. However, after seeing the overwhelming response to the Pony Car Challenge I truly feel that if I lose the $3,000, that it was money well-spent in drawing attention to our series and sponsors like OPTIMA Batteries and Advance Auto Parts and ultimately showing participants who tried, but didn't win the $3,000, that they still came out on top because they had a great weekend driving experience!
OPTIMA: The first post we made about your bounty on Facebook elicited quite a response, especially from more than a few folks who clearly didn't understand OPTIMA's Search for the Ultimate Street car is not a drag racing event. Were those responses surprising?
Ken: I really expected our bounty to strike the nerve that it did! People are very passionate about not only the car that they drive, but also about the company that manufactures it! I also wanted to extend my hand in friendship on the event weekend, to ensure that everyone has a good time and we are all good sports when it comes to competing in the cars that we love. Win or lose….we all are winners!
The next qualifying event in OPTIMA's Search for the Ultimate Street Car takes place at Texas Motor Speedway on March 28th and 29th. If you have a late-model Mustang or Challenger and you'd like a shot at the ponycar bounty or you'd just like to bring your street-legal car or truck out to the track for an incredible weekend, there's still time to sign up at www.driveoptima.com.
If the bounty goes unclaimed in Texas, it will carry over to the following dates and events:
Las Vegas Motor Speedway April 25-26
NCM Raceway June 6-7
Michigan International Speedway June 20-21
Charlotte Motor Speedway July 25-26
Pike's Peak International Raceway Aug 8-9
Road America Aug 28-30
Auto Club Speedway Oct 10-11
">