Letty's Corvette from Fast & Furious 8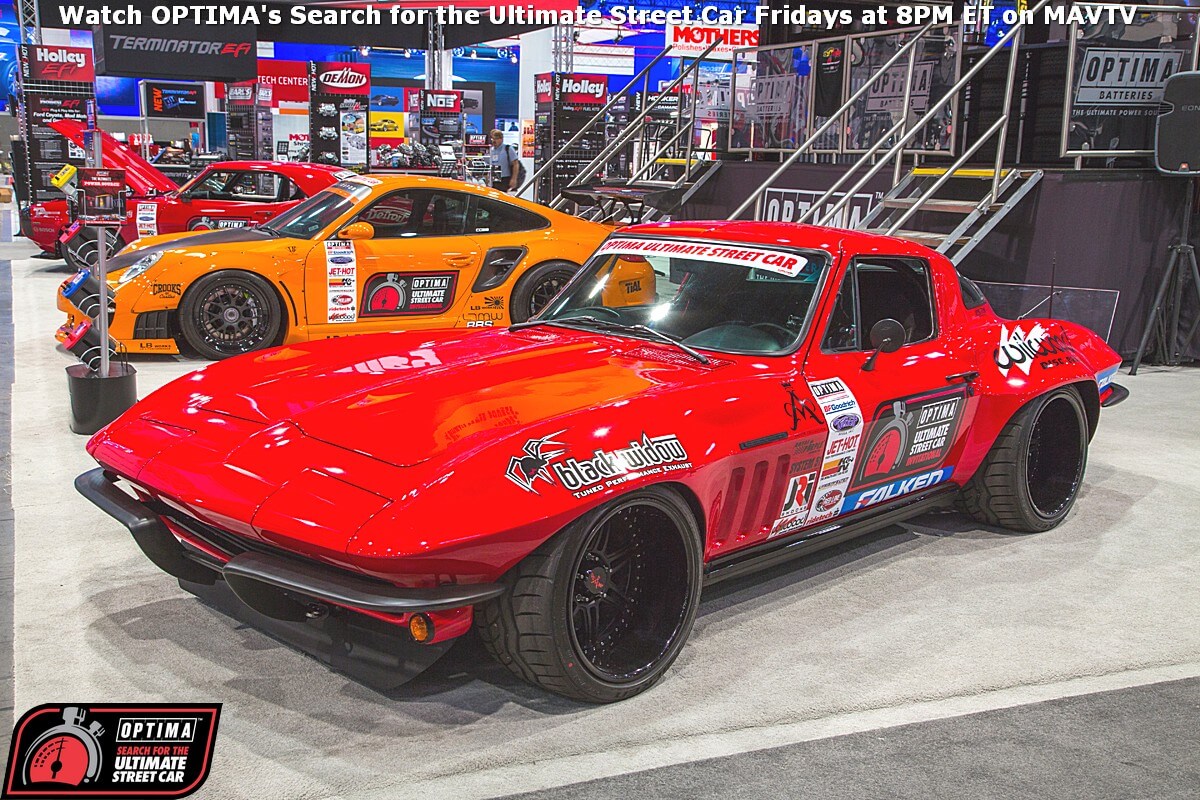 Cars
Sponsor

OPTIMA Batteries

Location

Hollywood, CA
The latest edition to the Fast & Furious move franchise, F8 The Fate of the Furious, will hit theaters on April 14, 2017 but we'll give you a sneak peek at one of the stars of the film, Brian Hobaugh's incredible 1965 Chevrolet Corvette Stingray. True to Hollywood standards, Brian's Vette plays the hero car part as Letty Ortiz's '66 Corvette, masquerading as a different model year. So if the car is really a '65, why does everyone refer to it as a '66? Brian says, "The side vents on the b-pillar were molded over in 1966. This car is a '65, but the original owner did that for a cleaner look and it looks like a 1966 model," explained Hobaugh. "When they made the copies for the movie, they refer to it as a '66 to keep from confusing people."
Regardless of what year people think it might be, we know it as one incredible car. In fact, Brian's car won the 2013 OPTIMA Ultimate Street Car Invitational, presented by K&N Filters. Only seven cars in the world have ever held the title of OPTIMA's Ultimate Street Car, so it's no surprise that Hollywood came calling. We've covered this car extensively
here
and Hobaugh's OUSCI victory has already propelled his Corvette to an incredible level of stardom in the car world, but it's only going to get crazier from here and we know folks won't be able to get enough of this incredible C2. As the defending OUSCI Champion, Brian's Corvette was featured in the OPTIMA Batteries booth at the 2014 SEMA Show (it also made an appearance at the 2013 show in OPTIMA Alley). If you'd like to get more specifics on the car, check out
this article
following up on his 2013 OUSCI win. You can also read
the preview we wrote
on the car prior to his 2013 OUSCI victory
here
and a recap of his 2014 run
here
.
Unlike the character Michelle Rodriguez played in the movie, Hobaugh isn't a former professional street racer, but he is an SCCA national champion. He does work on cars for a living Service King Collision Repair in Fremont, California and he has been known to daily-drive not only that Corvette, but his C5 and second gen Camaro, which are all spectacular examples. If you'd like to see more of them, check out OPTIMA's Search for the Ultimate Street Car TV Series every Friday night at 8PM ET on MAVTV or watch it on-demand for free anytime on the
OPTIMA Network on Roku
. The 2017 Search for the Ultimate Street Car is already in full swing and competitors will be headed to the Big Easy the week after F8 comes out, to take on NOLA Motorsports Park. See the full schedule for OPTIMA's Search for the Ultimate Street Car
here
and check these amazing machines out in person.
We know words and photos (scroll down for a huge gallery of images) aren't always enough, so if you'd like to see fellow OUSCI competitor, Mike Musto's video on Brian's Corvette, head on over to
Big Muscle
.