Lynda Jacobs' 1966 Chevrolet Chevelle | 2013 OUSCI Preview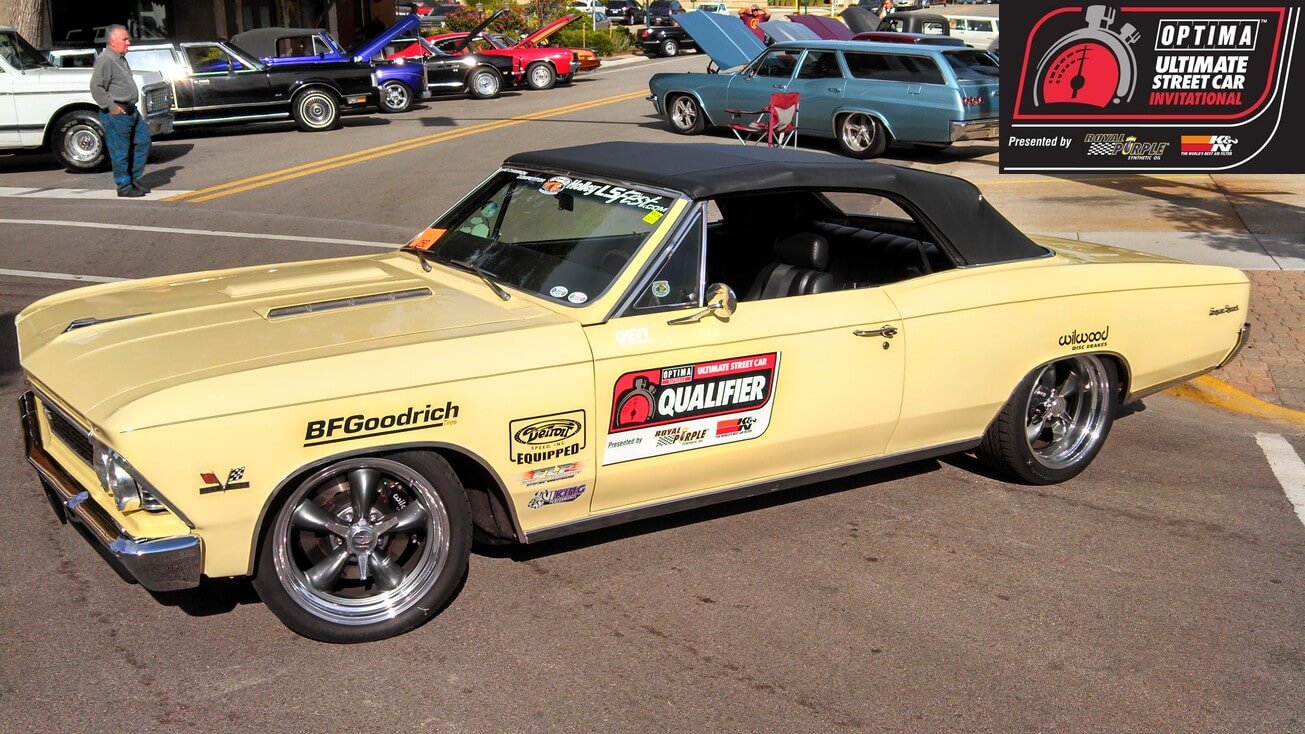 Ultimate Streetcar
Sponsor

OPTIMA Batteries

Location

Pahrump, NV
When we do our previews for the OPTIMA Ultimate Street Car Invitational, presented by Royal Purple and K&N FIlters, we always ask competitors several questions to try and get as much information about them and their vehicles as possible. In the case of Lynda Jacobs, it didn't take much prodding. Her husband, Chris, has competed in the OUSCI in the past and they both are very familiar with the event and all the activities leading up to it. With that, we'll get right into Lynda's story.

Lynda has owned her 1966 Chevelle Convertible for 11 years and it is a legit Lemmonwood Yellow 138 SS 396 car sold new in Los Angeles, California. The car was completely stock when the Jacobs bought it, including the 396/ 360 hp engine, drum brakes, and Powerglide transmission and lived it's entire life in the car-friendly climate of Southern California, up until it was sold in 1999.
From there, the Chevelle headed north to Neenah, Wisconsin, where Chris and Lynda tracked it down. While Lynda describes the top-down drive home as one of the best days of her life, it didn't take look to realize the bone-stock Chevelle was not that much fun to drive. That's when the transformation began and the tears of Chevelle purists began to flow.
Every year the Jacobs tweaked the car in some fashion, starting with the 700R4 from Finish Line Transmissions in Woodale, Illinois, which made the Chevelle more Power Tour-friendly. From there, it was on to larger wheels and 4-wheel disc brakes. After that, things really took off, as they installed a new 496 big block, Global West suspension and Vintage Air. They drove the car quite a bit doing portions or sometimes all of the Hot Rod Power Tour events for numerous years throughout this transformation process, but it was the first Goodguys event in Chicago that was a game-changer for the Jacobs.
It was there that Lynda convinced Chris to put the Chevelle in the autocross. Chris somehow managed to win that event and then the Chevelle car became the Jacobs family racing hot rod. Both husband and wife shared driving duty in the convertible until 2010 when Chris bought a '66 hardtop of his own (the same car that would eventually compete in the OUSCI).
With that transaction, the convertible finally returned to Lynda's domain, but after having driven Chris' new car (built by OUSCI regular, Randy Johnson), even more upgrades were soon ordered up for Lynda's car, which meant a lighter LS engine was headed under the hood. Randy Johnson received the car at DZ Customs in February of this year and the 496 was pulled out to be used for a future project, so Randy could strip and refinish the entire engine bay in preparation for the installation of the new LS3.
They dressed the engine out to make it resemble the big block it replaced, but the internals were all business. A full Comp Cams valvetrain was installed with a custom-ground camshaft from Finish Line Performance. The engine was completely covered in Chevy orange, then topped off with a single plane GM intake and a new FAST EZ EFI 2.0 fuel injection system and factory 14" air cleaner. A set of Holley coil covers painted with a special chrome finish top off the disguise. Feeding the new power plant is a factory replacement fuel tank stuffed with Aeromotive's new Phantom fuel system. A set of Hedman Muscle Rods 3/4 length headers and complete Magnaflow exhaust system with Stainless Works resonators take care of the spent gasses.
The Chevelle was put on the rollers at Finish Line and cranked out 436 hp to the wheels, which as we've already identified in other previews, puts Lynda at a distinct disadvantage in terms of power. The original 12-bolt rear end still retains the 47-year old factory 3.31 gears and TruTrac posi, but a new Wilwood brake system complete with tandem master cylinders and six-piston Superlite front calipers were installed, as well as D-154 floating rears, clamping GT rotors all of the way around.
Viking double-adjustable coilover shocks were installed at all four corners and Detroit Speed sway bars were added as well. The old 17x8 front wheels were upgraded to new 18x9.5 American Racing TT II Classics and painted to match the old 18" x 10" rears. New BFG Rival tires (275/35/18), have been added all of the way around for the OUSCI event to keep "Wimpy" (their nickname because of the so-called wimpy color) hooked up.
On the inside of the car, a new Dakota Digital VHX dash was installed and a set of Cerullo sport seats were added to keep driver and passenger in place. Dynamat sound deadening is hidden by new carpeting and roll-over protection was added in the form of a new, custom bolt-in chromoly four-point bar from Competition Fabrication in Lily Lake, Illinois.
Even though purists may be sobbing their eyes out over what the Jacobs have done with their factory SS convertible, just about everything can be un-done. After all of these changes, the Chevelle ended up with a 52% front,48% rear weight distribution and scaled out at a svelte 3,650 lbs (over 150 lbs lighter than with the old big block and way less nose heavy).
With a couple of upcoming practice events, the old Chevelle should be ready to show its stuff at OUSCI and Lynda has more than prepared herself. She has been around racing all of her life, but never actually drove a car in any type of competition until she discovered autocross in 2007. After attending a weekend autocross school that their Chicago region SCCA puts on every year, Lynda and Chris went to several local SCCA autocross events for the next few years. After taking the droptop to GoodGuys and attending some of the Pro-Touring and OUSCI qualifier events, they both really started wanting more.
They never seem to get to as many driving events as they would like, but enjoy them and the people who attend immensely. Last year they also went to an Evolution autocross school for a day, which Lynda highly recommends (she tells us she'll be back for more). Chris and Lynda are as familiar as anyone is with the level of competition at the OUSCI and Lynda has no aspirations of winning. She does plan on giving it her all and given her prior track experience, more than a few of the guys will probably have to explain how they ended up getting whooped by a girl.
If you'd like to see Lynda take on the boys, be sure to add the OPTIMA Network on Roku, where you can watch all the past OUSCI TV coverage for free!
UPDATE 10/12/13: One of the benefits of being friends on Facebook with OUSCI competitors is that we get to see what they're doing in the days leading up to SEMA. We just got word that Lynda Jacobs is headed over to Gingerman for some track time preparation at a 10/10ths track day event. Well done Mrs. Jacobs!