Mark Frazier's 1971 Datsun 240Z | 2014 OUSCI Preview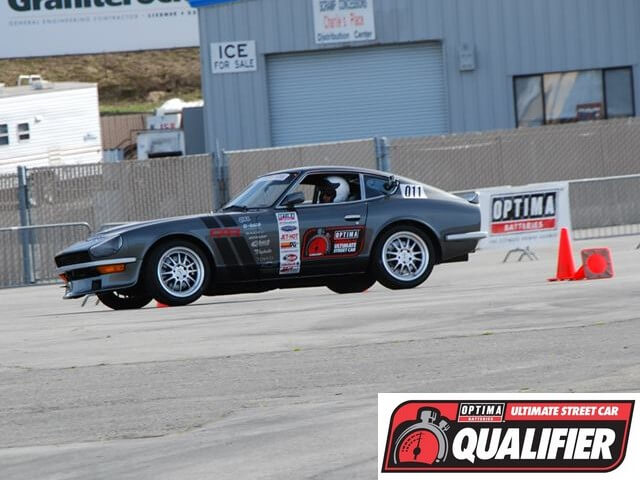 Ultimate Streetcar
Sponsor

OPTIMA Batteries

Location

Las Vegas, NV
Blow the dust off your OUSCI memory, because we're going to take you all the way back to the very first OPTIMA Ultimate Street Car Invitational, which is where we first saw Mark Frazier in competition. He was running a 1969 Chevrolet Corvette at the time and while he still operates with bowtie power under the hood, the ride he is bringing to the 2013 OUSCI was the car that changed the American consumer's perception of Japanese automakers- a 1971 Datsun 240Z.
Quite a bit has changed with the OUSCI in the six years since Mark last competed, including the venue (Las Vegas Motor Speedway), but Mark is still producing very cool cars that perform well on the track. Part of Mark's success in his qualifying effort at the Laguna Seca event was due to his top finishes in both the Lingenfelter Performance Design & Engineering competition and the Wilwood Disc Brakes Speed Stop, where he posted a time that was even quicker than OUSCI mainstay, Danny Popp.
Fellow OUSCI competitors John Lazorack III and Ken Suen both topped him in the BFGoodrich Hot Lap Challenge and Frazier also knew there were opportunities to improve his performance on the RideTech Autocross as well. Mark knew the advantage he had in locking in an early qualifying spot for the OUSCI afforded him the luxury of time that many competitors will not have in this year's field and it sounds like he has put it to good use.
The Datsun has been completely dis-assembled and flared, to allow for meaty 315-series rubber on all four corners (a significant step up from the 245 rubber he ran at Laguna Seca). Adjustable shocks have also been installed, which will allow him to dial-in his combination even more on the track. More importantly, Mark has had time to test these upgrades and he has already realized some improvement from the testing he did at Laguna Seca in June.
Frazier knows the difference that can be made in showing well in the Lingenfelter Performance Design & Engineering portion of the event, so rather than just trying to paint-match the new flares, he went through the trouble of sanding and re-painting the entire car earlier this month. While the car was in paint jail, Mark figured it was also the perfect time to freshen up his engine. "I put a four-inch rotating assembly and new pistons in the LS2, bringing it up to 404 cubic inches," says Frazier. From there the car went to the dyno for tuning and back to Laguna Seca for more testing.
The only thing Frazier was still searching for was more autocross seat time, to get comfortable with all of his new-found grip. Expect Frazier's Datsun to roll into Las Vegas as a flyweight at about 2,770 pounds, with somewhere north of 450 horsepower on tap. Like many other OUSCI competitors we have interviewed, Mark's familiarity with the road course at LVMS begins and ends with YouTube research, but he expects those who can adapt quickly will do well.
Mark's operation is not a high-dollar endeavor and laden with sponsorship, but a true enthusiast, who has done much of the work on his car himself, including modifying the suspension and fabricating the exhaust system. One constant for Mark throughout this process has been the assistance of his great friend and co-worker, Mike Kamimoto. "Without Mike, all of this would not be possible!" says Frazier. "He has been with me every day since the end of December when we decided to enter the first event."
We expect Mike will probably make the trip to Las Vegas then to see all his hard work come together. If you didn't get to see Mark's car in action at the OUSCI, you can always add the OPTIMA Network on Roku and go check out the 2014 TV coverage.