Mark Stielow's Mayhem Camaro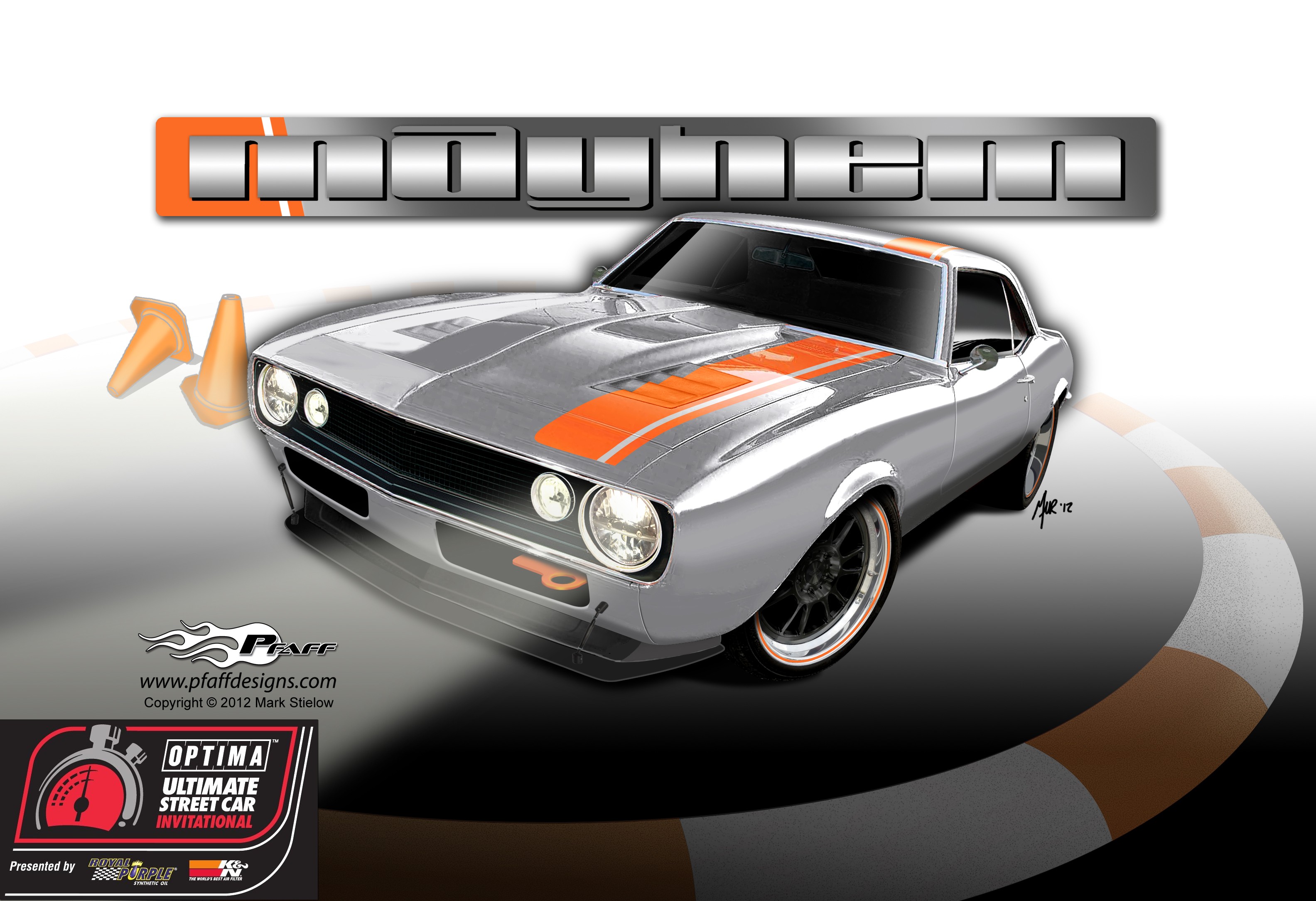 Ultimate Streetcar
Sponsor

OPTIMA Batteries

Location

Pahrump, NV
Mark Stielow's name is synonymous with the Pro-Touring movement. In fact, you could say he wrote the book on it, literally. Stielow's long list of named first gen Camaros have become legendary in the automotive aftermarket and highly-sought after by collectors and enthusiasts looking for world-beating modern performance in a classic wrapper. So popular are his cars, that they even have
their own Facebook fan pages
.
Stielow's previous creation, the
Red Devil Camaro
won the 2010 OPTIMA Ultimate Street Car Invitational *(OUSCI). OPTIMA then selected Stielow's Camaro to be featured in
our new REDTOP TV commerical
, where he beat on it like a rented mule all day long for filming and the car never flinched (although the tires were shredded by the end of the day). The Red Devil returned to defend it's title in the 2011 OUSCI and the 2006 ZO6 Corvette driven by Danny Popp needed spare parts off another Corvette and a tie-breaker to finally beat it. The Red Devil Camaro will next make an appearance digitally in the new Sony Gran Turismo video game.
Stielow's entry for the 2012 OPTIMA Ultimate Street Car Invitational, presented by Royal Purple & K&N, is a 1967 Chevrolet Camaro, he calls, "Mayhem. " As one would expect with a car of this caliber, it comes with it's own press release, which we will reproduce in part, for you here-
Mayhem is defined as a form of chaos, or to render a victim defenseless. If history serves as a lesson this is exactly what Pro-Touring godfather, Mark Stielow, plans to create with his latest car of the same name. Despite being well known for a string of '69 Camaros, this time he is utilizing the shell of a 1967 Camaro. There is a method to his madness. Stielow is quick to point out the 1967 Camaro is 100 pounds lighter and has a smaller frontal area than a 1969 model.
"Gobs of Power" is an understatement when it comes to the LS9-based engine from the merchants of horsepower at Thomson Automotive, where they achieved 877 horsepower and 820 lb-ft. of torque. Backing this up is a Tremec Magnum 6-speed and a beefy, Currie 9-inch rear end. Cooling chores are kept in check by a Griffin radiator and intercooler.
Seeing that these cars are driven hard (case in point where Mark put his '69 Camaro "Red Devil" up against a new ZL-1),handling is just as important and comes courtesy of Detroit Speed and Engineering's hydro-formed front sub frame and their Quadra-link rear suspension, outfitted with Brembo GT-R brakes at all four corners. Furthermore, braking will be controlled by a Stielow Engineering ABS system.
On the exterior, Stielow designed the custom-molded carbon fiber hood with twin air-extractors that account for a 10% increase in down force and 20-degree cooler engine temperature. Front and rear wheel openings have been pulled out ¾" on each side to allow for the same footprint as one of his track-proven '69's. The rest of the car has been tastefully de-badged, the front bumper removed and the rear tucked. Pfaff Designs created the custom paint scheme, while Dutch Boys Hot Rods in Kalamazoo expertly applied it.
One of the elements that makes a Stielow car a stand-out is the integration of OEM proven components; however as Mark quips, "special considerations are being paid to weight savings." Mayhem's debut will take place on the world stage known as the SEMA Show. Pilot Transport will get it there, so it can take its prominent place in OPTIMA Batteries Ultimate Street Car Invitational and Mark will most definitely create some more chaos in the world of Pro-Touring.
So while we know Stielow's new Camaro will be pumping out at least 877 horsepower (and maybe more by the time it makes it to Vegas), we don't know how much it weighs. Based on what Stielow mentioned about weight savings, we wouldn't be surprised if it came in under 3,500 pounds, perhaps well under. Those in the know point to Mark and 2011 OUSCI Champion, Danny Popp, as the two to beat in the OUSCI. If that is the case and if what we're hearing about the Camaro Danny is bringing to the OUSCI are true, he could be giving up more than 500 pounds and several hundred horsepower to Stielow.
That may seem like game, set match between those two ace drivers on paper. However, there are other factors to consider. Unlike previous builds, Stielow did not complete the Mayhem Camaro until just recently. Even though he routinely assembles each car several times during the build process, he did not have the luxury of extensive post-build testing or competition with this car. As a result, it will be arriving in Nevada with very limited shakedown time on the road or racetrack.
There are also other competitors to consider. The OUSCI field is diverse and packed with talented drivers and amazing cars. While Stielow points to Popp & Kyle Tucker as two of the competitors he knows will be top contenders, he also acknowledges there are likely to be other cars and drivers he is not as familiar with, who will also present a formidable challenge. As impressive as the Mayhem Camaro's horsepower numbers are, it is not the most powerful car in the field. In fact, it's not even close to the most-powerful, although even at 877 horsepower, the real challenge is in transferring as much of that power to the track as possible. Stielow knows how to do that better than most, especially on 200+ treadwear tires.
While it might be considered boastful for some competitors to predict they will finish in the top-10 in all categories, that is almost expected of a Stielow entry. Some might be surprised if it didn't finish in the top-five in a given event. If you missed the 2012 OUSCI, be sure to add the OPTIMA Network on Roku and watch all the past TV coverage of this iconic motorsports event.